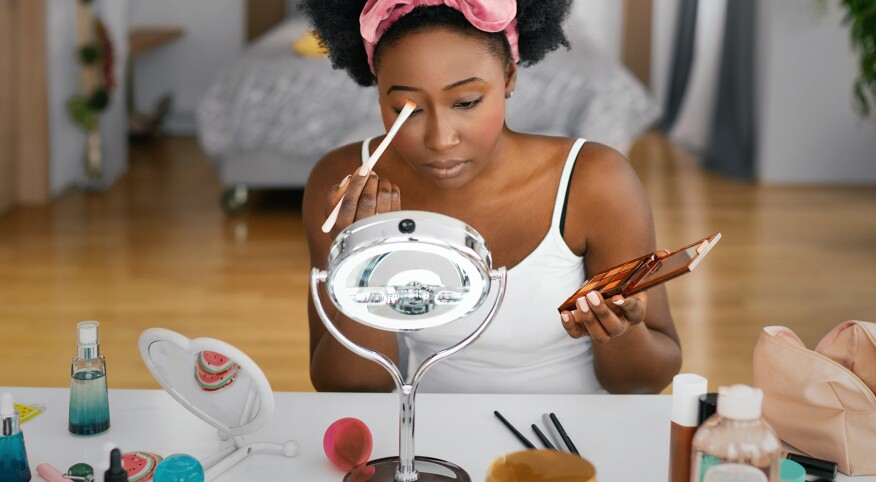 We've all been there. You're putting the finishing touches on your makeup before a big event, and you discover that the mascara you've only had for a couple of months has dried out. Do you swipe it on anyway and risk clumpy, caked lashes, or do you go without and leave your lashes naked while the rest of your face is done? There's another choice, according to Mindy Green, a licensed cosmetologist and owner of MG Beauty. Adding a few drops of contact lens solution to dried-out mascara will revive it in an instant. Note: You can use eye drops, too, but be sure you don't touch the tip of either bottle to any surface.

Here are seven more smart hacks that'll come to the rescue whenever you're in a time crunch or a beauty rut.


If you don't have time to restyle your hair

Approaching that second-week silk press? Instead of reaching for the hot tools right away, know that simply changing the part in your hair can freshen up your look. Bonus points if you try a zigzag part and/or add a few statement bobby pins or barrettes.


If applying eye shadow is messy

How many times have you put on eye shadow only to have it end up under your eyes and on your cheeks? Besides tapping off the excess, apply a piece of transparent tape to those areas to catch any fallout, or do your eye makeup before applying foundation and concealer, which is celebrity makeup artist Shawntay Fisher's preferred technique. Another option? Shadow sticks are a nice alternative to traditional powder due to their creamy, mess-free formula. When combined with traditional powders, they can also enhance the color payoff.


If you wake up to tired-looking eyes

When you don't get enough sleep on a regular basis, dark circles and puffiness under your eyes are almost inevitable. But caffeine helps constrict blood vessels, reducing swelling and the appearance of dark circles. So the next time you brew yourself some green or black tea, which naturally contain caffeine, gently squeeze out the bag and let it cool off before placing it on your eyes for around 20 minutes. Avoid using tea bags that are bleached and contain staples, and don't apply the tea bag while wearing contact lenses. Opt for organic tea bags if possible.


If you're tempted to step out in a bonnet

Satin-lined beanie hats or regal-looking turbans from brands such as Grace Eleyae (GraceEleyae.com), The Wrap Life (TheWrap.life) and Slip (Slip.com or Amazon) are perfect for looking fly and polished without restyling or disturbing your do.


If you need to tighten up that mani

Crusty cuticles? Lip balm containing ingredients like vitamin E, beeswax, shea butter or cocoa butter — which soften skin while retaining its moisture — is actually great for healing dry, cracked cuticles. Good to know: Any healing ointment from brands like CeraVe or Aquaphor will also do the job.


If you forgot the tooth-whitening strips

It's no secret that coffee, tea, dark-colored sodas, red wine, tomato-based sauces, berries and beets stain teeth, but rocking a cooler shade of lipstick with purple or blue undertones can make your pearly whites look whiter, says Fisher, who counts Ava DuVernay, Robin Roberts and Jasmine Guy as A-list clients.


If your colorist is booked

Highlights and other forms of permanent color should be left to the professionals, but there's no harm in keeping a root touch-up stick handy for between visits. Green also suggests using dark eye shadow (in a shade close to your own hair color) to cover up pesky grays around your hairline.