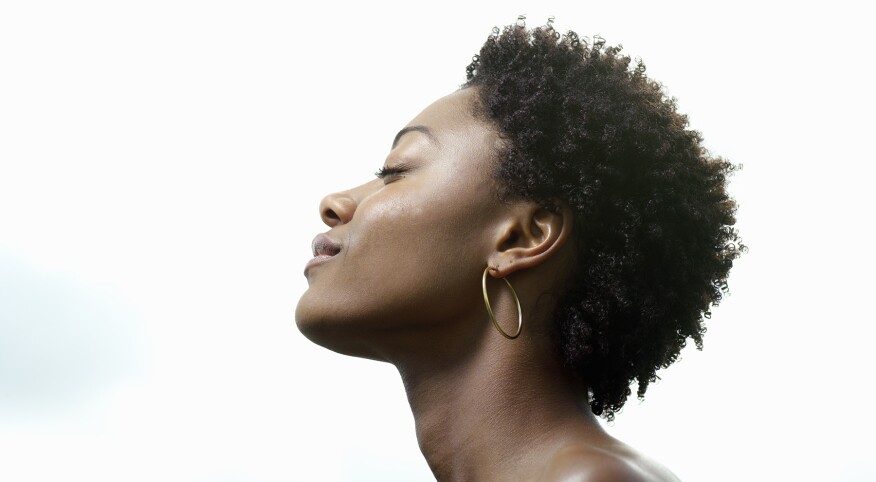 Natural or relaxed, up or down, curly or straight, edges that are laid to the gods are the finishing touch for any hairdo. But loving and caring for them is a must due to constant manipulation. When we neglect our edges by overstyling or wearing overly tight braids, the consequences can be detrimental, though not always irreversible. One-third of Black women suffer from traction alopecia. This common form of hair loss is caused by frequent or prolonged tension on the hair follicle, often from tight hairstyles or extensions. Read on to find out how you can look fly without sacrificing those precious edges.

Do eat foods that are rich in nutrients and vitamins
"Proper nutrition trumps any hair product you might buy, because it helps set the foundation for hair growth and health," says Atlanta-based registered dietician nutritionist Marisa Moore, who suggests foods rich in protein; vitamins A, C, D and E; iron; zinc; biotin; and essential fatty acids. Eggs, nuts, seeds, salmon, sardines, spinach, beans, sweet potatoes and yogurt are excellent sources.

Do give your edges some extra TLC
Daily styling can do a number on your edges because they're the most fragile part of your hair. Noticed that your hairline is starting to thin out? Minimize the amount of time you spend brushing and pulling your edges. Good to know: Gently massaging your scalp increases blood flow and circulation to the hair follicles, which promotes hair growth. On days when styling your edges is unavoidable, try a gel with nourishing and strengthening ingredients. Check the label for botanical add-ins like argan, avocado, castor, coconut and olive oils, as well as aloe vera, vitamin E and shea butter. Two gel options: Mielle Rosemary Mint Strengthening Edge Gel (MielleOrganics.com) and Cantu Extra Hold Edge Stay Gel (Target.com).

Do wear a satin/silk head wrap or bonnet
Tying your edges down with a head wrap can preserve your style as you sleep, but the wrap can also suck the moisture out of your hair if it's made with cotton. "Satin and silk head wraps are better because they allow the hair to glide across the surface and better retain its moisture," says Mindy Green, a licensed cosmetologist and owner of MG Beauty, based in the Washington, D.C.-area. Sleeping on a pillowcase made from pure silk can deliver the same great benefits.

Two head wrap options: Mulberry Park Silks Silk Head Scarf Bandana (MulberryParkSilks.com) and Slap Cap (GraceEleyae.com)

Three pillowcase options: Mismatch Home (luxury cotton sheet sets with matching silk pillowcases created by a sisterpreneur; MismatchHome.com) and Slip Silk Pillowcase — Standard Queen (Sephora.com), Blissy Silk Pillowcase (Blissy.com).

Do wear your edges out while wearing wigs
"Leaving your edges out prevents the wig from rubbing against your edges and causing the hair to break," says Green. "It can also help a wig look more natural because your edges will help camouflage the wig." Pro tip: Wearing a wig cap acts like a protective barrier for your natural hair. Otherwise, your wig can slide around, causing unnecessary friction and breakage.

Do embrace hairstyles that use indirect or low heat
"Using heat too often or heat that is too high damages the hydrogen bonds in the hair, leaving it susceptible to breakage," cautions Green. A roller set or flexi rod set can give you voluminous waves and curls or a sleek look without the heat and damage.

Don't relax your hair too often
Unless your mane grows quickly (more than a one-half inch per month), relaxing your hair every six to eight weeks is fine for most sisters. Anything more frequent than that is usually unnecessary and damaging. Because chemical relaxers weaken the hair's protein structure to achieve a straighter appearance, your strands require regular trims and intense moisture. Doing spot perms around the hairline for a flawlessly laid look is also risky, says Green, who warns that overprocessing can cause hair loss, damage and breakage.

Don't use waterproof adhesive to secure wigs
Veteran wig wearers know the importance of a secure fit before stepping outside. If you wear lace front wigs, your first instinct might be to reach for water-resistant adhesive formulas. Some advice? Don't! Since adhesive is applied to the hairline, waterproof adhesive can tear out those fragile hairs when it's time to remove the wig. You can still achieve a secure hold without waterproof formulas, especially if the wig will be worn for only a couple weeks. Two options: ORS Olive Oil Fix-It Grip Gel (Walmart.com) and Göt2b Ultra Glued Invincible Styling Gel (Walmart.com). (Note: Some online reviewers suggest special handling, including using a blowdryer, to achieve a natural-looking finish.)

Don't wear tight ponytails and tight protective styles
Slicked back ponytails and buns are chic and never go out of style, but wearing them too frequently can cause your edges to get thinner over time. "The hairline constantly gets manipulated outside of styling; [for instance], when you wash your face and apply moisturizers, sunscreen, foundation," says Green. "The best thing you can do is wear protective styles that eliminate the need to touch your hair too often." But don't assume that all braided styles are protective, even if presented as such; those involving extensions or tension probably aren't. Box braids, twists and cornrows are great options but only when they're installed more loosely. When these styles are too tight and worn back to back, they're no longer protective.

Don't focus on perfection
Whether it's passing a flat iron through one section over and over until that wave disappears or brushing your hair back until the frizz is gone, it can be tempting for sisters to strive for perfection, especially when it comes to our hair. While it's one thing to appear tidy, excessive manipulation is one of the surest ways to experience breakage. But if you can learn to go with the flow, your hair will love you for it.