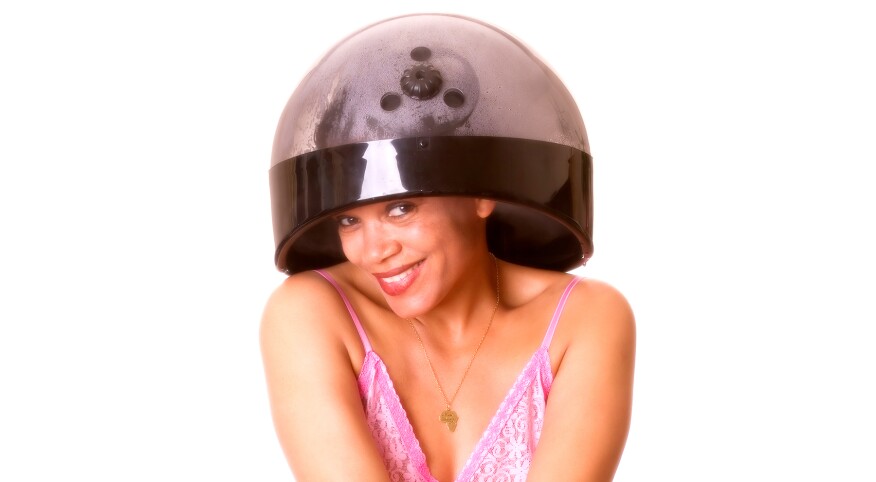 The quest for healthier hair could end on a happy note by simply adding a steam treatment to your weekly regimen. After all, your tresses may appreciate the moist heat from a steamer versus the dry heat from traditional hooded dryers.

While both types of heat open up the hair cuticle to absorb moisture, direct contact with water vapor from your steamer helps your locks retain moisture and hydration longer. "A lot of [the] heat [from a hooded dryer] does not reach the scalp, so you'll have to be under the dryer for a longer period of time, [which can dehydrate the hair]," says celebrity hair stylist Annagjid "Kee" Taylor (@deeper.than.hair), whose clientele includes Erica Campbell, Tika Sumpter and Angela Simmons.

Effective conditioning is key for keeping strands supple over time. "As hair ages, hair thinning, dryness and dullness occurs and the rate of hair growth slows down. Steaming will help to combat these issues to extend the health of your locks by strengthening from the inside out," notes Taylor.


Here's how this spa-worthy treatment can benefit your strands:

1. Better product absorption
For low-porosity sisters struggling to get moisture in and keep it in, steaming can aid in opening up that tightly bound cuticle and increase moisture absorption. This lets you reap the benefits of your favorite hair products.

2. Restores elasticity
A strand of hair with high elasticity is able to stretch and snap right back into shape without difficulty. If your tresses are brittle and prone to breakage, this could indicate low elasticity. To combat this, Taylor suggests steaming to replenish lost moisture, thus minimizing breakage and enhancing elasticity.

Good to know: Shrinkage gets a bad rap for making our waves, curls, coils and kinks appear shorter than they really are. Turns out, it's actually a sign of excellent elasticity.

3. Promotes hair growth
According to Taylor, applying steam to your scalp and tresses can boost collagen production and blood circulation — key factors in hair growth. And as our strands mature and the growth rate slows, a steam treatment can provide extra nourishment.

4. Improves scalp health
Steaming is just as good for your scalp as it is for your mane. The warm steam helps remove dirt and dead skin cells from your scalp and unclogs pores to allow the release of toxins for proper cleansing. This is important for highly porous strands, which tend to absorb product too quickly.


Choosing a steamer for at-home treatments

Not looking to splurge just yet? Start with something hands-free and inexpensive, such as a microwavable heat cap. "Just [heat it up] for about a minute and put it over a shower cap," Taylor says. To give your tresses a quick refresh, opt for a handheld steamer. But if you want the full steaming experience, consider investing in a high-quality tabletop steamer with greater features.

Three thermal cap options: Hair Steamer Kingsteam 2 in 1 Ozone Facial Steamer (Amazon, $80), Hot Head (ThermalHairCare.com, $30) and The Q-Redew Hair Steamer (QRedew.com, $80)


DIY tips:
Use a deep conditioner or a hydrating mask that contains nourishing oils, such as avocado, jojoba or babassu. Use a wide-tooth comb to evenly distribute the product throughout the hair.
A typical steam session lasts for 20 to 30 minutes. The temperature of the steam should feel comfortable and soothing to the scalp.
Using a hooded steamer? Clip up your tresses under the hood so that every strand from root to tip is properly treated, and don't wear a plastic cap as you want the steam to touch your hair. But if you're using a microwaveable heat cap, you do want to wear a plastic cap underneath to prevent your hair from drying out.
Once the session has ended, cool down your mane. This allows the cuticle to close and lock in the moisture. Then, rinse out the treatment and enjoy soft, supple strands.
To retain moisture and stimulate hair growth, Taylor recommends steaming once a week, but not more often. Overdoing it can weaken the hair shaft.
Three treatment options: OBIA Naturals Babassu Deep Conditioner (ObiaNaturals.com, $15), Bounce Curl Ayurvedic Deep Conditioner (BounceCurl.com, $28) and Twist by Ouidad Sunday Feels Deeply Hydrating Hair Mask (Target, $10)