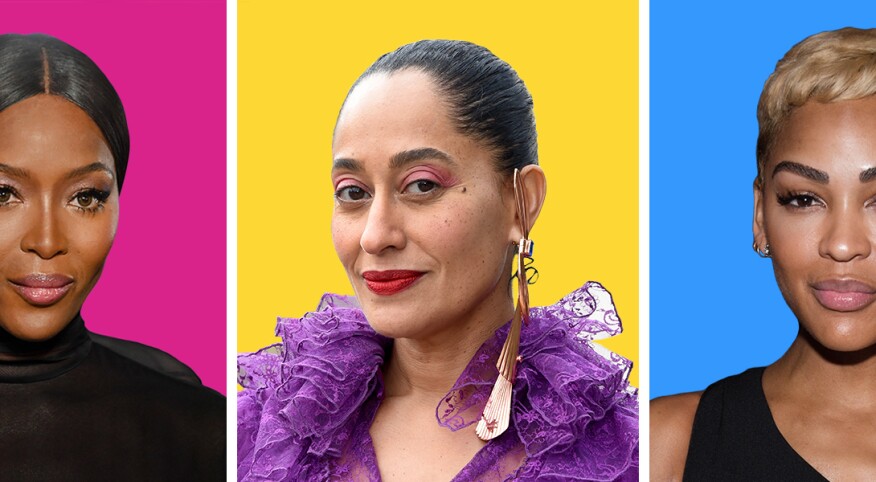 Full, defined brows never go out of style, framing your face and making you look polished and well groomed, even if you aren't wearing a stitch of makeup. But, according to Shari Hicks-Graham, a board-certified dermatologist at Downtown Dermatology in Columbus, Ohio, hormonal changes can wreak havoc with your "brow game." As the production of hair follicle melanocytes slows down, brow hairs can become sparse, finer in texture and lighter in color. The result: brows that look "weak" instead of "on fleek." The good news? There are several ways to restore those fallen arches.

Grow them out. Rule number 1: Stop overplucking! Excess tweezing of brows causes trauma to the hair follicle and may even lead to permanent hair loss. Regrowing those missing brows won't happen overnight, but massaging them daily with castor oil can help speed their growth. Brow products enhanced with biotin and keratin are also thought to promote growth, but Hicks-Graham says your body best absorbs those nutrients through eating a balanced diet. She adds that the FDA-approved medication bimatoprost (used to treat glaucoma) demonstrates "marginal success" for brow hair growth.

Grooming. Unruly hairs can make brows look sparser than they actually are, so establish a grooming routine that works for you. You can have them waxed or tweezed just enough to remove strays. But also consider threading, an ancient Indian hair removal method that's gentler than waxing, so it's great for sensitive skin. Your aesthetician will twist a piece of cotton thread rapidly over your skin, removing even the tiniest of hairs and giving you a precise finish. The threader holds a portion of the thread in her mouth, so there is a slight risk for contamination. Although that part of the thread should never touch your skin, Hicks-Graham suggests asking about your threader's technique before you sit in the chair. After shaping, you might experience temporary redness, so say yes to calming aloe vera gel if it's offered. And in between visits, use a brow product for definition and hold. Two options: Glossier's Boy Brow and Benefit Cosmetics' Gimmie Brow+ Volumizing Brow Gel.

Makeup. "When your brows are done, your face is 80 percent complete," says makeup artist Kim Baker, whose A-list clientele includes Naomi Campbell and Tracee Ellis Ross. Not filling in your brows can make you appear older, she says, but colored brow products will enhance what you already have. You can try a powder or gel, but brow pencils are easier to use. For natural-looking brows, first pick a color that's a shade lighter than your hair. Brush your brows upward using a spoolie brush (it looks like a mascara wand), then fill them in, following their natural curve. Brow pencils with a fine tip — such as Anastasia Beverly Hills Brow Wiz and L'Oreal Brow Stylist Definer — work well because they allow you to mimic the look of individual hairs.

Tinting. If you've been blessed with naturally full arches, but they could use some extra oomph in the color department, brow tinting might be the answer. A session typically takes about 15 minutes and, at around $20, costs a fraction of the price of longer-lasting procedures, such as microblading. "A brow tint consists of a vegetable-based henna pigment that's deposited into existing brow hair," explains Constance Latham, a licensed aesthetician, restorative cosmetic tattoo artist and owner of Maven Esthetics in Chicago . Depending on how fast your hair grows, sun exposure and the type of facial cleansing products you use, your upgraded brows should last between four and six weeks. You can buy at-home tinting kits, but salons, spas and some doctors' offices also offer tinting services if you'd rather not DIY. A word of caution: Brow-tinting dyes are not approved by the FDA, and some may contain preservatives. So always request a patch test before committing to the full service.

Microblading Microblading is one of the hottest brow beauty trends among celebrities including Serena Williams, who credits her fierce brows to this semipermanent procedure. The technician uses a tiny blade to make hairlike incisions in your skin while depositing pigment directly into the incisions, creating the illusion of perfectly shaped and balanced brows. Prices range from $500 to $1,500, and a touch-up four to six weeks afterward should be included. (Certain skin types don't retain pigment well, so one or two additional touch-ups might also be necessary, especially if you have oily skin.) For oily or sensitive skin, another variation of microblading called microshading or powder brows (which gives the softer look of a brow pencil) tends to work better. But it's pricier since the technique requires more expertise. Latham says the common concern for Black women is the potential for scarring. "If done right by the proper technician, the depth of tattooing doesn't cause scarring unless the client is prone to keloids — and the procedure isn't recommended in that case." Finding an aesthetician who specializes in darker skin and following the aftercare routine is the best way to minimize the risk of scarring or infection, Latham adds. Your improved arches should last between one and three years.

Eyebrow transplant. After years of overzealous plucking, actress Meagan Good gushed to talk-show host Wendy Williams about her 2017 eyebrow transplant, during which hair was harvested from the back of her head and transplanted to her brows. Amber Rose, who's also an eyebrow transplant advocate, reportedly inspired Meagan to book a consultation with her hair restoration surgeon. But a transplant can set you back anywhere from $3,000 to $8,000, and the pricey procedure isn't covered by health insurance. Also, unlike natural brow hair that grows short and tapered, harvested scalp hair keeps growing just as it would otherwise. Grooming is a commitment.