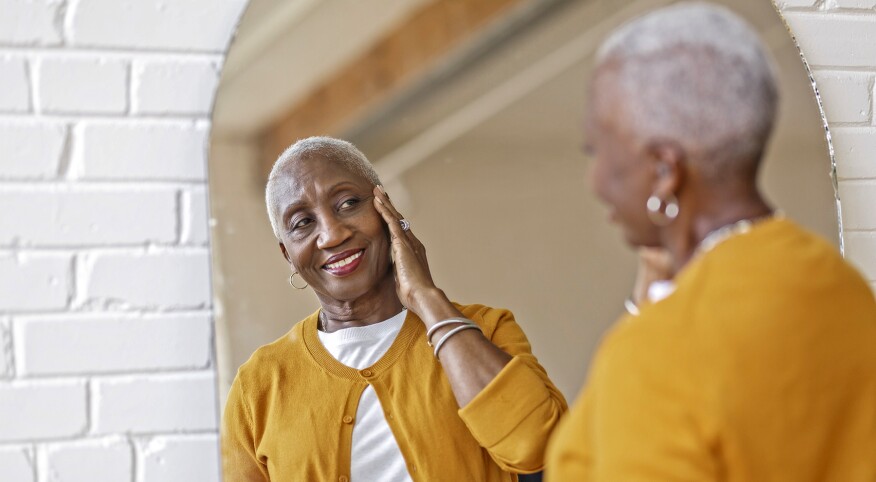 Sisters like Gabrielle Union, Bianca Lawson, Regina Hall and Angela Bassett seem to be aging backward, proving that Black really don't crack. While it's true that Black skin doesn't wrinkle as early, it is prone to sagging as we get older. If you look around, all signs point to a face-lift as the solution at first, but a few simple changes in your makeup routine can do wonders in most cases.

Good to know: Hundreds of firming creams and potions promise youth in a jar, but never underestimate the powerful duo that is vitamin C and sunscreen. Together, they protect and boost collagen production, which is linked to firmness and can help reduce the appearance of sagging skin. Consider trying a vitamin C serum from brands such as L'Oréal (Ulta or Target), BeautyStat (BeautyStat.com) and SkinCeuticals (DermStore.com). (You can check out the best sunscreens for brown skin in our online guide.)

Whether you've started to notice some sagging lately or you just want to enhance the high points of your face, here are five tips that'll give you the look of a face-lift without surgery.

Keep Your Brows Tidy
Full, fluffy brows are here to stay, but they can drag down the face when they're completely ungroomed. A higher arch can create more of a lift, according to Mindy Green, licensed cosmetologist and owner of MG Beauty. In addition to filling in sparse areas, you'll want to find the highest point of your brows. To do this, Green suggests holding a pencil vertically against your nose and rotating it left or right depending on the eye until it crosses the iris. That should be the highest point of your brow. Pro tip: Dab a little highlight under the arch of the brow to create extra definition.

Play Up Your Cheekbones
Once you've mastered the art of contouring for your face shape, highlight comes into play. Bringing light back into your face to balance the contour creates the "illusion that the cheekbone is more prominent," which is key to achieving a lifted appearance, explains Green. Apply whatever's left down the bridge of the nose and on the center of the chin.

Rethink Blush
Most of us were taught to apply blush to the apples of our cheeks, but doing so can drag down the center of the face, especially if you use a tad too much or if the shade is off slightly. Instead, sweep your favorite blush to the tops of your cheekbones for a lifting effect, as well as the illusion of a more angular look.

Be Strategic With Eye Makeup
"Big lashes paired with winged liner can make the eyes appear more lifted, which is consistent with a younger-looking eye," says Green. "Lining just the bottom pulls the eye downward, making it appear smaller." However, if lining under your eyes is part of your signature look, opt for bronze or taupe rather than brown or black. When selecting eyeshadow, a little shimmer goes a long way and opens up the eyes since it reflects light.

Experiment With Updos
Sleek blowouts and voluminous waves and curls can unleash your inner diva, but ever notice how pulling your hair instantly lifts the skin around the brows and jaw, creating a more youthful appearance? Even a half-up, half-down hairstyle will do the trick when you want to look your best for that special occasion. Remember: Rocking updos that are too tight adds tension to the hair follicles and can lead to traction alopecia, a form of hair loss that one-third of Black women struggle with. Give your strands a break between wearing high-tension styles, including tight ponytails and braids.