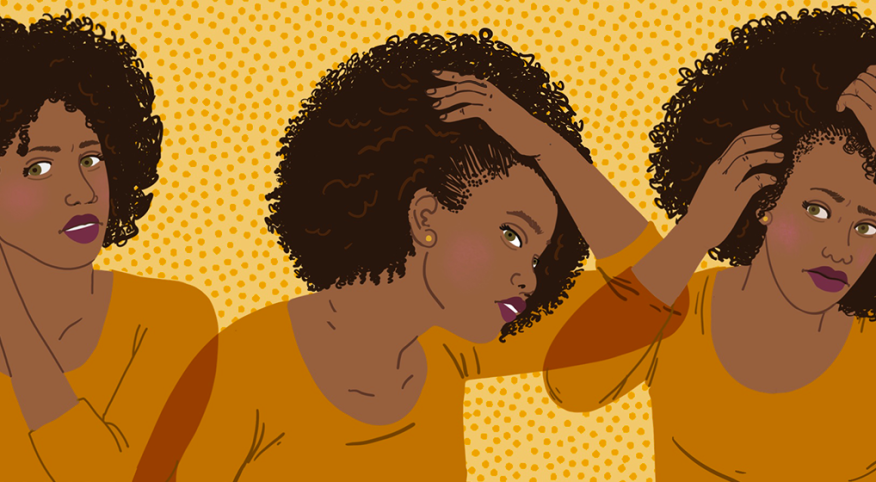 Every sister's hair journey has a few stumbling blocks along the way. But a major pet peeve is when one side of your mane is thick, luscious and full of life, while the other side is thin, sparse and doesn't show much life at all.

According to Bridgette Hill, a certified trichologist and the founder of Root Cause Scalp Analysis, one-sided hair thinning commonly indicates an external or surface mechanical issue that may be due to certain lifestyle habits, from the way you style your hair, to the side you sleep on every night. To better understand this, think of your hair as a gentle fabric. "Anytime the [hair] fiber is being depleted or has an excessive amount of tension on it, it's going to wear away the same way we sit on the sofa plenty of times or wash something over and over again," Hill explains.

To tackle this vexing hair problem, consider these measures:

Rule out underlying medical conditions

There could be more than one reason one side of your hair is thinner, so consider a consult with a medical professional. "I like to do a full workup of blood testing to get to the core and see what's happening on the inside," says Nina Ross, a certified trichologist and the founder of Nina Ross Hair and Skin Therapy. And while one-sided hair thinning can be genetic, other possible factors include stress, trauma, medications, nutritional deficiencies or scalp issues. "I've seen, in some cases, where women were anemic and there wasn't a lot of blood flow going in those areas, or in [other] scenarios where they were eating a lot of sugary foods and had a buildup of yeast [on the scalp], and one side of their hair was growing faster than the other," says Ross.


Improve blood flow to your scalp

Ross also notes that our strands are not all in the same hair growth cycle, which may be why one side is noticeably fuller. "I'm a big fan of creating circulation and blood flow to the area [where there's hair thinning] and making sure that the scalp and hair is in a healthy state," she says. One way to increase blood circulation to the scalp is by giving yourself a daily scalp massage. This can result in thicker, stronger strands and minimize stress. You might also consider weekly steam sessions. "Hair steamers are really good because they help to remove impurities from the scalp and [improve] circulation," Ross adds.


Change your sleeping position

Sleeping on your favorite side every night could potentially hinder hair growth, especially if you're lying on a cotton pillowcase, which can inhibit circulation and create excess friction on your strands, leading to damage. "If you're having breakage on one side and you realize you sleep on that side, or you lay on the sofa watching TV, protect your [hair] fibers by using silk or satin-based [pillow] coverings," Hill suggests.


Switch up your hair routine

Changing your part every now and then or wearing low-tension hairstyles can help protect your hair. "Pay attention to how you style your hair with pins, barrettes or combs," Hill advises. "Do you clip your hair up in a particular way [where] tension is focused on one area? Do you wear braids or have some type of chemical treatment that already breaks down the hair [structure]?" You may even find yourself manipulating one side of your mane more often than the other, especially if you have multiple hair textures on your head. "You could also be utilizing more heat on the thinner side because you might see it as a challenged area," Hill adds.


Look into medical-grade wigs

Ross suggests periodically avoiding braids and extensions, as they may cause pulling and tugging. This is especially damaging to your thinner side, which only exacerbates the problem. To let your locks breathe, consider investing in a medical-grade wig. Unlike fashion wigs, these wigs are designed for people with alopecia or medical hair loss (from chemotherapy, for instance) and have comfort features for daily use. "If you're experiencing thinning on one side, medical-grade wigs use specific types of lace [and] can be customized to create ventilation on the area where you're thinning," she explains.