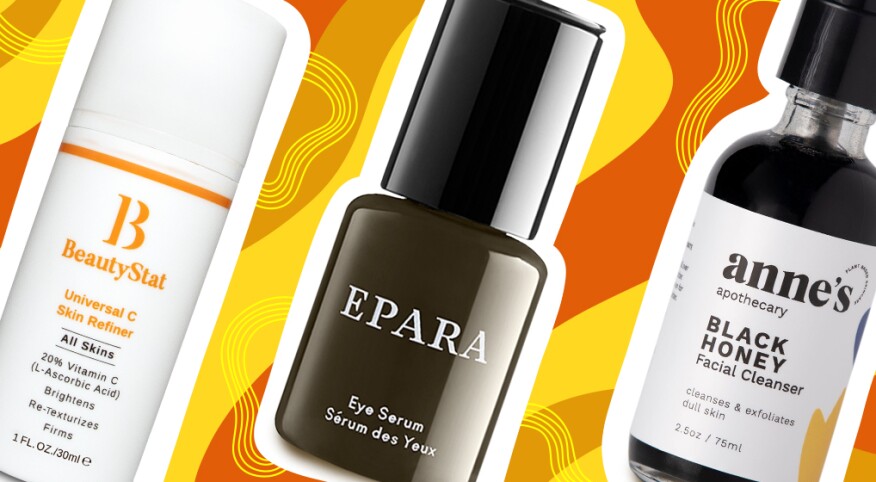 Sisters are turning to skin care as a form of self-care more now than ever. Many of us are working from home and don't feel like sporting a full face of makeup on a video call. That's where a proper skin care regimen comes in. Good-quality products that cater to your skin type and address your specific concerns are a key to healthy, radiant skin, according to Erica Stevens, a board-certified dermatologist at Westlake Dermatology in Austin, Texas. And while our sun-bronzed skin is beautiful and often less likely to show wrinkling or other dramatic signs of photoaging, Stevens stresses the need to make sunscreen use a part of our daily regimen. UV rays can make any hyperpigmentation or scarring more noticeable, she explains.

Skin care is the new makeup — even celebrities are tossing their hats into the ring. Rihanna recently launched Fenty Skin with three products that promise to minimize the appearance of pores and combat dark spots. Alicia Keys, who famously ditched wearing heavy makeup in 2016, teamed up with E.L.F. Cosmetics to develop Keys Soulcare, a cruelty-free beauty brand inspired by her own personal skin care journey.

But what about offerings from indie companies that aren't linked to famous faces? In a beauty industry that often fails to recognize the needs of Black skin, some of our entrepreneurs are changing the game. Here are six Black-owned skin care brands created with our complexions in mind.

Anne's Apothecary (annesapothecary.com)
Founder: Anne Suinner-Lawoyin
Price range: Most products between $9-$32
Cool pick: Black Honey Facial Cleanser ($15)

Anne Suinner-Lawoyin is a nurse by training and that's part of what informs her "no toxins" approach at Anne's Apothecary. From facial oils and floral waters to acne treatments, each product is handcrafted in small batches using cold-pressed oils, herbs, clays and other pure ingredients. "I was so happy when I found this," one reviewer wrote about the Black Honey Facial Cleanser. "I have to wear multiple masks each day (essential workers) and because of that, my skin broke out, but this product has truly saved me." Need another reason to shop the line? Every sales quarter, full-sized handmade soap bars are donated to Durham Rescue Mission, a shelter for the homeless and those struggling to overcome addiction.

BeautyStat (shop.beautystat.com)
Founder: Ron Robinson
Price range: Most products between $40-$80
Cool pick: Universal C Skin Refiner ($80)

Vitamin C is a frequently recommended ingredient in skin care because it addresses multiple concerns. It can help combat fine lines and winkles, improve skin texture and fade hyperpigmentation. The downside? It oxidizes within months of opening the bottle, changing color and quickly losing its effectiveness. After decades of developing skin care products for brands including Lancôme and Estee Lauder, veteran cosmetic chemist Ron Robinson decided to strike out on his own with BeautyStat Cosmetics in 2019. Named one of the best vitamin C serums by Allure and Harper's Bazaar, BeautyStat's Universal C Skin Refiner remains stable and potent for at least two years, thanks to its encapsulated delivery system. Other standout items include the Universal Pro-Bio Moisture Boost Cream and the Universal C Eye Protector, which was named best eye cream by O magazine.

Epara (eparaskincare.com)
Founder: Ozohu Adoh
Price range: Most products between $56-$252
Cool pick: Eye Serum ($147)

African botanicals, such as marula oil from South Africa and moringa oil from Kenya, take center stage at Epara, a luxury skin care collection created by London-based, Nigerian-born Ozohu Adoh. Epara, which means "to cocoon oneself" in the Nigerian dialect of Ebira, offers high-quality products that target specific concerns darker-hued sisters deal with on a daily basis, including dryness and hyperpigmentation. During its first year, Grazia magazine named the Cleansing Oil as the best new product for dark skin. Epara's smoky green jars are minimalist and aesthetically pleasing, winning in the Personal Care category at the 2017 Luxury Packaging Awards. The full line ranges from a Cleansing Lotion and Hydrating Mist to a Brightening Night Balm, with a new SPF 30 slated for a spring 2021 release.

KNC Beauty (kncbeauty.com)
Founder: Kristen Noel Crawley
Price range: Most products between $22-$40
Cool pick: All-Natural Collagen Infused Lip Mask ($25 for 5-pack)

Crow's feet, laugh lines and the décolletage aren't the only areas that need extra TLC as we get older. Our lips can show signs of aging, too. Beauty editors and celebrities (like Jessica Alba and Kim Kardashian West) are obsessed with KNC Beauty's collagen-infused lip mask. The formula is free of parabens, sulfates, artificial dyes and fragrances and contains rose flower oil and vitamin E (both are emollients). When your pout is soft and well hydrated, you're left with a smooth canvas for lipstick, especially matte formulas. The line also offers lip balms and scrubs that are packed with essential fatty acids and antioxidants.

Mary Louise Cosmetics (mymarylouise.com)
Founder: Akilah Mary-Louise Releford
Price range: Most products between $8-$38
Cool pick: Miracle Serum ($35)

At Mary Louise Cosmetics, it's about tradition. Akilah Mary-Louise Releford's grandmothers Mary and Louise taught her homemade beauty remedies that serve as the brand's inspiration. If you're looking for a multitasking product that works just as hard as you do, the natural and organic body butters double as an overnight hair treatment. And Mary Louise Cosmetics' colorful, substantial handmade soaps are gorgeous and gift-worthy, but don't be surprised if you end up keeping a few for yourself. With a cult-like following, Releford's Miracle Serum, which blends baobab oil, sunflower oil, vitamin C and essential oils, is expected to generate $1 million sales in 2020.

skinBUTTR (skinbuttr.com)
Founder: Tatiana Elizabeth Price
Price range: Most products between $9-$42
Cool pick: Exfoliatr ($25)

The brand skinBUTTR promises to deliver deep hydration since its entire body care line is formulated with shea butter. Customers praise the scrubs and body butters, which come in scents — ginger lemon, honey almond and strawberry coconut — that smell good enough to eat. For those with sensitive skin, there's also a fragrance-free formula. skinBUTTR's face line includes cleanser, exfoliator, toner and masks designed to hydrate and restore all skin types. The brand even offers a hand-sanitizing spray that features 70 percent ethyl alcohol, so it meets CDC guidelines, but it's also infused with aloe vera for a moisturizing effect. Plus the blend of orange and lavender essential oils will leave your hands smelling fresh.