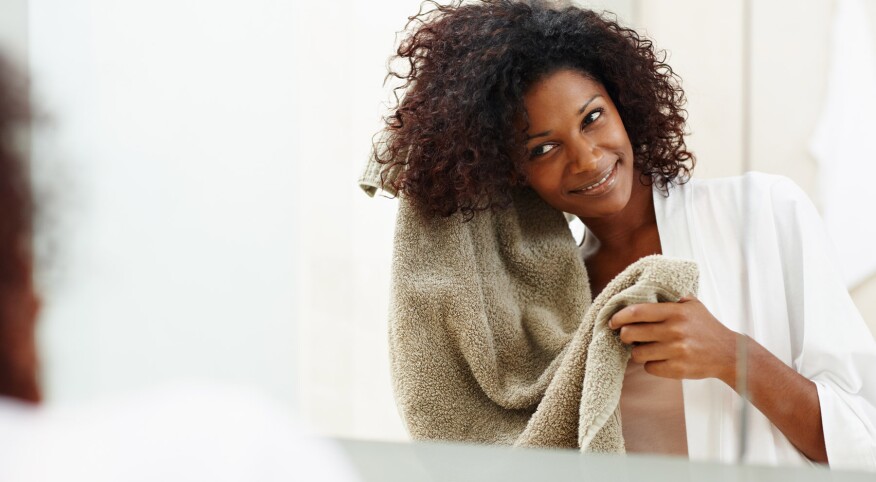 For a lot of sisters, hats, scarves and head wraps have been in heavy rotation over the past weeks. Oh, how we've missed salon visits — the camaraderie among customers and stylists, the bounce in our step as we leave the shop with gorgeous, bouncin' and behaving hair. If professional hair color was part of your pre-pandemic beauty routine, you're likely dealing with some very visible roots right now. Even as salons begin to reopen — and we want to support our community businesses — some of us may need to go the DIY route for a while because of the need to save money or because bookings may be harder to come by.

We've all seen the YouTube videos of dye-job disasters, from hair falling out in clumps to freakishly-hued strands. If this is your first time taking matters into your own hands, or if it's been ages since you've touched up your own roots, you need a goof-proof plan. Here are some pro pointers:

Keep expectations realistic. We book our touch-ups in advance and tip well for a reason. Hair coloring is a science and many salon services just can't be replicated at home. Plan to keep your look simple, i.e., close to your original hue — a shade lighter or up to two shades darker. "Never attempt to bleach your own hair," D.C.-area-based Mindy Green, licensed cosmetologist and owner of MG Beauty, cautions novices.

Avoid results you can't undo. If you have no track record with coloring your own strands, consider sticking with semipermanent dye. "The only color option I would suggest for outside the salon is temporary color, especially if your hair is relaxed," says Green. She explains that color formulated for home use is more concentrated than salon formulas because it has to be able to work across multiple textures, base colors (the color of your hair), densities and porosity levels. "It may seem like you can just grab a box of color and go for it. But to get the exact hair color pictured on the box, you have to know hair porosity, starting level, contributing pigment, what developer to use, how long to process." Color correction often costs hundreds of dollars, she adds.

Semipermanent dye, also called hair gloss, only coats the strands. This color fades after about 12 washes, whereas permanent dye is infused into the hair shaft in order to lock in that color long term. Demi-permanent falls somewhere in the middle and can last approximately 24 washes. (Some do-it-yourselfers with more salt than pepper find it better at covering gray.)

Two semipermanent formulas to try:

Clairol Professional Semi Permanent Moisturizing Hair Color

Adore Plus Extra Conditioning Semi Permanent Hair Color

Alternately, consider ordering a custom-selected color from brands such as eSalon (esalon.com) or Madison Reed (madison-reed.com).

Buy two boxes, especially if you have long, thick hair. "The key is making sure the hair is saturated with color," says Green. Otherwise, the end result can appear uneven. Those with short and fine hair can probably get by with one bottle. Still, pick up two just in case. Better to return the extra one, or save it for another time, than to have to redo a patchy result.

Read all directions first. Key among them will be doing a skin patch test to rule out any allergic reactions.

Recruit an assistant if you can. A helper can use a bowl and brush for more precise application. Two options: Colortrak Hair Color Tint Bowl Kit and Annie Hair Colorist Tool Kit. If you're on your own, using an applicator bottle may be easier. If your color isn't packaged in one, try Sally's Narrow Tip Applicator Bottle or Jacquard Plastic Squeeze Bottle.

Protect against stains. Apply an even layer of petroleum jelly or coconut oil below your hairline and on your ears to prevent the dye from staining your skin. (Petroleum jelly may also help remove stains on skin.) Disposable gloves and an old T-shirt come in handy, as well.

Keep all tools within reach across your vanity. You don't want to fumble around for items once you're wearing stained gloves. Protect the vanity's surface with a drape such as a clean trash bag.

Perform a strand test to preview the final color. Before you slather dye all over your strands, test a few by following the exact instructions on the box and setting a timer.

Work in small sections. For evenly distributed color, detangle and section your hair off into quadrants before applying color, then secure each section with a large alligator clip.

Check the rear view before rinsing. If you don't have a helper working on the back of your head, check your coverage by holding up a handheld mirror while standing with your back to the vanity mirror.

Keep the color fresh in between applications. "Color-safe shampoo is formulated to maintain vibrancy and fight brassiness. Some even contain UV protection," says Green. Two options: TRESemmé Shampoo Color Revitalize and Redken Color Extend Shampoo.

You'll also want to touch up your roots. Two root concealer options: L'Oréal Paris Magic Root Cover Up spray and Oribe Airbrush Root Touch Up Spray.