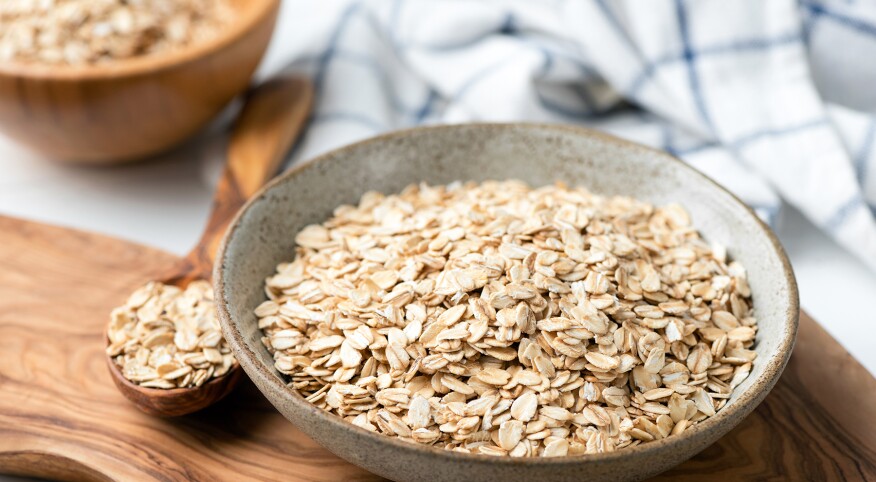 It's no secret that eating nutrient-rich foods regularly can unlock thriving hair and skin. While most foods belong on a plate and shouldn't be slathered directly onto your body, oatmeal is an exception to that rule. When it comes to your beauty needs, colloidal oatmeal (finely milled oat grain) reigns supreme, since it includes the whole bran, which is normally removed during processing. The bran contains the most essential nutrients and skin-soothing properties.

"Colloidal oatmeal is anti-inflammatory and moisturizing, and it helps repair the skin barrier," explains board-certified dermatologist Janiene Luke, M.D. High in antioxidants, colloidal oatmeal, unsurprisingly, is found in many lotions, shampoos and facial cleansers. Fortunately, incorporating it into your daily routine requires little effort and is inexpensive. In fact, if you have a package of uncooked whole oats and a food processor, blender or coffee grinder powerful enough to turn the oats into powder, there is nothing to buy. (You'll know your batch has been milled sufficiently when a tablespoon of it mixed into a glass of warm water creates a milky liquid.) Keep reading to find out how to get the most from this breakfast — and beauty — superfood.

Good to know: Do a patch test on the back of your ear to rule out any oat allergies.


Calm irritated skin and minimize redness

Struggling with eczema or psoriasis? What about sunburn, poison ivy or pesky insect bites? A daily or weekly oatmeal-infused bath may offer instant relief and help prevent or minimize redness and unsightly skin damage from scratching. If you want to go the DIY route, just add 1 cup of colloidal oatmeal to a tub of lukewarm water and soak in it for 10 to 15 minutes, or whatever your doctor recommends. Brands like Aveeno and Camille Beckman also offer single-use bath treatments.

Pro tip: Follow it up with a ceramide-based moisturizer like CeraVe Moisturizing Cream or La Roche-Posay Lipikar AP+M Triple Repair Body Moisturizer for Dry Skin on slightly damp skin to help retain moisture. Glycerin, niacinamide, squalene and hyaluronic acid are also great ingredients to look for. If you have topical prescriptions for eczema or psoriasis, apply them first.


Nourish your hair

From boosting moisture to minimizing dandruff, oatmeal can do a lot of good for your hair. The next time you prepare oatmeal for breakfast, set aside 1 cup of uncooked oats and mix them with 1/2 cup of whole milk (or a little more if the consistency is too thick). Add a tablespoon of raw honey for an extra-moisturizing effect. Once the mask — which should be used in place of your deep conditioner that day — has been applied, use a wide-tooth comb or paddle brush to distribute it evenly from root to tip. To take it up a notch, licensed hairstylist Tamara Johnson, who's worked with NeNe Leakes and LisaRaye McCoy, suggests sitting under a steamer for 15 minutes to allow your strands to better absorb all that goodness. Follow with a thorough rinse.


Say goodbye to dead skin cells

Exfoliation, the removal of dead skin cells from the epidermis (the outermost layer of the skin), can be key to a smoother, brighter and more youthful complexion when done properly. This applies to the skin on your neck and rest of your body as well, but many physical scrubs found on store shelves are too abrasive and can cause microtears. The good news: Colloidal oatmeal may be a suitable double as an exfoliant sans the irritation. Just mix water and colloidal oatmeal in equal amounts. Limit exfoliating to no more than a couple of times a week, or even less if you have sensitive skin.