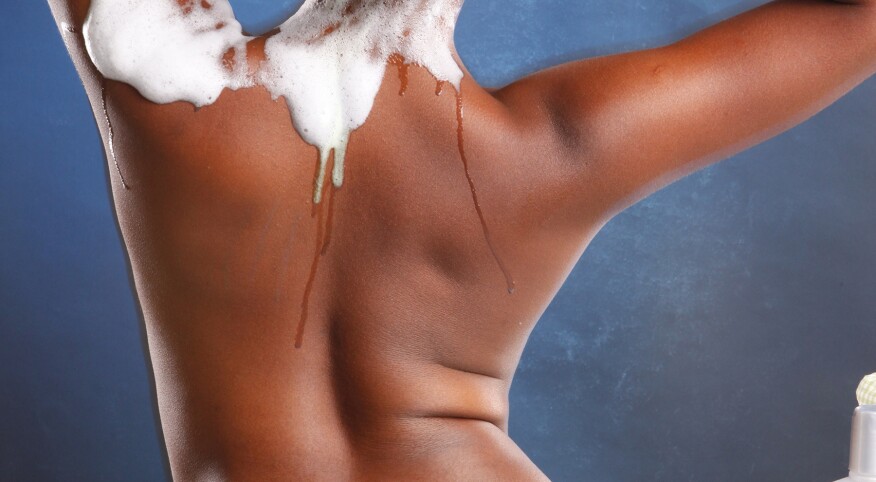 Wash days are the foundation to flourishing tresses throughout the week. And how often you shampoo can differ from week to week as you're switching up your styles and daily activities. Whether you're sporting a protective style or showing off a sexy, sleek look, we asked Keisha George, a Maryland-based senior cosmetologist and instructor, and Tonya Cryer, a Los Angeles-based celebrity hair stylist, whose clientele includes Vivica A. Fox, Nia Long and Vanessa Williams, to offer guidelines and pro tips. Turns out, it's also time to come clean about a few misperceptions.

5 Wash-Day Myths

You only need one kind of shampoo. You generally need two types of shampoo: clarifying and moisturizing. For the first three weeks, use a moisturizing shampoo to ensure soft, clean strands. Then, go in with a sulfate-free clarifying shampoo, followed by a moisturizing shampoo on week four. "A clarifying shampoo is generally used about once a month to strip the hair of all buildup," says Cryer.
Two clarifying shampoos to try: Camille Rose Sweet Ginger Cleansing Rinse ($14, Target.com) and As I Am Curl Clarity Shampoo ($12, AsIAmNaturally.com)
Two moisturizing shampoos to try: ORS Olive Oil Sulfate-Free Hydrating Shampoo ($10.45, Walmart.com) and Mielle Pomegranate & Honey Moisturizing and Detangling Shampoo ($13.59, SallyBeauty.com)

Dandruff shampoo can replace your regular shampoo. Sisters who suffer from a dry, itchy scalp might consider incorporating a dandruff shampoo into their wash-day routine, but it's important to follow-up with a hydrating shampoo to offset its drying effect. George warns against using a dandruff shampoo and a clarifying shampoo on the same day, as both can be drying.
(Editor's note: If you have an itchy scalp, and it doesn't respond to over-the-counter remedies, you may want to speak with your health care provider. Learn more about how to manage a dry or itchy scalp—and why you shouldn't ignore this issue—in this Sisters story.)
Two dandruff shampoos to try: As I Am Dry & Itchy Scalp Care Shampoo ($11.49, SallyBeauty.com) and KeraCare Dry & Itchy Scalp Anti-Dandruff Moisturizing Shampoo ($12.75, KeraCare.com)

Curly girls should co-wash only. Conditioner-only washing (aka co-washing) is great for curly heads, as it gently removes buildup and can help retain moisture in between styles, but cleansing with a regular shampoo is still necessary. "A lot of people have opted out of shampooing because they're under the false pretense that it's damaging to their hair, so they will only co-wash and not get their scalp clean," explains George.

Dry shampoos are not for us. You might've heard that dry shampoos are a no-go for textured tresses, hence the word "dry," which is the last thing we want our strands to be. But dry shampoos can work for us without stripping our strands of moisture, reverting our straight styles or altering the hue of our tresses. They're great for reviving a week-old silk press or adding body to an old wash 'n' go.
Two dry shampoos to try: amika Perk Up Talc-Free Dry Shampoo ($25, Sephora.com) and Dove Refresh + Care Volume & Fullness Dry Shampoo ($4.49, Walgreens.com)

Astringents can only be used on the face. Astringents remove excess oils from the scalp just as well as it can from your face. You might benefit from products that contain astringents if you have an oily scalp, sweat heavily, work out daily or suffer from an itchy scalp, as astringents have soothing properties, too. Products containing astringents are especially helpful for women rocking protective styles, such as braids, and need to refresh their scalp without lathering up again. Use these products as needed.
Two products that contain astringents to try: TPH by Taraji Master Cleanse Scalp Treatment Wash ($15, Target.com) and Curls Blueberry & Mint Tea Hair Growth & Scalp Treatment ($12, Ulta.com)


Here's a general guideline to help you figure out your wash-day schedule:


Beaming in braids: Shampooing braids at least once every three weeks is typical for most braid wearers. To limit manipulation to your style, George suggests applying the shampoo with your finger directly on the scalp down the parts. Then apply a stocking cap and gently massage the scalp using the balls of your fingers. Next remove the stocking cap and gently run conditioner down the base and shaft of the braids and rinse with cool water. Using a towel, squeeze out the water, apply mousse to tame the frizz and tie in a scarf to let it dry. Don't want to risk getting your style wet? Dry shampoo can absorb excess oil and dirt from the scalp.

Serving a sew-in. When sporting a sew-in, you generally want to cleanse every two to three weeks unless you notice your hair starting to get weighed down with excess dirt and oil. Washing more often may decrease the longevity of your style. "Shampooing loosens the tracks and this process is expensive to do over," says Cryer.

Slaying a silk press. Straight styles tend to get oily quicker than curly ones because the oil that your scalp produces is able to travel down the hair shaft faster than it can when your hair is in its natural state. Dry shampoo can help soak up some of the oil and give your hair some added volume. For best results, take the can and hold it at least eight inches away from your scalp, then let it sit for two minutes before combing through your tresses. To prevent product buildup, avoid using dry shampoo more than twice a week.

Workin' a wash 'n' go. Depending on how heavy-handed you are with your products, you might find yourself shampooing this style once a week or once every two weeks. But according to Cryer, coarser strands might benefit from repeated applications of product to prevent the hair from drying out. Finer hair may get weighed down quicker and requires more frequent washes. If your wash 'n' go is getting limp from the roots, reach for the dry shampoo for added volume. But instead of brushing the hair out as you would with a straight style, gently massage the product into your scalp.

Hitting the treadmill. A good workout can sweat out a good do, which may require more frequent cleansing to prevent buildup and odor. Depending how much you sweat, this can range from every one to two days with wash 'n' gos, and biweekly with extensions, for example. George suggests tying your hair up in a satin or silk scarf or turban during your workout session to minimize shampoos and preserve the style you're rocking. (Keep several clean scarves on hand so you're not reusing dirty ones). Or, try a sports headband designed to wick moisture. Also, consider scheduling cardio sessions right before wash day.