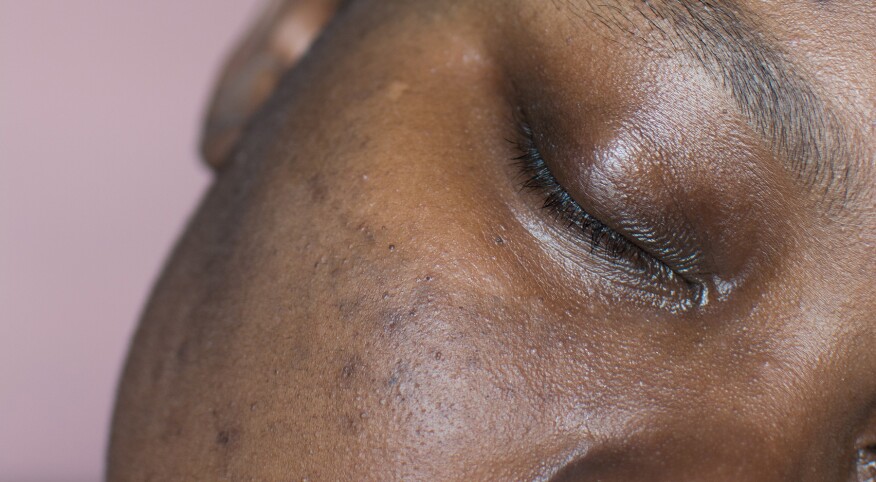 Dark spots. Annoying, right? And if you're anything like me, you can get them for very little reason. (Like, let the wind blow one mosquito my way and it's over.)

As you may know, hyperpigmentation (some areas of the skin that appear darker) can be common in skin of color. That's because our beautiful melanin can make us more susceptible to darkening when our skin is damaged.

While hydroquinone (a.k.a. bleaching cream) has been the standard for the treatment of hyperpigmentation for years, it can have some drawbacks and isn't recommended for long-term use.

Happily, we also have other treatment options, including tretinoin, glycolic acid and kojic acid. And now we have another product that's been getting attention: tranexamic acid, traditionally taken orally to treat excessive menstrual bleeding and now used topically and orally to treat hyperpigmentation. For instance, a 2022 review of literature in the Journal of Cosmetic Dermatology found that tranexamic acid is one of several "promising" topical treatments for reducing discoloration from acne.

And as I was dealing with my own (not-so-fun) dark spots this year, my own dermatologist recommended it. Which inspired me to start researching it. I'll share what I've learned with you.


A rival to the standard?

Let's go back to hydroquinone for a moment, because there is a place for this long-standing treatment.

"Hydroquinone is the gold standard for treating hyperpigmentation," says Edidiong Kaminska, M.D., M.B.S., a board-certified dermatologist in Chicago. (She's not my doc, by the way, but I was glad to interview her.) "There have been a lot of studies that demonstrate its efficacy," she adds.

You may have seen over-the-counter hydroquinone in concentrations of around 2 percent, but it's also available in higher concentrations by prescription.

And while studies show it works, there are possible side effects (as with other drugs). For instance, hydroquinone can bring on redness and dryness. And, if used too long, it can result in a rare condition called exogenous ochronosis, where skin is irreversibly discolored, says Dr. Kaminska. (Ironic for a product meant to help with pigment issues.)

"With hydroquinone, we really don't want people using it longer than, maximum, six months," says Dr. Kaminska, who has a special focus on acne and pigmentary disorders. "I usually tell my patients to stop using it after about four months, to take a break."


Could tranexamic acid work for you?

If you're looking for an alternative treatment — whether because you're at the end of your allotted time with hydroquinone (time flies, right?), you've had bothersome side effects or you haven't gotten the results you wanted — tranexamic acid may be worth a try.

And while some experts are not 100 percent sure how it treats dark spots, Dr. Kaminska says this acid helps by impairing the formation of melanin in our pigment-producing cells.

Dr. Kaminska says she has used tranexamic acid for people who haven't seen results with hydroquinone or who can't tolerate the drug, noting this acid hasn't been used as extensively as the standard but is safe to use on the skin, according to the research she's reviewed. (When used on your skin, she says, other side effects of this acid include redness or irritation, similar to hydroquinone.)

You don't have that risk of permanent skin darkening with topical tranexamic acid, Dr. Kaminska adds. But expect to wait a bit for results. While effects from hydroquinone can be seen after just days or weeks, depending on the strength, you may be looking at a month or more with tranexamic acid, Dr. Kaminska says.

And you can always talk with your provider about treatments involving lasers safe for your skin, chemical peels and more to help you level up with results.

Important note: If taken orally for conditions like melasma, tranexamic acid can result in blood clots for some patients, among other side effects. Complications from COVID may also increase clotting, so make sure your health care provider has your detailed health history so they can best advise you.

Talk with your dermatologist or other health care provider if you have questions about how to incorporate this item into your routine, as brands like SkinCeuticals, Shiseido, SkinMedica and Good Molecules offer products with this ingredient. (Just search online for the brand name and "tranexamic acid.")

One last thing: If you try this product, keep using daily sunscreen, whether you're sitting outside, in front of a window or even in front of your computer. (You're already doing this, right?) "I tell all of my patients with hyperpigmentation: If you do not wear sunscreen, you are not optimizing your potential treatment outcomes," Dr. Kaminska says.

So, tranexamic acid is one more product to have in your arsenal over time, if you're pursuing glowing skin. I've been using it lately, along with other products, and I'm glad to have the option.