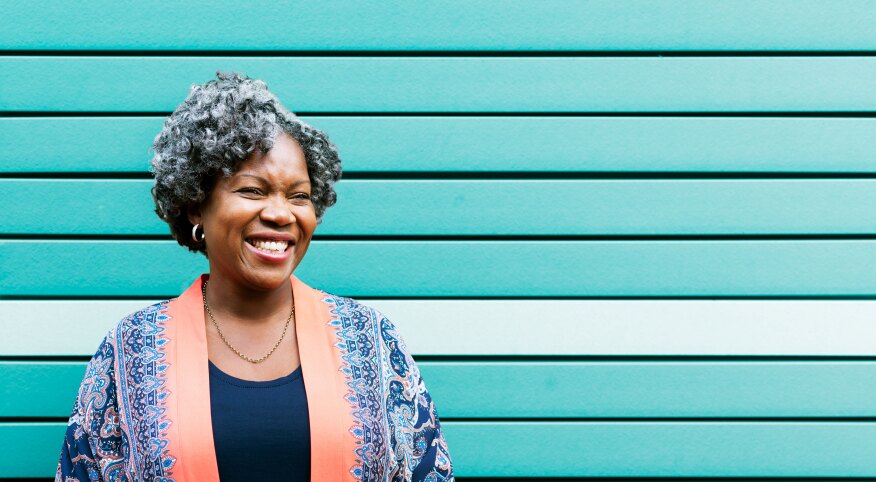 At 36, I was excited to happen upon my first gray hair. "Look!" I would tell family and friends, showing it off. The novelty tickled me.

Over the years, I've mostly left my basic black hair untouched, yet envied my friends who were risk-takers: Cynthia who went in for the asymmetrical chop with a blue streak, Keren who deployed a long blonde wig down her back or Pat who showed up to the shindig a newly minted redhead.

The simplicity of letting nature do nature saved time and money. Also I was recovering from beauty shop trauma, where I flipped through a rack of magazines and watched a parade of people come in selling bean pies, all the while eyeing the three other clients who, like me, awaited the same stylist, and wondering who might advance next. Those extended Saturdays led me to a wash 'n' go lifestyle. Bland, yes, but I was beholden to no one. Until gray crashed the party.

Black don't crack applies only from the forehead down. As I moved into my 50s, I grudgingly sought out a stylist. I felt relief when I found one who serviced one client at a time. She gave me regular trims and concocted a chestnut color with warm copper tones that not only covered my gray, but also transformed my lackluster black, as well. The palette paired well with my face.

Sadly this romance was not to last. A study I read recently from the National Institutes of Health linked the permanent dye required to cover stubborn gray, along with perms, to breast cancer, especially in African American women.

I'd grown so attached to my chestnut-copper tresses that I wanted to pretend I hadn't heard the news. But breast cancer nicked too close home. In 2018, my stepmom was diagnosed with the disease. I became one of her caregivers during the torturous battle that she lost not quite a year later at 68.

Over that same period, my hairstylist, Elisa, was diagnosed with breast cancer, but she has fared better. After she shaved her head, her hair grew back salt-and-pepper, and though she has access to a salon full of hair color, she's not tempting fate. And neither will I.

We live in a world where we often don't have a say over the toxins in our immediate environment. This is one choice I had the power to make. The way I see it, the wolf could huff and puff and blow my house down, but I'm not going to throw open the door and invite its raggedy behind in.

Becoming more gray is causing me to pivot, albeit slowly. I'm trying to put less emphasis on how I appear to others, while affirming my unchanged value in a youth-oriented culture. It's a head game, but as my father occasionally says, quoting scripture, "Be ye transformed by the renewing of your mind."

As I look at pictures of myself at different stages of my life, I've always evolved. Now I'm trying to do so with gentle detachment, embracing and celebrating the process. Gray offers me an opportunity to surrender. Growing older is a blessing, not a curse.

Beauty is shifting inward to be more about how I feel. Self-love. Self-care. Self-regard. I ease out of anxiety through meditation and prayer. I stay fluid with Pilates' stretching poses and dance freely in Zumba. I've mostly parted ways with alcohol and meat, and fasting intermittently has helped me shed 10 stubborn pounds.

Embracing the gray, though, is more challenging than I thought it would be. Every day I'm tempted to text Elisa and book a color appointment. But the thing about being an adult is discerning immediate want from deeper need. One day, when I've moved through this difficult transition and have a single black hair left, I hope I'll have the confidence to point it out to friends and family and marvel at the novelty.