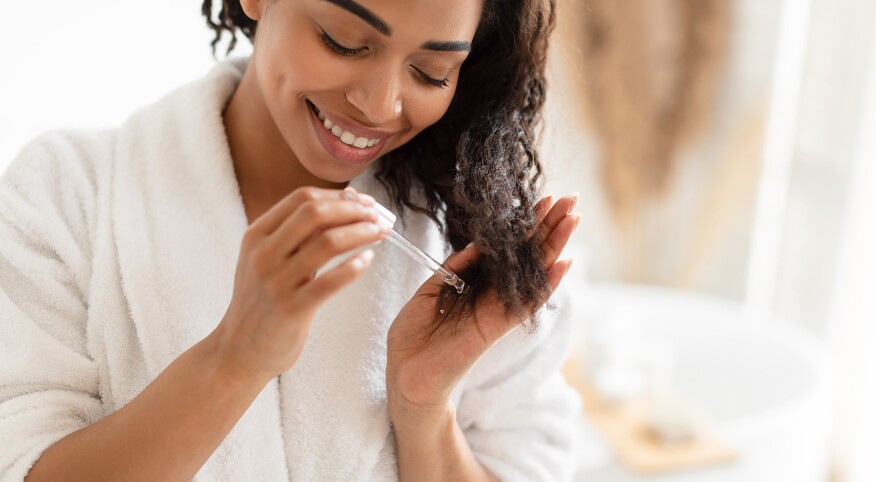 Every naturalista seeks moisture and the reason is simple: Adequate moisture levels are the foundation of flourishing hair. And as temperatures drop, our strands may need a bit of a moisture boost since they tend to get drier.

While oils alone do not deliver moisture, they can leave your hair feeling soft and nourished when used with moisturizing products (e.g., hair butters, creams), or when applied to the scalp while sporting protective styles. Treating your tresses to the right oils can boost shine levels, as well as lessen the amount of breakage. For instance, the International Journal of Trichology notes: "Oils play an important role in protecting hair from damage. Some oils can penetrate the hair and reduce the amount of water absorbed in the hair, leading to a lowering of swelling. This can result in lower hygral fatigue (repeated swelling and drying), a factor that can damage hair." But not all oils are created equal and your strands know this. "Just keep in mind what the function of the oil is [and] what you want them to do," advises licensed hairstylist Glenna Sandy, who's worked with stars like Issa Rae and Karan Kendrick.

You can usually discern what type of oil you're using by checking the consistency, as penetrating oils tend to be thinner, while sealing oils are generally much thicker. Here's a breakdown of the two.


Penetrating oils

These oils are able to lubricate and seep into your strands. How much these oils are able to seep into the cuticle depends on the size of its molecules. For example, in penetrating oils, such as coconut, olive and avocado, the molecules are small enough to get into the hair shaft, leaving your locks feeling soft and hydrated. Olive oil works well when mixed in with deep conditioning treatments, helping to kickstart your week with hydrated hair and prolong your style.

Good to know: Avocado oil is great for aging strands, as they are packed with vitamins and healthy fats that strengthen your strands and may help to prevent further breakage.

Two penetrating oils to try: Silk Elements Pure Avocado Oil ($6.29, SallyBeauty.com) and SheaMoisture 100% Extra Virgin Coconut Oil ($13.89, Target.com)


Sealing oils

This category includes oils, such as jojoba, grapeseed and castor, that simply lock in the moisture you've added with your cream, butter, etc., and keeps new moisture out. In a sealing oil, the molecules are larger and are not as likely to penetrate the strands. Instead, they remain on the outer layer of the cuticle, which is why they work best to lock in moisture. Sealing oils work especially well for the liquid, cream and oil (LCO) method, a common technique used to optimize moisture levels. The liquid is the water or a water-based leave-in conditioner, the cream can be a twisting butter, then you can use a sealing oil to lock in that moisture. With the LCO method, you won't need to reapply oil every day, but you can use it sparingly throughout the week to add shine.

Good to know: Locking in the moisture with a sealant can help keep your twist outs and wash 'n' gos looking vibrant and frizz-free throughout the week.

Two sealing oils to try: NOW Solutions Organic Jojoba Oil ($15.04, Walmart.com) and Sunny Isle Jamaican Black Castor Oil ($6.79, SallyBeauty.com)


Know Your Hair Porosity

Moisturizing and sealing oils can provide major benefits to your mane. But your porosity, aka your hair's ability to absorb and retain moisture, may determine what oil your strands really need when it comes to selecting products.

Good to know: Test your porosity by placing a clean strand of hair in a glass of water. If you have high porosity hair, it's going to sink quickly. If it sinks slowly, you probably have closer to normal porosity, and if it just floats on top, then you have low porosity hair.

If you have low porosity hair, you might consider using lightweight oils, such as jojoba or grapeseed (especially with the LCO method), to lock in the moisture since your cuticles are tightly closed, making it more difficult to attract moisture and retain it. If your strands are higher on the porosity scale, your strands can benefit from heavier oils, such as coconut or olive, to help fill in the gaps in your cuticles.

Ultimately, finding the right oil boils down to what your goals are. If you're trying to combat dryness, a moisturizing oil can do the trick. If you're having trouble holding onto moisture, reach for a sealing oil. If there are particular benefits you're seeking from different oils, you might consider blending them.

Pro tip: The results you get from an oil may depend on your hair type. For finer, looser curls, using too much oil can weigh your tresses down. Coarser, tighter curls may need a moisture fill up more often.

Two blended oils to try: Carol's Daughter Goddess Strength 7 Oil Blend Scalp & Hair Oil ($11.99, CarolsDaughter.com) and KeraCare Essential Oils ($15.95, JCPenney.com)