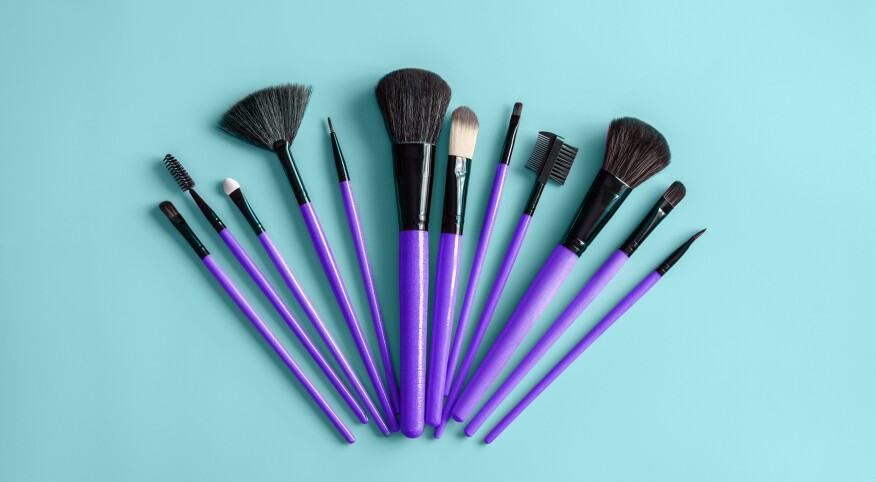 When was the last time you gave your makeup brushes a good scrub, sis? If it's been over a week, it's probably been too long.

The benefits

From a beauty perspective, using clean brushes is the key to a gorgeous application every time. "You might see streaking and an unexpected color if your brushes are dirty," says Mindy Green, a licensed cosmetologist and owner of MG Beauty.

In addition, frequent wash sessions could extend the life of your brushes and help you maintain a clear complexion. "Not only can oil and dirt accumulate on these brushes, but it can also be a breeding ground for bacteria, which can result in acne breakouts and rashes," says Nkem Ugonabo, M.D., a board-certified dermatologist.

What's more, the growth of microorganisms, such as bacteria and fungus can increase your risk of infection, says Naana Boakye, M.D., a board-certified dermatologist. "I recommend washing your tools with a gentle cleanser weekly to remove dirt, oils and makeup," she adds. But for brushes used on or around the eyes (e.g., liner, eyeshadow and concealer brushes), Green suggests cleaning them after each use to avoid infection.


It's so easy to make a habit

Dedicating one day out of the week to clean your brushes can help you get into a consistent routine. Luckily, the process can be a breeze with the right products, such as makeup brush cleansers that contain conditioning and antibacterial ingredients, or even baby shampoo with a drop of olive oil to break down the dirt and oils on the bristles. "There are [also] a few tools out there to help swirl the brushes to remove dirt," says Green. "If it will get you in the habit of cleaning your brushes on a regular basis, I say use it."

Two makeup brush cleansers to try: M·A·C Brush Cleanser ($17, Macy's) and Cinema Secrets Makeup Brush Cleaner ($24, Sephora)

Two brush-cleaning tools to try: e.l.f. Cosmetics Makeup Brush Cleaning Glove ($10, Ulta) and Sigma Spa Express Brush Cleaning Mat ($29, SigmaBeauty.com)


Scope out signs of buildup

Consider inspecting foundation, eyeshadow, blush, highlighter and lip brushes regularly for any visible signs of product buildup. If your tools are dirty, you may not get your desired results. "It will be a mixture of all the colors left on the brush, [which] won't give you the color payoff you want," says Green. If you have designated brushes for various colors, or you only apply makeup two to three days a week, Green says you can extend the time a bit between washes.


Know when it's time to toss old brushes

Depending on the quality of your brushes, they can last for years. But consider replacing them if the hairs start shedding, fraying, breaking off or coming out of the barrel altogether. On the other hand, repeatedly reusing those budget-friendly makeup sponges you can typically buy in bulk is a no-no since there's no way to completely remove trace amounts of product, according to Green. "Sponges are moist and porous, [and] bacteria love a moist environment," she says.

To be on the safe side, Shawntay Fisher, a celebrity makeup artist who's worked with Ava DuVernay, Robin Roberts and Jasmine Guy, recommends discarding sponges after one use. However, antimicrobial sponges by Beautyblender or UVé Beauty have a longer life span depending on how well you take care of them. "They have products you [can use] to clean [them], so it's a little [safer] to use if you're not going to [throw] out your sponges after each application," she says. When it comes to cleaning antimicrobial beauty sponges, stick to the once-a-week rule and consider replacing them at least every three months.


DIY cleaning tips:
Wet natural and synthetic bristles with warm water. Try not to let water seep into the brush, as this can flood the barrel and loosen the glue that binds the bristles. To prevent this, hold the brush facing downward.
Apply the cleanser of your choice and use the palm of your hand to gently massage the surface of the brush in a circular motion, or gently scrub using a brush-cleaning mat or glove.
Rinse thoroughly and squeeze out excess water.
Reshape the brush while it's wet to maintain its shape.
To dry, lay your brushes flat on a clean counter or table, ideally with the bristles hanging over the edge.