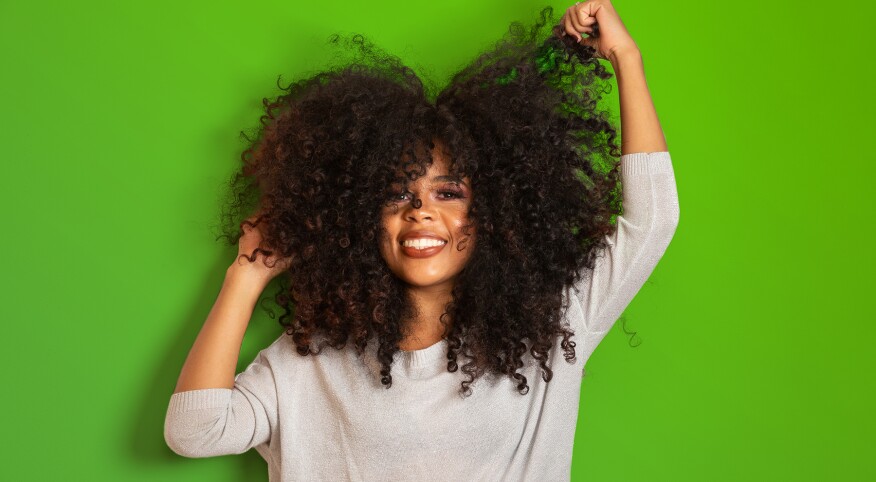 Every now and then your locks long for something new. And when you're pressed for time, it's easy to get stuck in a hair rut. But instead of reaching for the heat tools to create a new do, consider reaching for the spray bottle! Spritzing and setting your strands will create big, luscious curls that actually last. Plus, "wet hair is easier to manipulate as opposed to dry hair, [and] not to mention, it's healthier," says celebrity hairstylist Cheryl Bergamy, who's worked with Queen Latifah, Loretta Devine and Angela Rye.

Here are four simple ways to get beautiful, curly tresses sans the heat, and the sweat from cranking up the hooded dryer on a hot day. You'll have fun sporting these versatile looks all summer.

What you'll need:
Clean, damp hair
Spray water bottle
Rattail comb for sectioning
Wide-tooth comb and detangling brush to sleek out your strands
Leave-in conditioner for moisture, and/or a styling product with light hold (e.g., gel, cream, setting lotion) for longevity
Option 1: Bantu knot out

Not only do Bantu knots serve as a regal, protective style, they create ultra-defined curls that deliver big on the volume. "To create a loose wave, part your hair in four to six sections, [and for] a tighter curl, break it up into eight to 10 sections," says Bergamy. Once you've sectioned off your strands and applied your leave-in conditioner and styling product, twirl the hair and wrap it around the base of your scalp to form a knot. Secure it with a small bobby pin.

Consider this: If your hair is well-conditioned, you can also try Bantu knot outs and rod sets on dry, stretched hair for more elongated curls. Use heat-free methods, such as braid outs or twist outs to stretch out your strands.


Option 2: Flexi-rod set

These smooth, bendable, foam rollers are ideal for an elongated curl, and may even be the most comfortable to sleep on due to their cushiony feel, says Bergamy. "With the flexi-rods, you get a smoother curl, because now you're bringing more tension to the hair [and] you're stretching out a little bit of the elasticity," she says. And with various rod sizes to choose from, you can create any type of curl, from spirals to beach waves. "Some people do [two-strand twists] and wrap it in flexi-rods, [which] gives it a whole [different] look." To begin your flexi-rod set, create small sections of hair and apply your leave-in conditioner or lightweight styler. Then, wrap your hair around the flexi-rod. Fold both ends of the rod inward for a secure hold.

Pro tip: To speed up drying time, set your strands in small sections. Drenched hair takes longer to dry overnight, so use a microfiber towel to absorb excess water. Also, opt for lightweight products (less is more), and if you must use a heavy cream, Bergamy recommends applying a small amount. Depending on your hair's texture and density, it may require up to 24 hours to fully dry. If it's your first time trying these styles, use the weekend to learn how much drying time you'll need.


Option 3: Perm rod set

Serve some serious 'fro action with a perm rod set. "When using a perm rod, I recommend using end paper [to] protect the ends of the hair," says Bergamy. "It has these little grids on it [that can pull] the hair out." After layering on your products, take a section of hair and wrap your ends around the perm rod. Then, start rolling the perm rod upward, twisting it around your strands in a spiral motion all the way up to the root. Pull the strap over the section of hair to secure the rod.

Good to know: To add volume to Bantu knot outs and rod sets, use your fingers to separate each curl and a hair pick to lift the roots and help hide parts.


Option 4: Roller set

Boost body and bounce with the help of a roller set. Using a leave-in conditioner and setting lotion, prep your strands for sectioning. Opt for magnetic rollers to ensure a smooth finish. The size of the roller depends on your hair length, but generally, larger rollers work best for old-Hollywood curls, while smaller rollers offer more definition. Roll each section of hair in the desired direction until you reach your scalp, pulling the hair taut for sleek results. Hold the hair in place with metal clips on each side of the roller.