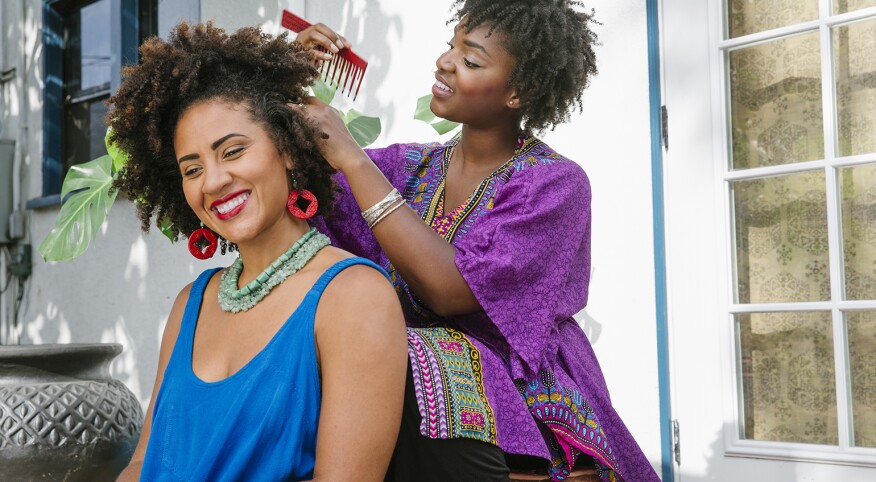 Black hair matters. Even in 2018, sisters can still expect to be judged — by everyone from a future employer to a future spouse — based on the way we wear our hair. Is it any wonder, then, that the relationships we have with our hairdressers go way beyond transactional? Some clients are tighter with their stylists than they are with their spouses. Things can get complicated. We checked in with some salon regulars:



DIVORCED

Juanita B., 72, Tampa, Fla. Hairstyle: Regular Relaxers

"Before I retired as a psychotherapist, I had a wonderful hairstylist named Patricia*. She pampered me when I sat in her chair. Patricia did my two sisters' hair and sometimes my daughter's as well. She felt like family. The problem was, Patricia had an eating disorder and other mental health issues, and she would use me for free therapy! Every visit, she'd tell me her problems. I think she spent so much time massaging my head — which I loved — so she could have more time to discuss what was going on in her life. Sometimes she'd call me in the middle of the night! It got to the point where going to the salon felt like going to work for me. I had to break it off with Patricia. I still miss her massages."



WIDOWED AND DATING AGAIN

Theresa B., 27, Chicago, Ill. Hairstyle: Anything Goes

My previous stylist died of lung cancer. I was devastated because the world lost such a wonderful person. I also missed our chats, giggles and her skills. However, after almost 10 years, I've found Eva and my hair is happy. She's like a bright light every two weeks. She's warm, friendly, genuine and professional.



IN AN OPEN RELATIONSHIP

Clarice M., 49, New York, N.Y. Hairstyle: Locs

"My regular stylist does a good job, but I still see my former stylist in Washington, D.C., when I'm there for business. I like her, too, but I don't like the gossip in her salon. I'm convinced the stylists also talk that way about me. And then when I go home to Kenya, I always get my hair done while there because it's cheaper. Who wouldn't take advantage of a good deal? This last summer in Kenya I considered getting my locs colored, but I hesitated because I knew my regular stylist in New York would know I'd seen someone else."



COMMITTED

Dominique M., 37, Atlanta, Ga. Hairstyle: Straightened but Not Relaxed

"I met my stylist Nichole at the salon at Walmart. She introduced me to my curl pattern and weaned me off relaxers. I followed her to another Walmart, and then Nicole ended up renting space from an aging white barber who owned a shop in Stone Mountain. This owner promised Nichole he'd sell her the business when he retired. So, I'd get my hair done among a bunch of white guys having their weekly trims. You do what you have to do for your hair. The only reason I no longer see Nichole is because I moved out of the country for two years and when I came back, she'd stopped doing hair. Turns out, that barber never left and Nicole got tired of waiting."



IT'S COMPLICATED

Sharon W., 48, Newark, N.J. Hairstyle: Natural

"My teenage daughter and I have the same stylist. Over the years, we've all grown pretty tight. We're friends on social media, and she even gives me Christmas presents. The problem is, I'm not in love with the way she does my hair. Plus, I drive halfway across the city to get to her salon, then search for parking. A new salon has opened two blocks from home, and I've heard great things about the owner. She's low-key famous in the natural hair care world. I am trying to figure out how to see this new stylist without my regular stylist finding out. And if I leave, what will that mean for the relationship my daughter has with her?"

IN A CROSS-CULTURAL RELATIONSHIP

Elizabeth L., 49, Washington, D.C. Hairstyle: Relaxed

"When I lived in New York City, I went to a Dominican salon and my hair looked great. But I moved to the Midwest and changed stylists. My hair fell out and it wouldn't grow. When I moved to Washington, D.C., two years ago, I decided to find another Dominican salon, figuring if it worked once, it might work again. And I wasn't wrong. Rosa doesn't speak English and I don't speak Spanish. I use Google Translate and do a lot of pointing. I will stay with Rosa as long as she keeps my hair healthy and strong. Her prices are great and I never spend hours waiting. Plus, I've developed a new appreciation for Latin music!"



*Some names have been changed.