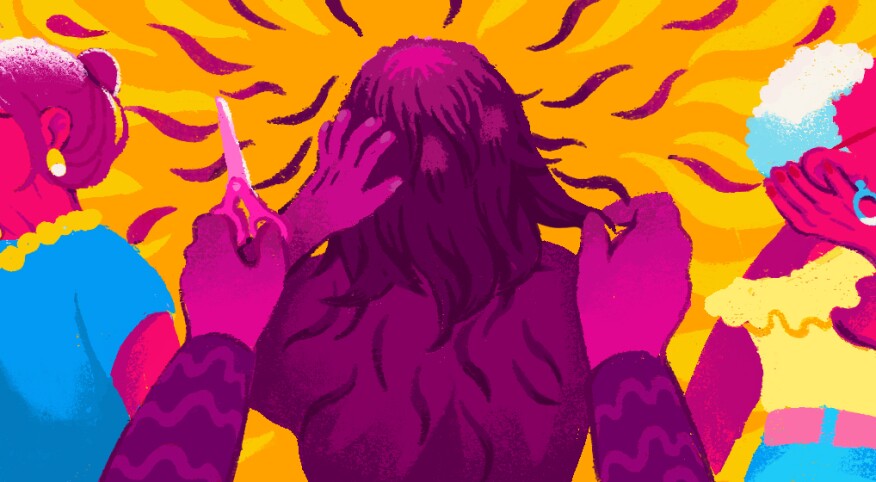 For decades I straightened and colored my hair. In my early years, I reached for the straightening comb. Later, I relied on relaxers to tame my hair. Throughout my adult life, at the first glimpse of gray roots, I was in the stylist's chair.

Two days before my son's wedding, I went to my hair stylist for the usual perm touch-up and color. Getting my hair done was the last thing on my to-do list. I was packed. The mother-of-the-groom dress was a knockout. My flight and luxury hotel room were booked. One hundred and fifty relatives and friends and I were on our way to the Big Easy — all of us looking forward to the vows, the wedding festivities and a second line celebration.

Giddy with anticipation, my hair stylist and I chatted and giggled incessantly throughout the application of the perm, the shampoo and the conditioning treatment. When I moved back to the styling chair for the blow-dry, I shrieked in horror when I saw my mirror image. There were two very large bald spots where there had been hair just 15 minutes prior. She cringed in embarrassment, apologizing profusely, "What happened? I used the same perm and color I've used for the past five years."
Each night I inspected my scalp to see a slow-growing, gray fuzz. As it grew longer, I became more curious about where it was leading me. What was the texture of my natural hair? How gray was it? Salt and pepper? Silver?
I was mortified. The wedding was in two days and the mother of the groom was bald. It was as if my hair was sending me a message, "I'm tired. I've had enough. Over 60 years of hot combs and harmful chemicals. Enough already! I want my freedom. I want to show you who I really am."

The stylist stayed up around the clock weaving a wig for me. On the wedding day, no one seemed to notice that the cute pixie was not real. I kept the wig a secret for months. Each night I inspected my scalp to see a slow-growing, gray fuzz.

As it grew longer, I became more curious about where it was leading me. What was the texture of my natural hair? How gray was it? Salt and pepper? Silver?

After about six months, my hair had grown enough that the wig no longer fit properly. I reluctantly removed it to showcase my new look. Initially, I was extremely self-conscious to go outside, let alone to visit friends. But as time passed, the hair grew into an astonishing curl pattern — hundreds of tiny silver curls. Its thick but soft texture fascinated me. I never imagined that it might be so beautiful.

The numerous random compliments I received from strangers inspired me even more. Just last week a young man in his late 30s driving a fancy Corvette honked loudly at me as I walked down the street. He yelled out how much he liked my hair.

Interestingly, the only people with negative comments have been the males in my own family. They prefer a straight look and think the gray hair makes me look older.

Free at Last

No matter those opinions, the benefits are undeniable. Wearing my hair natural and gray has changed my life in many social/emotional ways. For example:


I no longer hate the wind, those wind gusts that undo the work of a curling iron in seconds. I can drive fast with the sunroof open or ride in a convertible with the top down and enjoy the breeze.
I am in better physical shape and stronger than I have ever been. I work out every day without worrying about "sweating out" the perm. My gray hair motivates me to work harder in group exercise classes just to show that I can.
I've found a new tribe. I have become part of Silver Sisters International and Celebrate the Gray, two notable organizations promoting a gray hair movement around the world.
I've found work as a model.
I'm saving hundreds of dollars a year. During my lifetime, I have spent tens of thousands of dollars at beauty shops. Now I have products to maintain my own hair. I see my stylist once ever few months rather than every few weeks. Given the ongoing protests and calls for financial support from organizations fighting for racial justice, I now contribute that money to nonprofits working on race relations and saving Black youth.
I'd like to say that embracing my gray hair was a conscious decision fueled by a pursuit of authenticity. But truthfully, I would, in all likelihood, still be coloring and perming my hair were it not for that fateful hair appointment before the wedding two years ago. I was understandably horrified then, but now I am grateful. I love my hair!

Since the pandemic and stay-at-home orders, my hair has grown another two inches giving me an even more unique look. I'm curious to see where the hair is leading me next. For now, it's sufficient to know that it feels free and, in many ways, it has freed me.