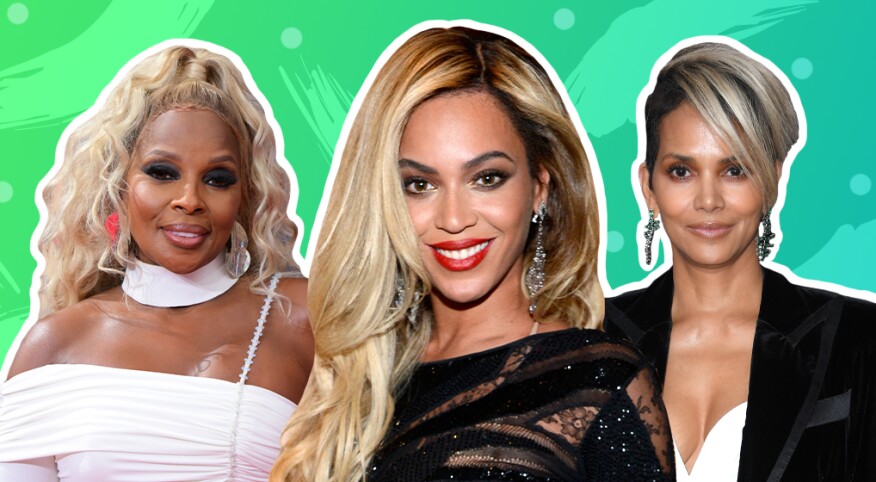 Sisters like Beyoncé, Janet Jackson, Mary J. Blige, Halle Berry, Patti LaBelle and Tina Turner have been stunning in blond for as long as we can remember. Up until a couple of decades ago, you had to be an entertainer to pull off blond, but gone are the days of associating it with adhering to Eurocentric beauty standards. In fact, there are naturally blond-haired melanated people whose genetics challenge tired stereotypes about what Black is supposed to look like.

With more of us experimenting with honey-blond highlights, full-on platinum and everything in between, you may be thinking about taking the plunge soon. But there are a few factors worth considering before booking that appointment. "If the hair is already chemically treated — relaxed, permed, lightened or bleached — then it can be more challenging," explains Mindy Green, a licensed cosmetologist and owner of MG Beauty. "With gray hair, the stylist must add pigment back in, which requires some expertise with gray formulation. Unprocessed natural hair does a lot better with lighteners."


More pro tips for achieving the perfect blond:
Bring a Photo or Two

It's one thing to describe to your stylist what you want in words. It's quite another to bring in several photos of a celebrity, or whoever, rocking your desired shade. "That way, the stylist can discuss what they see versus what you see, how many visits are involved to get that look and the maintenance involved in keeping that look," Green says. "The stylist could also suggest alternatives if they don't think it's safe or the right shade of blond for you."

Even if you and your colorist are on the same page, some caveats may still exist. For instance, the hair color you see in a picture may be a wig or weave using Indian or Malaysian hair, and color treatments can affect different hair types differently. Also, the photo could have a filter applied, making the color harder to achieve than you think.


Don't Rush the Process

Making the switch from dark to light in one salon visit isn't always recommended, depending on the shade of blond you're trying to achieve. Not only is a gradual transition better for maintaining the hair's integrity, but you'll be less likely to regret the outcome, since you'll be able to adjust to the subtle changes happening every couple of months and reassess if needed. In other words, avoid the shock factor by taking more of a slow and steady approach.

Good to know: Pick a hair color that suits your undertone. This is different from your skin tone, which changes with the seasons or sun exposure. Sisters with warm or cool undertones have green or blue veins, respectively, while veins matching your skin tone usually indicate a neutral undertone. With that in mind, a hair color in a tone contrasting with your skin's undertone does a lot to flatter the complexion. "Cool and warm colors are opposite on the color wheel," Green explains. "When they are side by side, they are their most vibrant."


Take Extra Care if Your Hair Is Relaxed

According to Green, coloring relaxed hair doesn't have to be disastrous, though it's wise to tread lightly and try out blond in phases. Chemical relaxers break down the hair's protein structure to loosen kinks, curls and coils, making your strands drier and more prone to breakage. Your safest bet? "With relaxed hair, opt for permanent color instead of bleach," Green says. "If you and your colorist agree on bleach, try to get one containing a bond builder, or add one to the bleach. Bond builders help maintain the strength of the hair." Another rule of thumb: Do the relaxer (a mild formula is preferred) first, then wait at least a couple of weeks before bleaching your hair.


Protect Your Investment

When you leave your stylist's chair after you go blond, you'll have a lot of work to do. Even having a trusted and knowledgeable colorist in your corner can't replace the way you take care of your hair between salon visits. That means any old shampoo and conditioner probably won't suffice the way they used to. Your hair now has different needs and craves moisture more than ever before, says Green, who warns against using too much heat or putting styling tools on the highest setting. Invest in color-safe products for locks that thrive and color that pops.

Three color-safe shampoos to try: Shimmer Lights Purple Shampoo for Blonde & Silver Hair ($11.48, Ulta), Invigo Blonde Recharge Cool Blonde Purple Shampoo ($18.70, Ulta) and Briogeo Curl Charisma Rice Amino + Avocado Hydrating Shampoo ($28, Sephora)

Two color-safe conditioners to try: Wella ColorMotion+ Conditioner (around $16, Amazon) and Nioxin System 3 Therapy Conditioner (around $24, Ulta or Target)


Weigh the Pros and Cons

If all this sounds like too big a commitment right now, that's OK! Blond isn't for every sister, but if the idea still intrigues you, consider purchasing a blond wig or getting highlights, which "may give you the brightness you want without [your] having to color your entire head," Green says. Wig companies like Motown Tress, Model Model, Bobbi Boss and Sensationnel offer a wide selection of shades, styles and lengths at various price points so you can find your perfect match. Whether you strive for blond ambition via a wig or a trip to the salon, be confident and have fun!