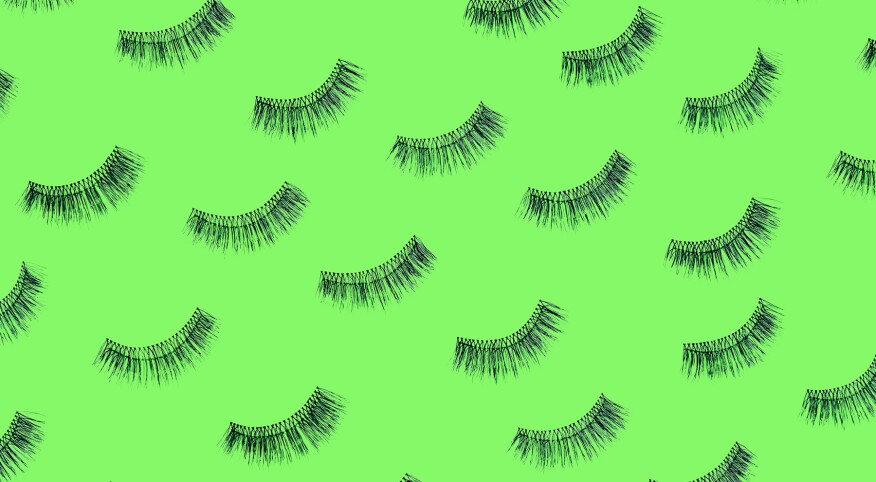 Long and lush faux lashes are clearly having their moment among millennial Instagrammers. But if your lash line appears sparser these days, you might be wishing for natural-looking fullness.

It's not uncommon for eyelashes to thin out with age. It's also worth noting that lash shedding is a normal phase in the hair growth cycle, which is why you occasionally find a stray lash on your cheek — and blow it away if you're feeling lucky. However, losing more of them more frequently can signal an internal or external problem that you don't want to just blow off.

According to Nina Ross, a certified trichologist based in Atlanta, some culprits of disappearing lashes include inflammation, poor eye hygiene and certain autoimmune diseases, such as alopecia areata and lupus. Additionally, a hormonal imbalance, nutritional deficiency and even stress can affect your lashes. For instance, telogen effluvium, which is when the hair follicles fall out during the resting phase of hair growth, is often triggered by stress and can make your lashes appear thinner than usual, says Sophia Emmanuel, a certified trichologist based in New York City.
Lash extensions have come down in price in, meaning something sisters may have splurged on for a special occasion might be within reach of their regular beauty routines.
Before taking matters into your own hands, it's crucial to consult with a medical professional to determine the root cause of your lash troubles and possibly prevent "scarring of the hair follicle, [which] will result in no hair [growth] or little hair growth," says Emmanuel. But as long as the cause is treatable, there's a good chance your lashes will grow back.

As for cosmetic fixes, professionally applied lash extensions have come down in price in the last decade or so, meaning something sisters may have splurged on for a special occasion might be within reach as part of their regular beauty routines. Lash studios are reporting that women over 45 are their fastest-growing clientele. For naturally thin or aging lashes, there are DIY ways to enhance them as well. Here are four easy tips:

1. Invest in a lash growth serum or conditioning treatment.

Consider trying a lash growth serum that's rich in amino acids and other nourishing ingredients. You can also use a lash conditioner to help moisturize your lashes and prevent breakage. As always, seek the advice of your doctor before trying any new treatment and follow the product label instructions to ensure safe use. If redness, itchiness or any other side effects occur, stop using the product and see your doctor.

Two lash treatments to try: RevitaLash Advanced Eyelash Conditioner ($98, DermStore.com) or GrandeLASH — MD Lash Enhancing Serum ($68, Sephora.com)


2. Don't underestimate the magic of mascara.

While only a temporary fix, the right mascara can create a fabulous-looking fringe in an instant. Give your lashes lots of lift, length and love with conditioning formulas that deliver big on definition. Apply one coat for a subtle look or drag out the drama with multiple coats. Also, consider ditching waterproof formulas to avoid harsh scrubbing while removing the mascara.

Two conditioning mascaras to try: IT Cosmetics Hello Lashes + Volumizing Mascara With Lash Serum ($26, Ulta.com) or Rimmel Lash Accelerator Mascara ($8, Target.com)


3. Try the tightlining technique.

Mascara can provide enough definition, but you don't have to stop there. Makeup artists swear by the tightlining technique, which involves gently lining either the entire upper waterline with eyeliner or in between the lashes to give them a bolder look. This simple trick may also give sagging lids a boost while making the eyes appear more open.


4. Customize your look with individual lashes.

For a natural effect, give individual lashes a go. Unlike full strip lashes, you can target specific areas of your lash line where gaps need to be filled. Another perk? Individual lashes are customizable, varying in length and fullness so you can create the look you desire. Good to know: Pulling out false lashes can wreak havoc on your natural lashes. When it's time to remove them, gently massage the area with an oil-based makeup remover to help soften the glue.

Two individual lashes to try: Ardell Eyelash Individual Lash Trios ($7.89, Target.com) or M·A·C Cosmetics Lash/30 Artiste Lash ($18, MACCosmetics.com)