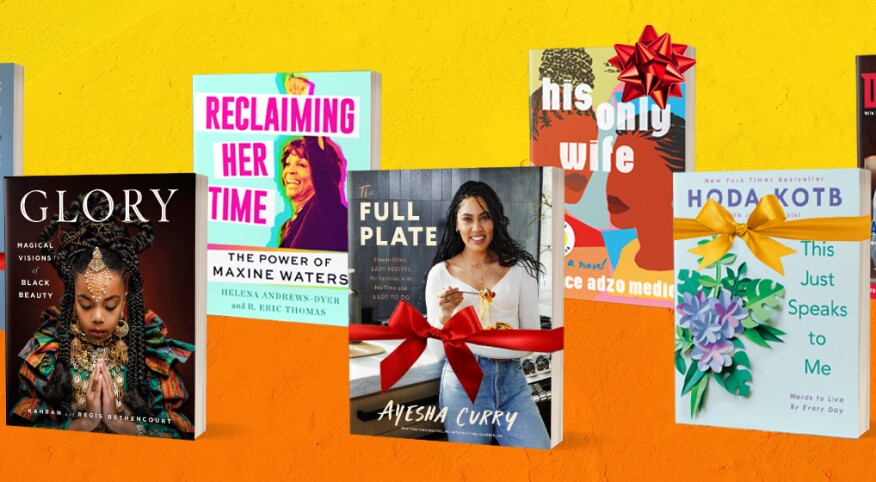 In a year that's been particularly challenging for many peop­le, getting lost in a feel-good or inspiring book can be a welcome change from endless news cycles and social media. If you're looking for a great gift for that book lover in your life, here are some ideas for a range of tastes.

For the Foodie
The Full Plate: Flavor-Filled, Easy Recipes for Families With No Time and a Lot to Do
By Ayesha Curry

For that loved one who lives in the kitchen, basketball wife Ayesha Curry has come out with another cookbook full of mouthwatering recipes. She follows up The Seasoned Life: Food, Family, Faith, and the Joy of Eating Well with this recipe collection designed for people who have lots to do and little time. The TV star, wife and mother provides 100 recipes that go from kitchen to table in under an hour. Chock-full of ideas for everyone in the family, including everything from main dishes to sides, this gorgeously photographed cookbook is sure to please your favorite foodie.

For Biography Lovers
Reclaiming Her Time: The Power of Maxine Waters
By Helena Andrews-Dyer and R. Eric Thomas

Give someone the chance to reclaim her time and spend it reading this deep-diving biography about one of the most powerful women in politics today. Never one to shy away from standing up for justice — whether for women, children, people of color or the underserved — Waters inspires women of all colors to be bold and confident. A vividly illustrated look at the 15-term California congresswoman's life, this book fetes Auntie Maxine, from her perfected side eye to her calm, yet powerful, words that let listeners know she means business.

For Fiction Fans
His Only Wife
By Peace Adzo Medie

For the reader who wants an escape from real life, if only for 300 pages, His Only Wife is a heartwarming novel about Afi, who leaves her small Ghanaian village to move to the country's capital. Agreeing to marry a wealthy man she doesn't know in order to help her mother, Afi discovers that her new life isn't quite what she expected. As she tries to adjust to the unfamiliar environment, she discovers what's really important. This lighthearted, engrossing debut explores family, love and fairy-tale endings that aren't always what they seem.

For Poetry Fans
Make Me Rain: Poems & Prose
By Nikki Giovanni

Nikki Giovanni has been delighting and educating with verse for decades, and this latest release meets the moment we face now. The best-selling author, poet, professor and activist tackles some of the biggest issues Black Americans face today — and yet, many of the same problems that have been around for far too long. From racism and xenophobia to personal subjects like abuse, she takes on heavy topics and presents them with the unique nuance of language and style that makes her a literary legend. Curling up with this new collection is a wonderful way to get ready for Going to Mars: The Nikki Giovanni Project, an upcoming documentary about her life.

For Children
Glory: Magical Visions of Black Beauty
By Kahran and Regis Bethencourt

Got a young king or queen in your life? Glory is an uplifting book full of breathtaking photographs of Black children in celebration of our hair and beauty. With images from husband-and-wife professional photographers, this book is a visual ode to all that's special about Black boys and girls. Along with 100 dazzling images of young models in hairstyles and dress that are regal, Afrocentric or completely timeless are essays that can help kids recognize their power and strength. After soaking in the creative artistry of this book, they'll have no doubt about how mighty they truly are.

For Men
Attacking the Rim: My Journey From NBA Legend to Business Leader to Big-City Mayor to Mentor
By Dave Bing

Dave Bing's motivational journey took him from a childhood shaped by poverty and disability to the hardwood courts of NBA teams like the Detroit Pistons and Boston Celtics. Not content to let his professional basketball career be his only life highlight, Bing went on to be the mayor of Detroit. Giving a firsthand look into big-city politics, he has a unique insight into how corrupt things can be, but also provides solutions to make things better. This is a perfect read for that man looking for inspiration from a Hall of Famer who's done it all and has a story to tell.

For Sisterfriends
This Just Speaks to Me: Words to Live By Every Day
By Hoda Kotb

2020 has been something else. Now we're observing a holiday season sure to be different and filled with quieter moments. To help fill that stillness with meaning, share these inspirational words from Today show cohost Hoda Kotb. In this encouraging book, she provides positive messages in 365 reassuring quotes — one inspiring message for every day of the year. Getting bite-size pieces of optimism is a wonderful way to get a fresh start for what will — hopefully — be a better, brighter 2021.