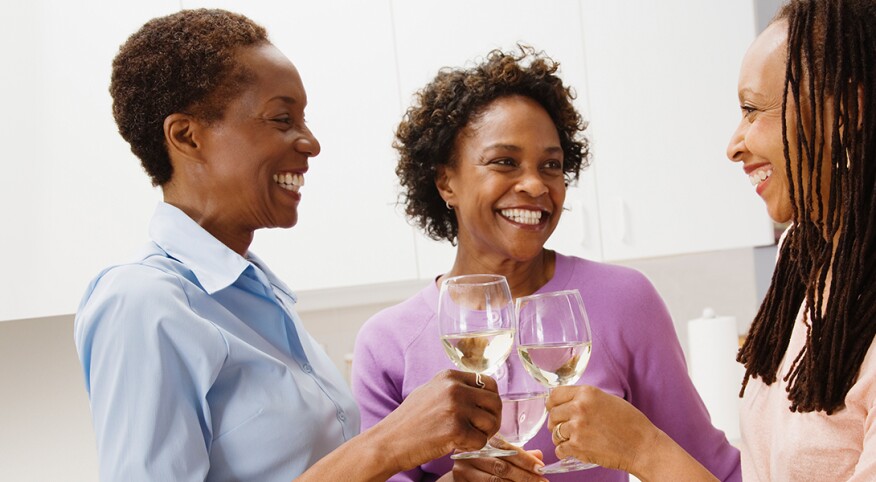 The wine industry isn't exactly teeming with diversity, so it's not unusual to find that you and the concord grapes provide the only color at the vineyard wine tasting. But that's changing. Black women especially are becoming less intimidated by wine and new adventures, says winemaker Chrishon Lampley, founder and CEO of Love Cork Screw, whose wines have names like We Go High, We're Movin On Up and Touch the Sky. "As the wine industry continues to evolve with African American négociants [French for wine merchants], like myself, and winemakers, I think we'll see even more Black women and even men indulge in different varietals to support us and the many facets of wine. I encourage these women to continue to enjoy the journey of wine. Drink it. Don't overthink it."

Do you want to increase your wine cred and know the difference between a chardonnay and a sauvignon blanc? There are wine clubs that introduce you to different varietals from various wineries or brands and ship them to your door. And if you discover a Black-owned wine or winery that you love, some wineries have their own wine clubs with special discounts for members, plus exclusive events and tastings that you can attend if you live in the area. Here are five Black wine clubs to get you started.

Black Girl Magic Wine Club
Sisters Robin and Andrea McBride were raised separately on different continents without knowing the other existed until they met as adults in 1999. They also discovered that they shared a love of wine and viticulture, and in 2017 they released the McBride Sisters Wine Collection. Hosting a dinner? The 2016 Black Girl Magic California Red Blend (of merlot and cabernet) goes well with red meat (think steak, lamb), roasted root vegetables and a simple dessert of dark chocolate and berries. Monthly and quarterly wine club memberships come with a selection of wines with recipes and pairing notes and a 10 percent discount on club releases and additional purchases. There are four club options for the McBride Sisters Collection Wine Clubs (starting at $63.96 per shipment) and three club options for Black Girl Magic Wine Clubs (starting at $71.96). mcbridesisters.com.

Soul of Sonoma
Soul of Sonoma's Legacy Wine Club features three reds, three whites or a mixed batch of Soul of Sonoma wines featuring offerings from Black wineries. Not too keen on planning events and tastings yourself? Soul of Sonoma can also do the planning for you. They offer tastings and wine tours at Black-owned wineries and venues, event packages for groups and can also arrange customized private tours and tastings. soulofsonoma.com.

Black Girls Wine Society
Shayla Varnado founded Black Girls Wine to educate members about Black vintners' wines from around the world, with wine tastings and meetups in D.C. and Baltimore, as well as a Women, Wellness & Wine women's-only retreat in October. The new Black Girls Wine Society, which launched in August, will have exclusive events open to society members only, so society sisters can connect and expand their palate and enjoy getaways and other activities. Learn what wines to choose for a romantic evening with your boo. Varnado recommends the FLO Red Blend from jazz musician Marcus Johnson's FLO collection. Popping in a Marcus Johnson CD while sipping the blend of silky merlot, fruity zinfandel and cabernet should get the love thang flowing. blackgirlswine.com.

Wines by Mozel
Sommelier Mozel Watson, founder of Harlem's Pompette Wine Shop, makes wine selection less intimidating. The Wine Church membership (starting at $70 a month) includes four bottles of wine handpicked by Mozel, a personalized sermon (i.e., an audio recording with a detailed breakdown of each wine in the box), individualized tasting notes and recommended food pairings. There's also a 12-bottle wine box, perfect for those who entertain. Selections are tailored to your liking based on a series of questions that assess your palate, the type of wine you prefer and the level of your wine knowledge. Watson recommends O.P.P. (Other People's Pinot Gris) from Maison Noir Wines by winemaker André Hueston Mack. This wine experience is like "juggling apples, pears and peaches while dancing to Pharell's 'Happy.'" Grab some bottles for that girl's trip. winesbymozel.com.

Vine Wine Club
Founded by sommelier Benita Johnson, Vine Wine Club is a subscription wine company that supports Black winemakers and offers wine education and social events to members. The Vine Wine Club currently only ships within Virginia and Washington, D.C. There are plans to ship to other states, but if you want to plan a great wine-lovers getaway with your bae or vino squad, the club hosts an annual event in February called the Exclusive Blacklist Weekend in Richmond, Virginia. There are tastings of wines by African American wineries, vintners and brands and other fun wine-related events. thevinewineclub.com.