Sis, May Your Days Be Merry and Bright
Season's greetings from Sisters. Please enjoy this holiday coloring page created for you as our gift. Relax, sip some cocoa and take time for beauty, peace and joy.
When we at Sisters thought about what we wish for our readers this holiday season — and about what we most wish for ourselves — the answer was plain and simple: peace. So, we wanted to share a holiday greeting that would create a space for beauty, quiet contemplation and #BlackGirlJoy.

Voila! For this latest coloring page, SistersLetter.com Art Director Dian Holton invited illustrator and graphic designer Andrea Williams to express our warmest wishes of tranquility, spirit and unity. She was instantly inspired. "My creative process always starts with one idea that pops into my head after reading a brief. From there, I sketch loosely and furiously just to get the ideas on paper," Williams says. "Once I have a very general idea, I go to Adobe Illustrator or Photoshop, and that's where most of my ideation happens. It's easier for me to transform design elements until I get a good balance." Thank you, Andrea. Your vision is just lovely.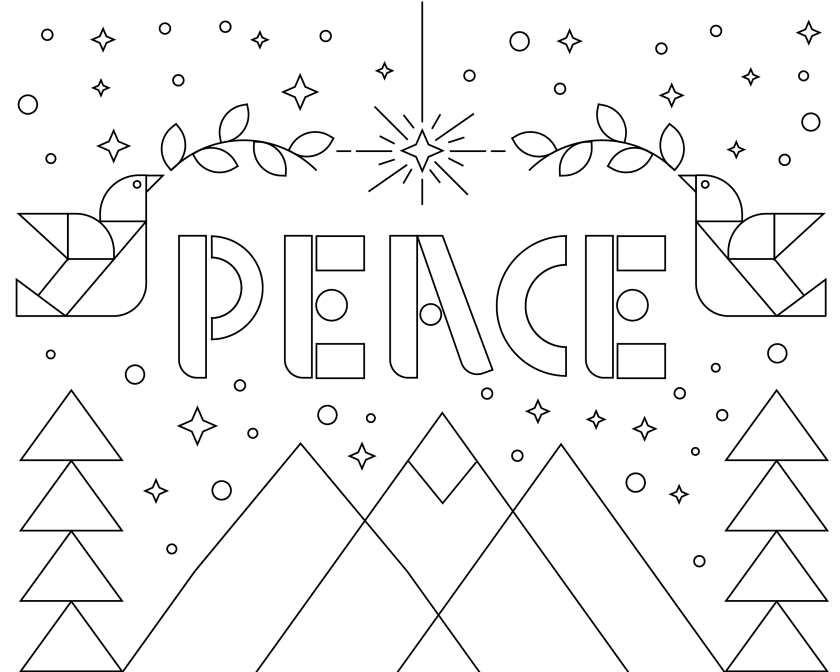 We hope this cheerful scene of gentle doves, natural greenery, snowy mountains and twinkling stars will add both calm and color to your day as you bring it to life with pencils or markers. Take a moment to slow down and breathe. Enjoy a cup of cocoa and a mindful moment as you complete it. And don't forget to put on some cheerful music, like our Holiday Hits playlist or our Motown Holiday collection.

CLICK HERE TO DOWNLOAD THE FREE COLORING PAGE

Color yourself calm

Do you know about the mind-body benefits of coloring? Robin D. Stone, a New York City psychotherapist, is developing an expressive arts wellness center in Harlem. Whether it's writing, drawing or curating a playlist of favorite songs, cultivating a creative practice you can enjoy alone or with others can be restorative, says Stone: "Drawing and coloring can help lower anxiety and stress levels and stimulate creativity."

Coloring may also allow you to engage different areas of your brain, although more study is needed. But arts and crafts activities have been linked with cognitive benefits, says Rosebud Roberts, a professor of epidemiology and neurology at the Mayo Clinic in Rochester, Minnesota. (She spoke with AARP in an article for Staying Sharp, an online brain health program, included with AARP membership.) "When you are coloring in those books, you are focused. You are able to train your attention" in a way that could be beneficial, Roberts told writer Kim Painter. "It's the same as when people are engaging in a craft activity."

One 2015 study in the journal Neurology found activities such as painting, sculpting, drawing, quilting, sewing and woodworking were linked with a reduced risk of developing the kind of cognitive and memory problems that can show up before dementia does. The risk was most reduced in study participants who got creative in both midlife and old age, Roberts says. Stone says you can make coloring a mindful activity by focusing on how the colors you choose contrast or complement one another, by feeling and hearing and watching the pencil or marker as it scratches and fills up the page. "Be open and curious about what you color and create, and jot down reflections on any thoughts and feelings that come up."

What we hope you are feeling is merry and bright!

Happy holidays,

Claire