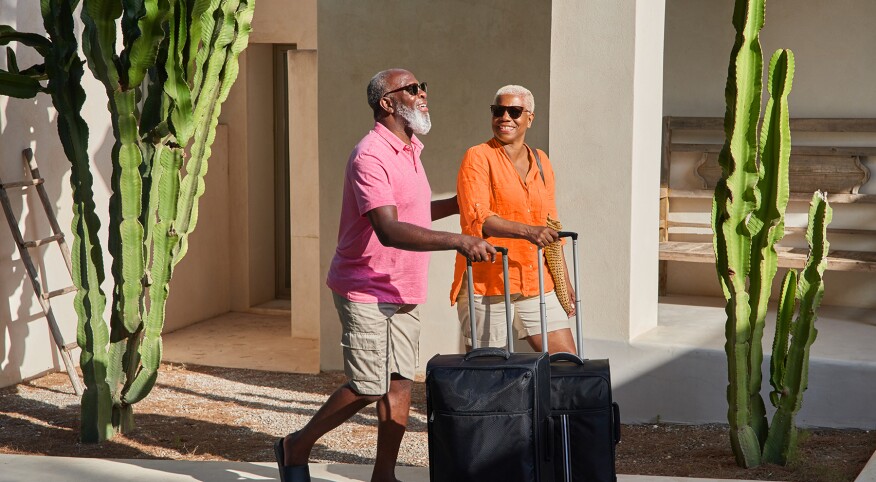 After the bustle of the holiday season, many of us experience winter doldrums. The cold days. The early nightfall. Less time spent outdoors in the sun. Radical self-care is more important than ever. So, if your soul is seeking rest, renewal and recreation, don't wait until you're running on empty to refuel with some time off and a refreshing change of scenery. The time to plan a break is before we're feeling burnout.

Often, we get stuck in a rut carved out by our focus on what we don't want or can't have. I don't want to get sick. I can't take time off from work. I don't have money to treat myself or my loved ones to a trip. The way out is to reconnect with our dreams and desires.

Mental health experts know that simply planning a trip has mood-boosting benefits, thanks to the feelings of anticipation and novelty we experience. Where might your travels take you this winter? How about a warm place where you can trade in dry, stale indoor air for fresh sea breezes, and ditch the hot cocoa for a piña colada?

Whether you're longing to escape the cold, in the mood for a girls' trip or just need to chill out after the holiday rush, allow yourself to envision it, then explore the possibilities. You'll find tools, guides and special offers that can help put your relaxation goals within reach at aarp.org/travel. Once plans take shape and we commit ourselves to action, we often find practical steps to deal with the don'ts or can'ts in ways that minimize risks and maximize pleasure.

So, while you're busy unpacking your wishes and wanderlust, consider these budget savvy tips:

Get travel industry intel. Insiders know how to get more trip for less money. For instance, did you know that hotels that cater to weekday business travelers often have lower weekend rates than nearby accommodations popular with tourists? AARP members have access to podcasts, special reports and articles on avoiding fees and uncovering hidden bargains.
Let the deal determine the destination. Nassau, in the Bahamas, or Playa Del Carmen, Mexico? Both have white, sandy shorelines, swaying palms, tropical sunshine to help your melanin pop and fascinating cultural activities. Think about the experience you'd like to have rather than the location you'd like to visit. If you're flexible enough to take advantage of a terrific offer, your choice can put the beach within reach.
Prioritize enjoyable experiences over pricey excursions. Make memories that don't entail spending lots of money. For instance, an unforgettable afternoon bargaining for handmade crafts at Nassau's world-famous Straw Market affords you the pleasure of chatting with local artisans, whether you spend $15 or $150 on souvenirs. Leaving your Oahu beachfront hotel room before dawn to stride barefoot onto the sand, face the Pacific and watch the sun rise is priceless and doesn't cost a penny. Vacationing in Vegas with your girls? Save yourselves the cost of live concert tickets and take advantage of free live music every night at the Fremont Street Experience. You'll find ideas like these at aarp.org/travel.
Consider a domestic destination. No passport? No problem. AARP Destination Guides include several stateside options. Enjoy the magic of Orlando. You can do Disney with the grandkids. And there is plenty of grownup fun, such as visiting a spa or heading to Disney Springs (free admission) for shopping, dining and free entertainment. As shifting pandemic restrictions affect foreign travel, staying in the States can limit some of the guesswork. Get inspiration from AARP Vacation Ideas and keep up to date on all COVID-19 safety precautions at aarp.org/coronavirus.
Think about a themed trip. For example, arranging a culinary tour allows you to savor an authentic cultural experience with every meal. That way, your food budget doubles as an entertainment budget — and you might save money by dining where the locals do. With an inn-to-inn road or bicycle trip within driving distance of home, sightseeing is free and you save the expense of flights.
Stack savings with packages and special offers. The AARP Travel Center Powered by Expedia offers access to exclusive deals, such as an additional 10 percent off at select hotels and up to 30 percent off select car rentals. You can also look forward to more fun in the sun and even more savings with vacation packages to some of the most sought-after destinations, such as Miami and Maui.
Load the AARP app before your trip. Your digital membership card will always be handy so that you can take advantage of discounts on dining and more. You can save up to 10 percent on your room at any Hilton property while racking up honor points. You'll also enjoy the perks of early check-in and late checkout with flexible booking options if your plans should change.
Plan for peace of mind. Wondering about the "what ifs" sometimes deters us from experiences we deserve. You can learn how to shop for affordable insurance coverage for things like trip cancellation, lost luggage, illness and trip interruption at aarp.org.
Explore Your AARP Membership Benefits
Your AARP membership includes access to hundreds of carefully chosen discounts, programs and services designed to help you thrive in every area of your life.