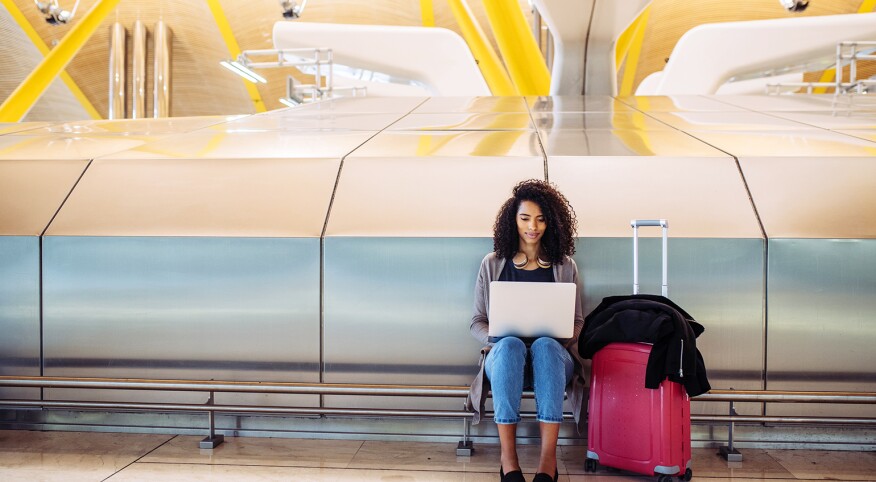 You hop on the plane, go straight into the office, sit in meetings all day until you crash at the hotel, then you wake up to do it all over again the next day. Sound familiar? Business trips can be stressful and packed from start to finish, but there are ways to make work travel feel a little more like a mini-getaway.

Being in a new place is the perfect opportunity to enjoy the unique experiences that city has to offer. Who knows? You might fall in love with a completely new part of the country or world. These suggestions are tried and true. I use them all the time when I travel for work, most recently to San Francisco and Toronto.

Below, you'll find five suggestions that will make your next business trip the best one yet.

1. Come early or leave late.
If your business trip starts on Monday or ends on Friday, come a weekend early or leave a weekend late, and foot the bill for a few extra days in a hotel. Or, stay with friends or family. Warning: Staying with family might make you need another vacation, if you know what I mean. Give yourself a few extra days to enjoy the city and explore. Plus, if the job ever sends you back again, you'll already know some of the best spots in town.

2. Pay with your credit card and get reimbursed.
This one can get tricky, so listen up! Consider paying for expenses with your own credit card and getting reimbursed by your employer later. If your company policy allows you to do this and your employer is reliable with reimbursements, you could rack up some serious travel miles and points depending on how often you're on the go. And you'll be that much closer to your next vacation. If you're not sure what your company's policies are for getting reimbursed, ask first.

3. Ask local coworkers for restaurant and sightseeing suggestions.
Touristy stuff can be fun, but your local coworkers will know which coffee shops, restaurants and museums are worth your time. Ask them for their recommendations and live like a local.

4. Take advantage of the per diem.
If you're a bargain hunter like me, you probably don't usually splurge on dinner and drinks, but if your company offers a per diem, why not get the lobster? A per diem allowance often excludes alcohol, so ask human resources about your company's per diem guidelines to plan your indulgences accordingly.

5. Meet up with friends or a business contact.
You know that old friend or business contact who always tells you to let them know when you're in their city? Now might be a good time to catch up if you've got a couple hours to spare. It's always a good idea to keep up with these relationships. Nothing beats talking face to face.