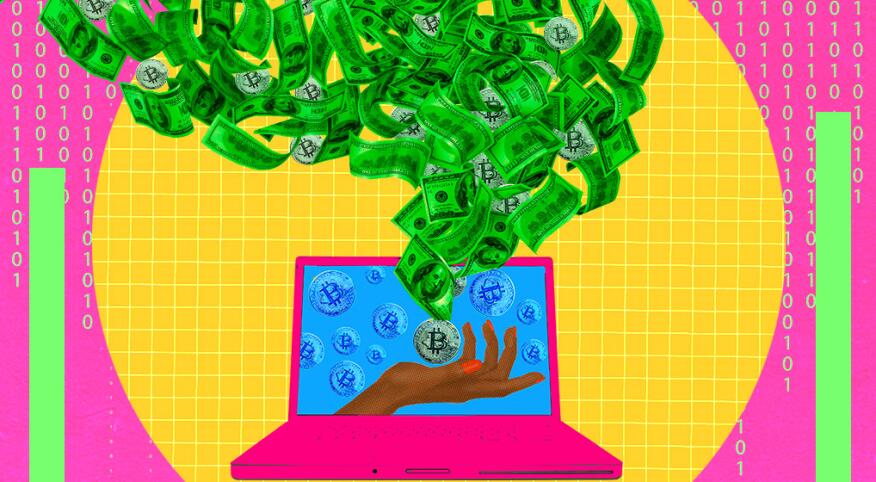 Years ago, when I heard about cryptocurrency, I wasn't sure what to think. But then my friend showed me the very real gains he'd made in the market — we're talking tens of thousands of dollars, ya'll — and I was suddenly intrigued.

Today, as Bitcoin and other cryptocurrencies have reached new all-time highs, I hold cryptocurrency, and I spend time educating people about the market (while avoiding giving financial advice). Though my portfolio has had losses at times, it also has had gains. I believe in the technology. And I don't want anyone I know to miss out on the opportunity to participate in this $1 trillion-plus market (at posting time) because of a lack of knowledge.

Let's be real: The cryptocurrency market is so new and uses some jargon that we may not immediately understand, so it may seem OK to dismiss cryptocurrency as weird, difficult or not for us. But, even though the market has risks and may seem confusing, overlooking it would be a mistake, I think. Because there is space in this market for everyone, including us as Black people and women. And there is potential to have financial success if we take the time to learn.

What is Bitcoin — and what exactly is cryptocurrency?

Cryptocurrency is a type of decentralized digital currency, and Bitcoin is the most popular and well-known of these currencies. Though we can't physically touch cryptocurrency, these virtual currencies exist electronically on a blockchain, which is a shared public ledger where transactions are recorded. Also of note: Central banks do not control cryptocurrency, which is why they are called "decentralized." Only a certain number of Bitcoin will ever exist — 21 million — unlike dollars, which the Federal Reserve can create at any time and has due to our current economic situation.

Today, the market, which includes thousands of cryptocurrencies, has grown and is more accessible. And because Bitcoin is scarce, limited and in demand, some people think of Bitcoin like digital gold. Though a whole Bitcoin isn't cheap, it is possible to buy only a piece. You can start by buying just $10 or $20 worth at a time. "Bitcoin is the best form of savings technology in the world," says Isaiah Jackson, author of Bitcoin & Black America and cohost of The Gentlemen of Crypto podcast. "Currently 99.8 percent of Bitcoin holders, no matter when you bought, [are] in profit."

While crypto was initially discussed in smaller circles, and the space has been historically dominated by men, today these currencies are appealing to more diverse and mainstream investors, including Black women. Major companies now accept Bitcoin as payment. The current richest person in the world, Elon Musk, just confirmed he's a Bitcoin supporter and Tesla, the company he cofounded, just confirmed buying $1.5 billion in Bitcoin. Companies like PayPal and Cash App now let customers buy crypto (in addition to sales on exchanges). Plus, hedge funds, insurance companies and other institutions have bought Bitcoin for investment purposes.

That said, everyone isn't a fan, and investors have had real losses. Critics include billionaire investor Warren Buffett, who said in 2020 that "cryptocurrencies have no value," and noted in 2018 that he thought cryptocurrency would "come to a bad ending."

Note: Be careful if you do buy cryptocurrency and read the seller's terms. PayPal, for instance, does not let you trade or move cryptocurrency once you've purchased it, and ideally you want to be able to control your assets.

What other kinds of cryptocurrency exist?

Thousands of these currencies exist. Many of them do not have utility, and some are sold for less than a penny, while others retail in the hundreds of dollars or more. For example, Ether, the currency of the Ethereum network, is the second most popular cryptocurrency. Ethereum's purpose is to facilitate smart contracts, which can be run without any interference by a third party. And Dogecoin, which started as a joke, recently has made headlines as its price has surged, with celebrity tweets figuring in. In general, some cryptocurrencies will survive but many will not, which is why it's important to do your own research if you decide to invest.

What should you know about growth, building wealth and volatility?

Cryptocurrency is volatile, which means prices can go up and down. But with volatility comes the chance to introduce and use innovative technology, including the ability to quickly send payments, independently settle contracts, track luxury and other products in the supply chain and more.

Plus, cryptocurrency can bring the opportunity to create wealth. For instance, the racial wealth gap has persisted in the United States for decades and exists, in part, because of discriminatory policies that prevented access to opportunities. Investing in cryptocurrency may help us close this gap, and cryptocurrency can be an appropriate part of a diversified portfolio.

You see, after Bitcoin was first introduced in 2009, it sold for about eight cents in 2010. A little more than a decade later, supply and demand has contributed to its price (at posting time) of more than $45,000. Prices do fluctuate, but imagine if you'd bought just one Bitcoin back then and held it? (You can see the latest price here.)

For comparison, when it comes to investing in the stock market, the average annual return for the S&P index from its inception in 1926 through 2018 is approximately 10 to 11 percent, Investopedia reports. (Note: The stock market's rate of return isn't too shabby either when compared to holding cash in a bank account — or worse — under your mattress.)

"The scarce supply coupled with rising demand will make Bitcoin the standard for savings and retirement accounts," suggests Jackson. "The technology far outweighs the value of gold, silver or other assets."

But even though Bitcoin has generally trended up over time, prices can suddenly and steeply drop. And the cryptocurrency market, in general, has been called speculative, as it is a new asset class and no one knows exactly how it will perform. It is also possible to suffer losses in your portfolio, as with other investments. Remember how stocks have collapsed during certain periods and how the housing market suffered during the Great Recession of 2007-2009.

So, as with other investments, don't ever invest more than you are willing to lose. You don't want to be in a short-term situation where you make emotional decisions that may go against your goals.

How can you buy cryptocurrency, and what are some considerations?

If you're interested in this market, first get clear on your goals. Do you want to hold cryptocurrency for the long term? Do you want to supplement your retirement investments? Then learn as much as possible and (again) remember that, as with other investments, there are no guarantees.

You can visit websites like coinmarketcap.com and coingecko.com to learn about individual offerings. There, you can see which ones are in the top 10 by market capitalization (the total market value of a cryptocurrency's circulating supply), and so on. You can review the websites of certain currencies to learn more about their teams, utility and more. And you can visit exchanges or companies that sell cryptocurrencies (like Coinbase, Binance.us and Gemini) to learn about basics, in addition to working with a knowledgeable coach or educator.

Also understand that the Internal Revenue Service views cryptocurrency as property, and holdings can have tax consequences, like other investments. So talk to a certified financial professional if you have questions about your personal situation.

If you decide to buy from specialized exchanges or other companies, also consider learning about safety and storage. And consider buying a device called a "cold wallet" from verified sellers in order to secure your assets offline, as internet hacks can be possible.

Right now, we are still early in the cryptocurrency space, which might seem intimidating for some people. But if you want a new chance to build wealth, I think it's worth taking time to learn. That way, you can make an educated decision about whether you want to invest a few dollars — or more.