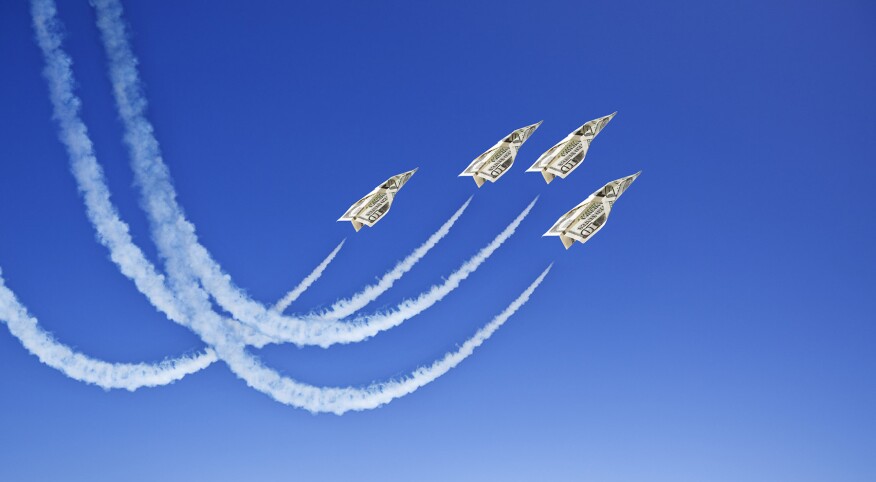 So you're thinking about booking that girlfriends getaway or a nice family vacation, but the sticker shock is setting in, right? No wonder, since airline ticket prices are up 40 percent from the beginning of 2022 for domestic travel and 25 percent for international travel, according to the flight booking app Hopper.

To deal with those skyrocketing costs, many sisters are searching for ways to save on travel. If you've heard about flight installment payment plans, they can seem like an attractive option when you want to fly but don't want to foot the bill upfront.

These financing plans allow you to book your flight now and pay off your bill over time. But despite attractive features — hello, 0 percent interest! — flight financing may promise more benefits than it actually delivers.

What are flight installment payment plans?

These plans are one form of the increasingly popular "buy now, pay later" (BNPL) trend. Also known as point-of-sale loans, BNPL deals let you get short-term payment plans for your purchases, as opposed to paying for everything all at once.
If you have a 0 percent interest credit card lying around, it may boast the same flexibility and the ability to build your credit without some of the risks that BNPL travel financing entails.
To use a BNPL plan for travel, you start by adding items (in this case, plane tickets) to your online cart through an airline or travel website's portal. At checkout, you'll see an option to split your payments with financing partners like Affirm, Uplift, PayPal Credit or Klarna. (Full disclosure: I own stock in Affirm.)
Related: 5 Ways to Find a Cheaper Flight
Weigh convenience versus savings when considering a stopover.
Sign up for deal alerts from your carrier.
Set up price alerts using a price-monitoring app like Skyscanner, Kayak or Airfare Watchdog.
How BNPL works for travel

A credit check may be required, and if you accept the BNPL loan, you'll pay off your travel costs in regular weekly, biweekly or monthly installments.


Airlines that partner with BNPL services

Several airlines offer installment payment plans. American and Delta accept Affirm, while Allegiant, Spirit and United take Uplift, letting you book flights, cruises and vacation packages. Most major airlines offer PayPal Credit, too.

But the terms of these deals vary significantly, so be sure to read the fine print.

For instance, Affirm offers loans of 0 percent or 10 percent to 30 percent interest for 48 months. PayPal Credit boasts 0 percent interest if you pay off your bill within six months. Meanwhile, American Airlines offers no-interest financing if you sign up for a credit card and use it for your ticket purchase.


Should you use installment payment plans on your next vacation?

On the one hand, BNPL plans are convenient and fast, and they front the cash when you may not be able to afford a costly travel bill. Plus, many conduct soft credit checks with 0 percent financing, making them easy and potentially cheap to obtain.

On the other, because it's easy to qualify, BNPL plans can often tempt borrowers who can't afford the terms. Data from C+R Research shows that 57 percent of BNPL users regretted their purchase because the item they bought was too expensive.

Also, snagging 0 percent interest isn't the norm; on average, BNPL providers charge rates in line with or higher than most credit cards. And remember: Although not all BNPL lenders report payment history to the credit bureaus, they absolutely can report late payments, potentially harming your credit if you don't meet all the repayment terms. This is bad news for the 56 percent of BNPL users who admit to having missed a payment.

Lastly, in some ways, flight installment payment plans are a riskier form of BNPL. If your trip is delayed or cancelled — due to yet another COVID-19 outbreak or unexpected travel glitches — in many cases you're still on the hook for your loan. And since some travel booking sites have inflexible refund policies, you may be out many hundreds or thousands of dollars on a vacation you never get to enjoy.


When BNPL is right for you

If you know you're going to travel, consider saving up in advance for your trip. You can even start a generic vacations savings fund to go away when you want without racking up a bill.

If you must travel suddenly, however, time might not be a luxury you can afford. In that case, a 0 percent or low-interest flight installment payment plan may make sense. Just be sure you understand the benefits, risks and long-term costs.

Finally, if you have a 0 percent interest credit card lying around, it may boast the same flexibility and the ability to build your credit without some of the risks that BNPL travel financing entails.