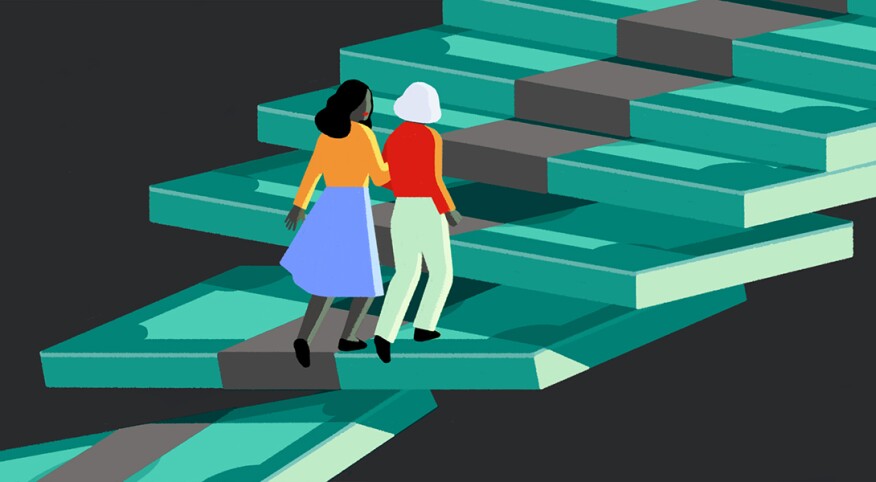 I will never forget the day when my mom told me she needed my help and couldn't afford to live on her own anymore. It was 2002, and she'd lost her job in the airline industry four months prior. Unlike in previous years when she would change jobs and get a new one quickly, this time that wasn't happening.

This was a financial emergency that I'd never anticipated. Shortly after that conversation, my mom moved into my studio in downtown Boulder, Colorado, with me. And we began an almost four-year financial saga that still reverberates in my financial life years later.

For the next four years my mom would apply for hundreds of jobs, and I would watch her receive hundreds of rejections. So I helped her financially, offering contributions for regular expenses such as transportation and walking around money. I was happy to do it: She was the same person who worked three jobs at a time to make sure that I had everything I needed when I was younger.

Because my finances were a mess prior to this situation, they were even worse afterward. However, this situation just exposed a previously existing problem in my finances: I was already seriously overextended. Back then, I was in my early 30s and living on student loans, money from my part-time Starbucks job and credit cards — a financially lethal mix. I felt isolated and alone as I tried to not only manage our expenses, but also dig out of the financial hole that I had been in before this situation occurred.

But I did several things, both intentionally and accidentally, that helped me manage our financial situation, thrive and eventually move forward. If you're giving financial help to a family member today, or facing the possibility of helping as we deal with the economic effects of the novel coronavirus, knowing what I did may benefit you, too.

I lowered my annual expenses. I had been spending more than I was bringing in monthly. So I read about how to manage my money. By slowly working through my monthly budget and making thoughtful substitutions for monthly expenses, I was able to begin making my dollars stretch without grabbing my credit card. And I lowered my monthly expenses by several thousand dollars over the next seven years and increased my quality of life.

I got a side hustle to grow my income. As I finished my graduate studies, my focus shifted to finding a job. But I graduated during a recession in my state, and it would take me almost eight months to get hired for my first "real" job at a university. I also found a side hustle working at a high-end olive oil store. I worked at that store for three years, and the extra money helped me begin paying down my debt. In-person side hustles may be harder to find in our current economic period. But consider looking for virtual options, like writing, consulting, coaching and more. (Read about more options, and where to find them, here.)

I made time for self-care. Helping loved ones with finances can become emotionally draining. I went from trying out for the Denver Broncos cheerleading squad and music videos, to constantly worrying my mom and I would become homeless. I also felt a great sense of shame that I didn't have my finances together and had put us both at risk. To stay focused and care for myself, I went hiking and stayed connected with friends who were sympathetic to my situation.

I connected with a like-minded community. I also became addicted to reading about personal finance and personal finance blogs. Connecting with other people dealing with similar situations helped me feel a lot less isolated and alone. I had other people with whom I could complain, get ideas on how to save money and even laugh about moments such as trying to date when you live with a parent or joking about side hustle-related situations that were funny. These days, it's even possible to connect online.

Today, I'm happy to tell you that my mom eventually found a new job and that we haven't had to live together for many years. My financial situation is much better than before, and I've paid off over $60,000 in debt since that time. Currently, I work as an online entrepreneur and own a home in Denver, Colorado.

I'm already making plans for my mom's retirement, as I want to make sure that she has more than enough to retire on. She is currently working, but I'm aware of the financial hit that she sustained after losing her job.

If you're giving financial help to a loved one, or thinking about it, consider asking yourself some questions before saying yes:

· Do I have a clear picture of my overall financial situation? And, do I have a clear picture of my loved one's finances and how the additional expenses may potentially affect my bottom line?

· What is my financial contingency plan if an emergency comes up?

· How can I increase my income to stay on track financially?

Spending some time working through these questions can help empower you if you ever find yourself in a financial caregiving situation. While the situation with my mom was incredibly stressful, I learned a lot about myself and what I was capable of doing. It fueled a lifelong passion to empower others financially and changed my own financial habits. I'm more than prepared to manage circumstances like this if they were to arise again. Hopefully, though, I won't have to.