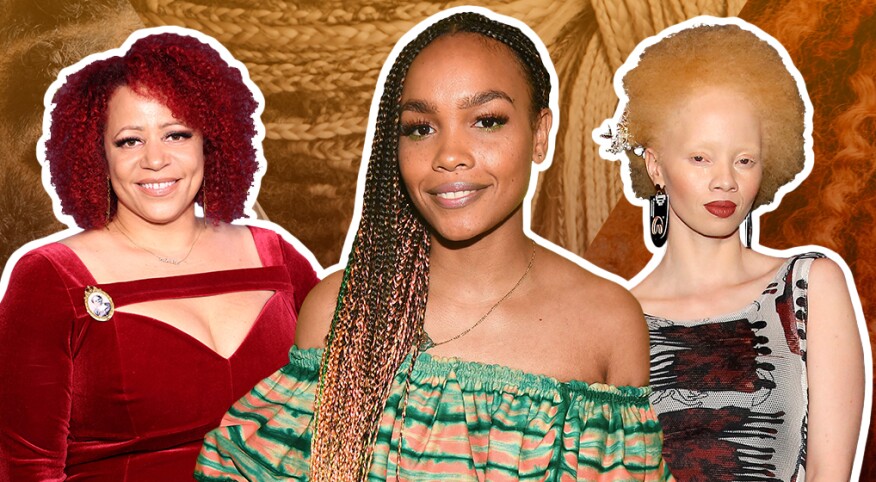 It was the Friday before Juneteenth. New Orleans mayor LaToya Cantrell was on hand to unveil a two-story sculpture draped in black, one of three temporary installations featured in a #MONUMENTALTOUR across Louisiana. As she circled the work and the fluid cloth floated to the ground, a 28-foot-high steel Afro pick accented with a peace sign and a clenched fist came into view. "All Power to All People," by artist Hank Willis Thomas, drew curious passersby, ESSENCE Fest visitors, selfie takers — and controversy on social media. The fact that the sculpture, on view in NOLA's Lafayette Square until July 12, attracts both applause and trolling pretty much sums up what we all know about Black hair. It's so much bigger than a body part.

Our crowns are a form of personal expression, self-love, beauty and Black excellence. Black culture boasts a millennia-long tradition of versatile styling. We all have a hair journey and can likely look back at the different styles we once donned that spoke to different phases of life.

Whether we show off thick coils and curls, wear braids or locs, or experiment with weaves, wigs and extensions, these styles are a part of the way we self-identify. We've long fought to overcome stereotypes and bias associated with our unique hair types. Today we are in a place where we demand that all that vibrancy and variety be accepted and valued.

Get inspired by these sisters who are centering and celebrating beautiful Black hairstyles.

Annagjid "Kee" Taylor, 39, owner of Deeper Than Hair salon and YouTuber
Last year, a video went viral in which Taylor spent three hours detangling the hair of a client who had not combed it in more than a year due to life and mental health struggles. But Taylor's skill, patience and encouragement of all sisters to embrace our hair journeys is evident in every episode on her YouTube channel, Deeper Than Hair TV, which has more than 1 million followers. Taylor has re-created the emotional atmosphere of a Black salon virtually. Fostering camaraderie around sisterhood and our hair journeys, she generously offers tips, advice and tutorials. Sisters flock to her comments section to swap stories and support one another.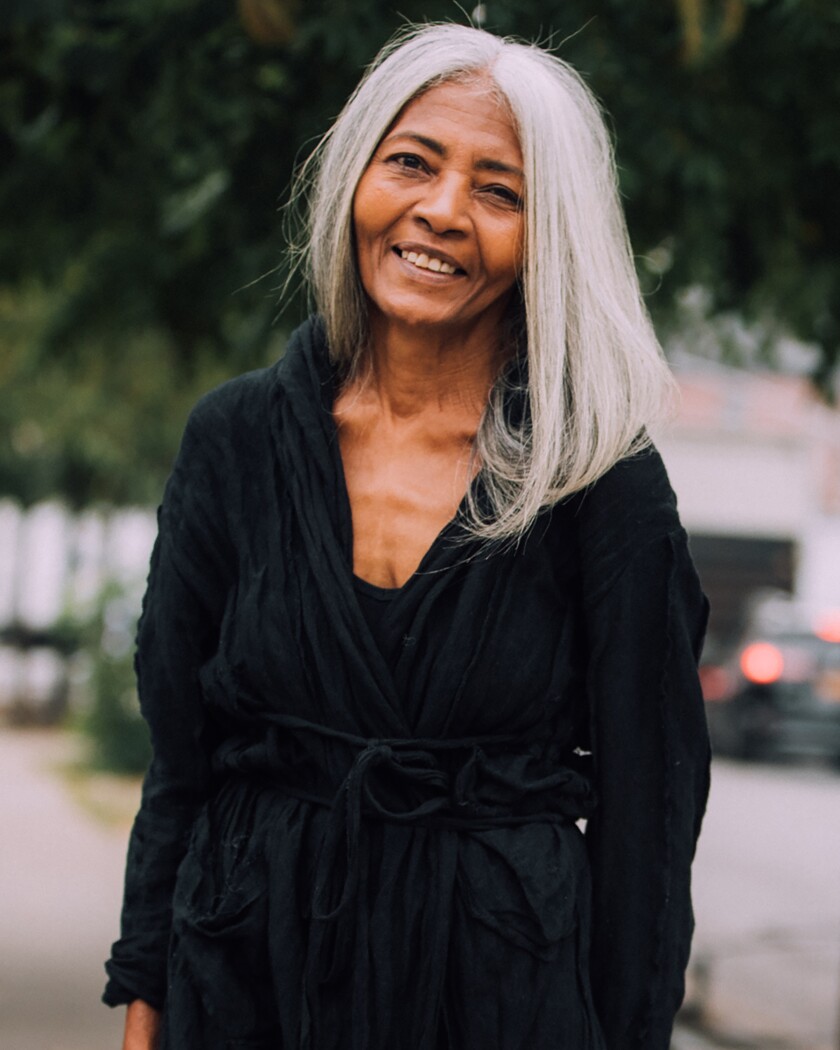 JoAni Johnson, 70, model
Johnson captured national attention when she was among the faces of Rihanna's 2019 Fenty campaign. Her long, cascading salt-and-pepper hair is literal goals. Johnson's embrace of her natural grays defies societal conventions of what's expected around beauty and aging. She's intentional and passionate about encouraging other women to embrace the natural transitions of our hair as we age.
In that video for The Root, Rep. Ayanna Pressley stood in her power, resplendent in a yellow snake-print top, showing off her bald head. "I hope this starts a conversation about the personal struggles we navigate, and I hope that it creates awareness about how many people are impacted by alopecia," she said.
Ayanna Pressley, 48, U.S. House representative
For Rep. Ayanna Pressley, known for her signature waist-long Senegalese twists, her hair was a crucial part of her identity. But in 2020, she made a bold announcement: She was living with alopecia and experiencing hair loss. In that video for The Root, Pressley stood in her power, resplendent in a yellow snake-print top, showing off her bald head. "I hope this starts a conversation about the personal struggles we navigate, and I hope that it creates awareness about how many people are impacted by alopecia," she told WGBH reporters.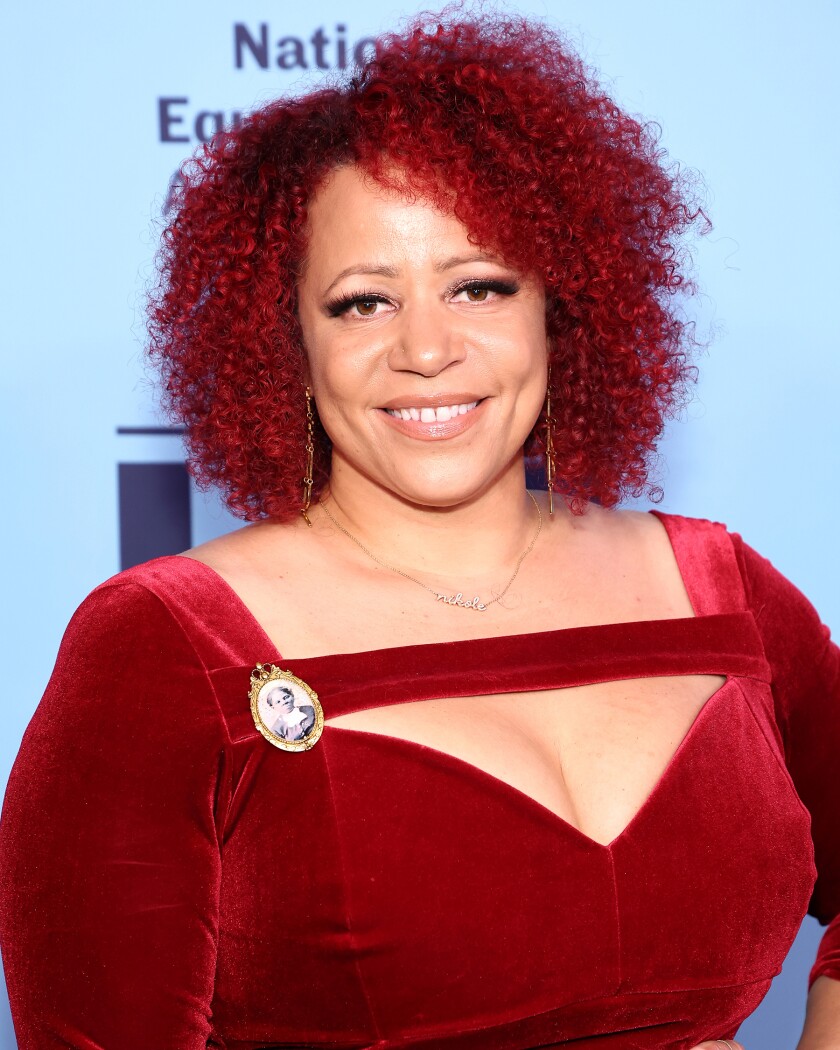 Nikole Hannah-Jones, 46, journalist and educator
It's hard to miss Hannah-Jones' fiery red hair. The Pulitzer Prize–winning reporter who created the landmark 1619 Project, which reexamines the history of slavery, rocks her bright, coily strands unapologetically. She does so deliberately, to break the stereotypes of what is expected of Black women in professional and academic settings. "This is for every Black girl who's been told she has to shrink herself or her Blackness in order to succeed," Hannah-Jones told Glamour at the start of the pandemic. "I want to tell that girl, 'You don't.'"

Crystal Aguh, M.D., dermatologist and associate professor
Encouraged by her own struggles with damaged strands that led to hair loss, dermatologist Crystal Aguh, M.D., decided to specialize in hair loss disorders. Her research focuses on skin conditions that tend to impact communities of color, with a particular emphasis on scarring alopecia. As a practicing dermatologist, Dr. Aguh has worked with hundreds of women and men affected by hair loss and damage. This journey also led her to pen her 2019 book, 90 Days to Beautiful Hair, as a science-based resource for Black hair to thrive.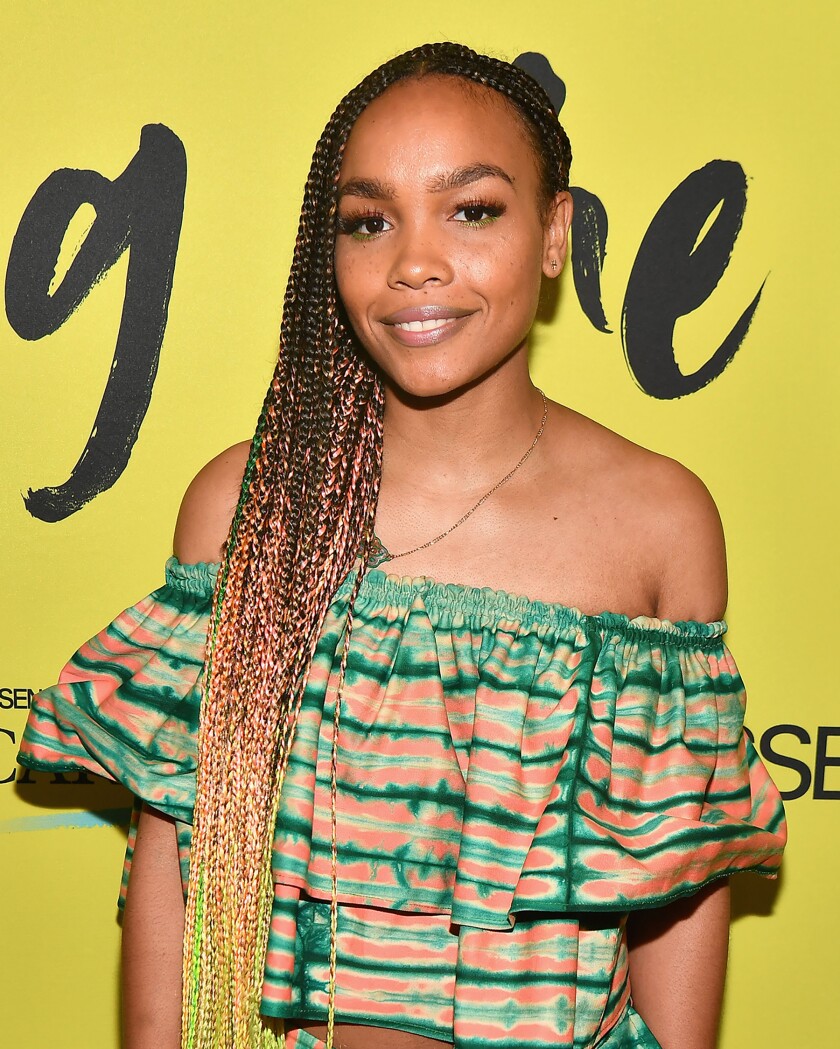 Shani Crowe, 33, artist and braider
Who could forget the stunning braided halo Solange wore when she stepped onto the Saturday Night Live stage for her 2016 musical performance? It took braider Shani Crowe nearly 50 hours to complete the look, which included more than 2,000 Swarovski crystals. The hair artist extraordinaire continues to encourage daring hair looks through her styling and gallery work. She's reframed an age-old African tradition by showcasing this art form in spaces around the world, from Brooklyn museums to the pages of national magazines.

Esi Eggleston Bracey, Kelli Richardson Lawson, Orlena Nwokah Blanchard, and Adjoa B. Asamoah, cocreators of the Crown Act
Our hair is not unprofessional, and the sisters behind the Crown Act set out to make that the law. The Crown Act, which stands for Creating a Respectful and Open World for Natural Hair, prohibits race-based hair discrimination. It was introduced in California in 2019, and 16 other states have now joined the movement. The bill is currently on its way to the Senate, after passing in the House in March.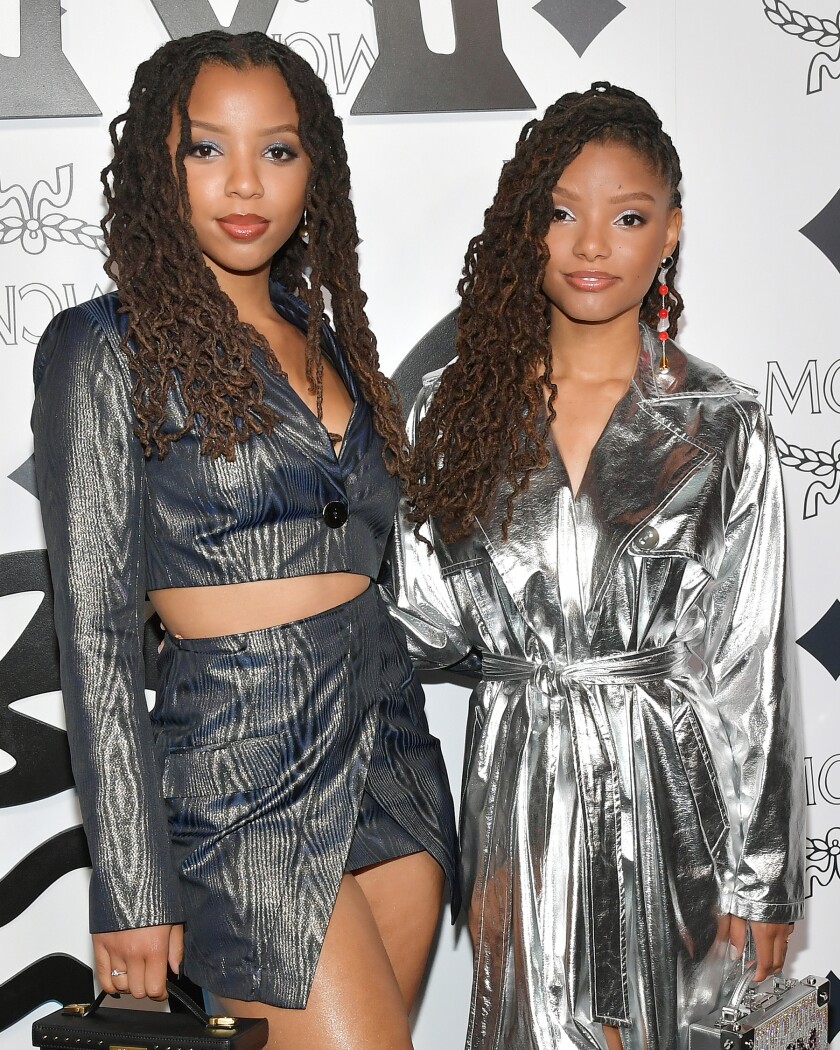 Chloe (23) x Halle (22), R&B duo and actresses
These queens are fashion figures, and part of that style is their signature locs. Not only is it rare to see locs in Hollywood, but these sisters have also truly shown the world how versatile locs can be — from Halle's red locs for her role as Ariel in The Little Mermaid, to Chloe's waist-length long blond locs in the Have Mercy video. The duo continue to proudly showcase their natural hair and debunk stigmas about locs.

Nnenna Stella, owner of The Wrap Life
A good head wrap is a fashion statement all its own. Nnenna Stella knew this after spending days looking for a place to purchase some. Her frustration bloomed into The Wrap Life, which sells head wraps in a variety of fun colors and prints. It's "more about cultural expression than utility," Stella said in a Glamour interview. But can we also take a moment for The Wrap Life's Instagram page, which features so many beautiful Black women killing the head wrap game?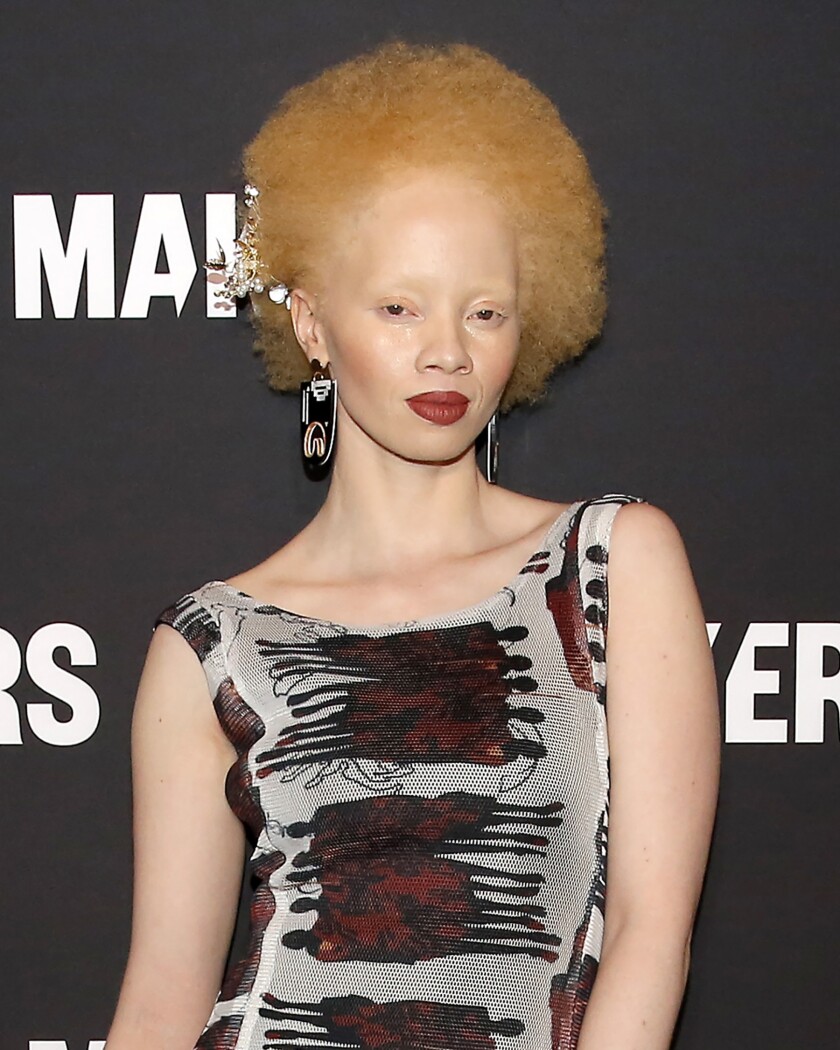 Thando Hopa, 33, model, activist and lawyer
The words "lacking" and "deficient" are often used when referring to those with albinism, but Thando Hopa's style is anything but flawed. The South African model turned beauty on its head as the first woman with albinism to grace the cover of Vogue (2019 Portugal) with her gorgeous short natural blonde Afro. She did that representing Black women and those with albinism.

Solange, 35, singer
We mentioned Solange's iconic studded, braided halo, but the singer has rocked so many stunning looks, from a teeny-weeny afro to extra-long braids. Clearly, Solange understands the importance of our crowns and even wrote a song about it. Her single Don't Touch My Hair perfectly encapsulates the frustrating experience so many of us have been through.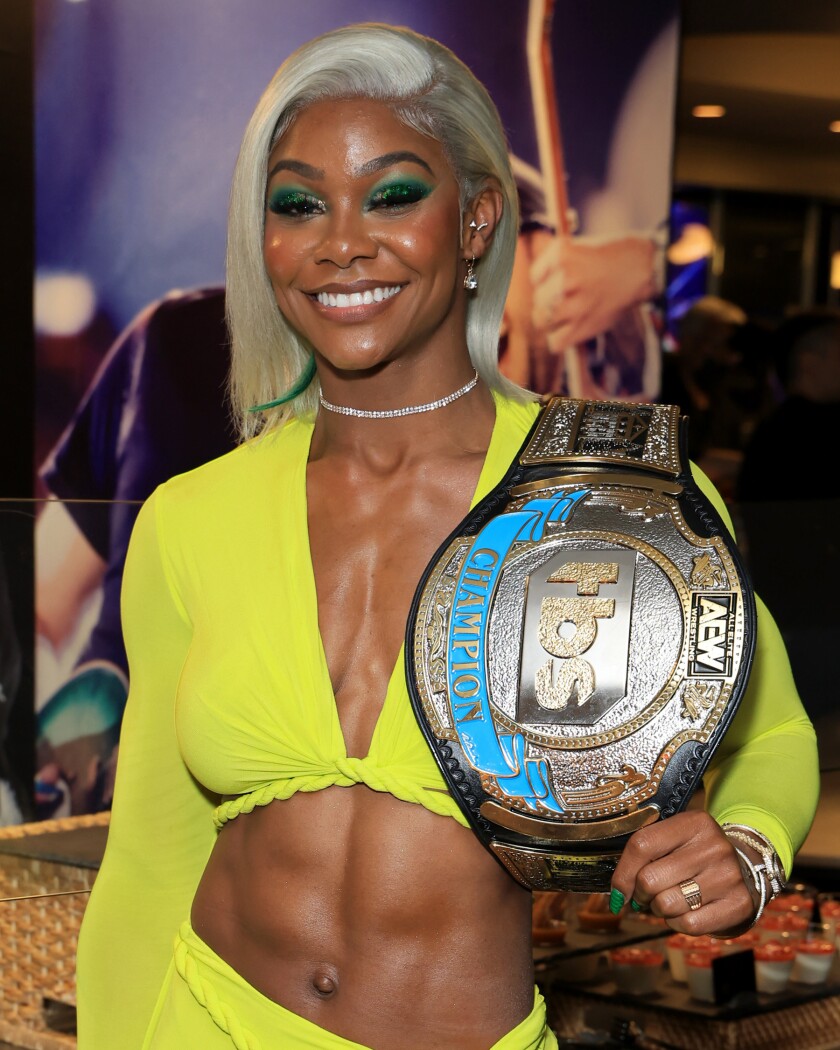 Jade Cargill, 29, professional wrestler
We stan a queen who has the wigs to match her bright and fearless personality. Besides her skills in the wrestling ring, the women's professional champion is known for having fun and cosplaying different characters for her fights. This year she donned an electric snow-white wig and black outfit, channeling Storm, of X-Men comics, as well as her namesake from the video game Mortal Kombat, in a sexy crisscross bodysuit and green hair.