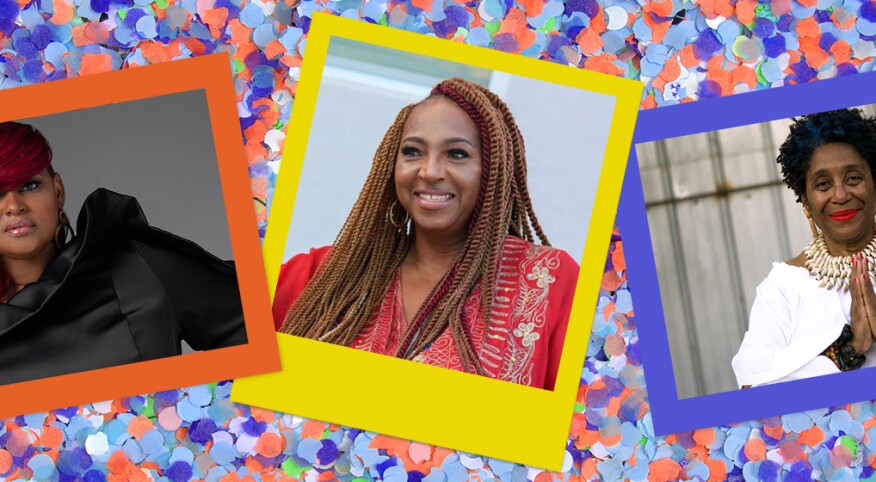 Hello beautiful Sisters readers,

This week marks the third anniversary of what I've often called "The Little Newsletter That Could." We're not so little anymore, with almost 350,000 subscribers and more than 100,000 followers on Facebook and Instagram. I'm really happy to have been with you on this journey since issue No. 1 in August 2018.

I've said this before, but it bears repeating: The best part of my job as editor is getting to know so many of you. You inspire me, and you're one of many reasons why I feel proud to be a Black woman.

Then there's the toughest part of my job, which occurs each time we run one of our themed contests. Most recently it was our Sisters Aging Beautifully Contest, for which I'll be announcing winners right here as part of our anniversary celebration. The hard part of this job for all of our judges is choosing just a few winners among our wonderful community. We created this newsletter to celebrate all of you, and each of our readers is amazing.


Announcing the Winners of the Sisters Aging Beautifully Contest


In the spring, we invited subscribers to respond:

"How will you celebrate yourself and the loveliness that gets better with time? What makes you feel beautiful at the age and stage you're at right here and now? Share your age-positive attitude with Sisters by completing a simple thought: I feel beautiful at age______because________. Upload a photo of yourself from a recent year that makes you feel connected to that energy, capturing a mood or a moment that gives you life. We'll judge entries based on inspiration, enthusiasm and creativity. And while we know you're damn fine and only too happy to produce proof that Black don't crack, this isn't a contest based on appearance. We're celebrating attitude."

Over 1,000 of you were up for the challenge! You shared about hobbies, volunteering, travel, fitness, family life, creative projects, reinvention, recovery and so much more. So many, many of you wrote about faith — and about unapologetically living life on your own terms. And now, meet our winners! (We've edited the comments for space and clarity.)

Use the arrow at the upper right corner to click through their winning entries.

First Prize: $500 Gift Card
Marion Adele Marshall, 62, South Dallas, Texas
"I feel beautiful at age 62 because I believe in fun over perfection."
Marion Adele Marshall, 62
"What I love best about Sisters From AARP … are the generational conversations … that are helpful to Black women of all ages," Marion told me after I shared the good news. A creator whose projects range from apparel design to special events to sustainable home goods, this single sister relishes a life that is rich in relationships. "I'm sister, mom, friend, consultant — and a mentor to more than 20 amazing women and men," she reflects.

On weekends, you'll find Marion visiting art openings, reading (the New York Times Sunday Styles or a Walter Mosley mystery), sewing, taking long naps, listening to jazz or simply enjoying great conversations aimed at "solving the world's problems."

Her personal style reflects her love of many cultures and travel. A dream destination? "I need more time on the continent ... Africa. Exploring life with my people." She loves a bright red lip and an elegant natural hairdo, sharing "I am a wash-and-go or twist-out woman."

Just for fun, I asked this beautiful lady, "If you could have brunch with three beautiful Black women (living or dead), who would be at the table?" Her answer: "My mommie, Thelma, Cicely Tyson and Shonda Rhimes."


Second Prize: $300 Gift Card
Vicki Lynn Kelley, 52, Austin, Texas
"I feel beautiful at age 52 because I feel more confident and secure ... I fall more in love with me daily. I am a self-employed hairstylist and makeup artist. I'm enjoying life more than ever."
Vicki Lynn Kelley, 52
"I love that Sisters From AARP has info specifically geared towards African American women. It seems very personal," Vicki Lynn shared while we traded emails about her winning entry. A licensed hairstylist and makeup artist since 1988, Vicki Lynn also launched an eponymous makeup line. She's mom to a 32-year-old daughter, and she's raising her nephew, who is 17 years old.

Helping others to look their best isn't just a job for Vicki Lynn. "Hair and makeup is my passion and it shows on every client that walks out the door," she's observed. In addition to the dozens of beautiful salon guests featured on her website, you'll find the artist herself rocking some pretty bold and unique looks!


Third Prize: $200 Gift Card
Venetia Lyons, 62, Detroit, Michigan
"I feel beautiful at 62 because I have finally embraced the little girl in me, and she is awesome. She has been waiting a long time to come out and play."
Venetia Lyons, 62
Venetia's response to my hypothetical question: "If I could have brunch with three phenomenal women, they would be my mother, Maya Angelou and Madame C.J. Walker. We'd have unlimited mimosas and let the good times roll!" Umm … maybe y'all could make room for a fifth sister? Sounds like a good time!

Venetia is a subscriber because "AARP's newsletter is inclusive of me as a mature African American woman." She adds, Sisters "keeps me informed and inspired in this season in my life."

And this season of her life is busy. "I sometimes have to laugh about the many roles that I play," she told me recently during a lively email back-and-forth. Venetia is a serial entrepreneur, having recently ventured into self-publishing. Her forthcoming first book, entitled No More Crumbs, is about "living free from codependency and seeking a life of abundance." She has plans to open a coffee house.

And, the self-proclaimed "over the top grandmother," who especially dotes on her three youngest grands, is involved in designing children's fashion. As for her own fashion sense, Venetia loves pieces that are loose, colorful and Afrocentric. She likes wearing her hair in twists.

When not multitasking in work mode, Venetia relishes simple pleasures. "I live in Michigan, where it is cold for most of the year. In summer, I enjoy the sun by just walking, taking long drives, playing with my grandchildren and taking them on city excursions." She also gives back via a local nonprofit, as a mentor to girls and women.

Congratulations to our three winners! Don't they inspire us that the best is yet to come?

Now you can share your thoughts on this story—and what makes you feel beautiful—with us on our Facebook page. (To comment, click either logo in the embedded post below.)



Make it a great day, ladies.

–Claire

PS: I couldn't resist celebrating more of you beautiful sisters! Click through the slideshow to enjoy some honorable mentions.