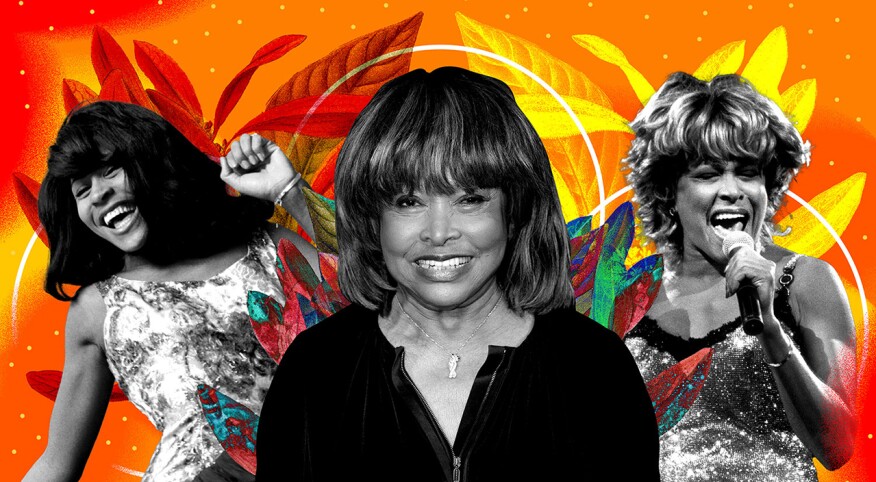 The unmistakable voice. The electrifying dance moves. The unmatched stamina. The grit. The grace. The glamour. The sheer greatness that will always be Tina Turner, who passed away at age 83 on May 24, 2023.

To current artists, she remains a hard act to follow in the realm of rock 'n' roll and beyond. This sister made dancing in stilettos look easy. She owned every stage she strutted on with her charismatic energy. She turned her performances into full-on extravaganzas. Case in point: Each and every time she put her hand on her hip and swayed to the "easy" guitar riff of "Proud Mary," we just knew we were in for a joyfully "rough" ride. Oh, and I'd be remiss not to mention those legs.

Turner ultimately put those powerhouse vocals and dancing feet to rest, bidding farewell to an illustrious career that brought joy to so many of us over a decade ago. In recent years, she enjoyed the fruits of her labor. She exuded that inner glow we all seek as we grow and change. It's a happiness she wore oh so well. "I've definitely grown happier as I've aged," she told AARP in 2020. "There is a change in perception, a broadening, that comes with aging, a greater appreciation for simple things."

Before the lights, the cameras, the fringe dresses and show-ready wigs, she was Anna Mae Bullock, a church-going tomboy from Nutbush, Tennessee. At 16, she moved to St. Louis, where she met Ike Turner at a nightclub and joined his Kings of Rhythm band. In 1960, Ike dubbed her Tina Turner and renamed the band the Ike & Tina Turner Revue. Two years later, Ike and Tina tied the knot and became one of the most notable husband-wife duos in music history.
My spiritual practice has shown me that no matter what may be going on around us, if we keep peace, hope and love in our hearts, then our spiritual strength will grow, and our outer world will follow suit.
Tina Turner, in a 2020 AARP interview
Success followed a steady stream of hits throughout the '60s and '70s, including "A Fool in Love," "It's Gonna Work Out Fine," "River Deep — Mountain High," "Nutbush City Limits" and "I Want to Take You Higher," originally recorded by Sly & The Family Stone. And who can forget their high-energy cover of Creedence Clearwater Revival's "Proud Mary"? Although the duo enjoyed national stardom, this wouldn't be Turner's prime, but rather the first act of a decades-long career.

Influenced by the likes of Ray Charles and Sam Cooke, Turner modeled her sound on the fellas. "When I started singing, Ike had mostly male singers and I wanted to sound like they sound," she said in an interview on The Dick Cavett Show in 1972. Her choice to forgo refinement by embracing a performance style that was a bit rough around the edges was a refreshing twist on the Black female performers of the swinging '60s. To me, it's what set her apart from her peers — specifically her fusion of feminine and masculine characteristics on stage, like donning dazzling ensembles while belting out deep, gravelly vocals that permeated an entire arena. Top all of this off with her vigorous choreography. "I was the only one that danced … and I had the strange voice that most girl singers didn't have," Turner told Gayle King on CBS Sunday Morning in 2018.

In 1976, Turner called it quits with Ike. Officially a solo act — with only 36 cents in her pocket — she took on hotel gigs and cabaret shows to get by. But with the 1984 release of her debut solo album, Private Dancer, she scored her first number 1 hit with "What's Love Got to Do With It." At this point, it was evident that her second act would be better than her first.

Banishing the soul-infused melodies that defined her earlier sound and blazing a new trail for women in music, Turner spearheaded a rock revolution. While this career move seemed fitting for Turner — who had enough vocal power and stage wisdom to go toe to toe with any male rocker in the game — it also symbolized liberation. This sonic shift spawned a new era. It was the Tina we didn't know we needed. And she never veered too far away from her fanciful stage looks. Oh no, honey. This time, she sported bold blond wigs, fishnet stockings and denim trucker jackets.
I've definitely grown happier as I've aged. There is a change in perception, a broadening, that comes with aging, a greater appreciation for simple things.
Tina Turner, in a 2020 AARP interview
At 44, Turner was morphing into an international superstar, tearing down racial, gender and age barriers. Throughout a 50-plus year career in show business, she sold over 200 million albums, racked up eight Grammy Awards (plus three Grammy Hall of Fame Awards and a Grammy Lifetime Achievement Award), and was inducted into the Rock & Roll Hall of Fame twice.

When I think of Turner's trajectory, I'm filled with a new sense of hope that my best days lie ahead. Her iconic reinventions are a testament to a life well lived, reminding us that we can hit our peak at any age if we keep going. Even in the face of adversity, she proved that vitality can be restored, and a zest for life can be reclaimed. "My spiritual practice has shown me that no matter what may be going on around us, if we keep peace, hope and love in our hearts, then our spiritual strength will grow, and our outer world will follow suit," she said in the same AARP interview.

To explain Turner's legacy succinctly would be nearly impossible. But in an interview with Oprah Winfrey in 2013, she encapsulated it in one word: "endurance." She elaborated, "My legacy is that I stayed on course from the beginning to the end because I believed in something inside of me that's told me that it can get better."

Turner chose in her later years to remain out of the spotlight to enjoy life in Switzerland with husband Erwin Bach. We applaud her for every stage of life, led with such class and perseverance. From a tumultuous marriage with Ike to the loss of a son to battling her own health issues, this sister had been through it all and lived to tell the world about it. In standing a warrior, she modeled for us a deeper peace. In the same interview with King, she spoke on her resilience. " I had a very hard life that I didn't put blame on anything or anyone," she shared. "I got through it, I lived through it with no blame, and I'm a happy person."