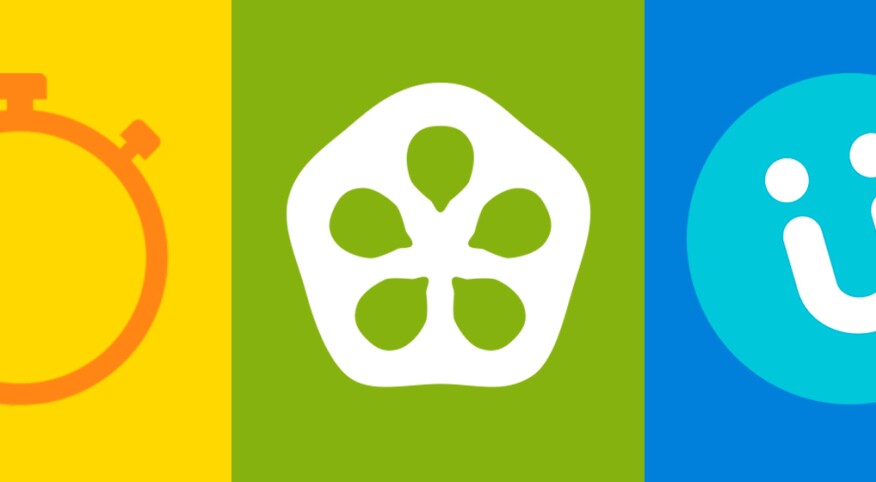 Black app creators are out here filling the gap and finding innovative ways to connect us. Sisters found some of the best-reviewed, with all the apps listed here having at least a 4 out of 5 rating.


SworkIt
(Free for children's workouts; access to adult programs requires an in-app subscription purchase, with monthly, quarterly, yearly and premium plans available.) (Available on iOS and Android)

When Ben Young and Greg Coleman, the creators of the fitness app SworkIt aka Simply Work It, pitched their free fitness app on Shark Tank, it didn't take long for the app to take off. SworkIt's success also comes from being aligned with the American College of Sports Medicine's training guidelines. Beginners will appreciate the built-in safety measures designed to prevent injury, and there's no need to buy equipment. One reviewer says: "I am just not a "gym" person … Every time I use this app, I can't help but feel like they thought of everything."


EatOkra
(Free) (Android and iOS)

Launched in 2017 by Janique Edwards and her husband Anthony, this app is a guide to connecting foodies with Black-owned restaurants, culinary events and food trucks. "We developed EatOkra because we wanted to create a unique way for people to support Black businesses," Edwards told Saporta Report.


Nailstry
(Free) (iOS)

When it's unsafe or not possible to get your nails done in person, Nailstry offers virtual sizing and custom nail art. "Nailstry was created out of the personal need to find salon-quality press-on nails that fit," founder Aurelia Edwards told Woman & Home. "Due to the limited variety of press-on selections in big-box retailers and the time and sizing limitations when trying to shop online, I decided to create an easy and fun way to find custom-designed press-on nails while providing a sizing solution."


Shine
($14.99/month or $69.99/year) (Android and iOS)

Featured as Best of 2020 by the App Store and 2019 Webby Award Winner for Best Lifestyle app, this self-improvement app created by Marah Lidey and Naomi Hirabayashi offers thousands of meditations created by diverse experts. Topics include Black mental health, calming anxiety, creating healthy habits, strengthening relationships and more.


We Read Too
(Free) (iOS and Android)

Founded by Kaya Thomas, this app helps readers discover picture, chapter, middle school and young adult books written by authors of color. Thomas explained to We Need Diverse Books: "I searched long and hard, scouring the library for young adult books that had a main character with brown skin, brown eyes and curly hair. They were few and far between."


Ujama
(Free) (iOS and Android)

From the Swahili word ujamaa, which means extended family, Hugh Molotsi designed Ujama to offer support for everything from childcare to trusted marketplace interactions. "We are much more wary of people we don't know…," Molotsi said. Ujama uses technology to be a catalyst for getting people to form community again and help each other, Molotsi told Los Altos Town Crier.


I Am Black Business
(Free) (iOS and Android)

Founded by Joseph Guster, Lee Lewis Jr. and Michael Twum, this website and mobile app helps consumers find products and services offered by the community. "Our goal is to educate Black business owners on the power of technology and give them a tool that will help them improve their business reach and profitability … [customers] consciously decide … who they are supporting," the website reads. Nikiva Dionne says, "Thank you, I've used it several times this week alone."


Legal Equalizer
(Free) (iOS)

Founded by Mbye Njie in 2014 after the police killing of Michael Brown in Ferguson, Missouri, and his own frustration with being pulled over by a police officer for the third time in a month, Legal Equalizer records and livestreams interactions with police and immigration authorities.


ReDawn
(Free) (iOS)

Founded by Sofia Ongele, a 20-year-old student, coder and activist, ReDawn suggests resources to assist survivors in the aftermath of a sexual assault. "The idea came to me after a sexual assault incident hit very close to home and I was completely at a loss for what to do. … I realized that I wouldn't know what to do if anything happened to me, and I would be too scared to reach out to anyone for advice," Ongele told Assembly, a digital publication and newsletter from the Malala Fund.