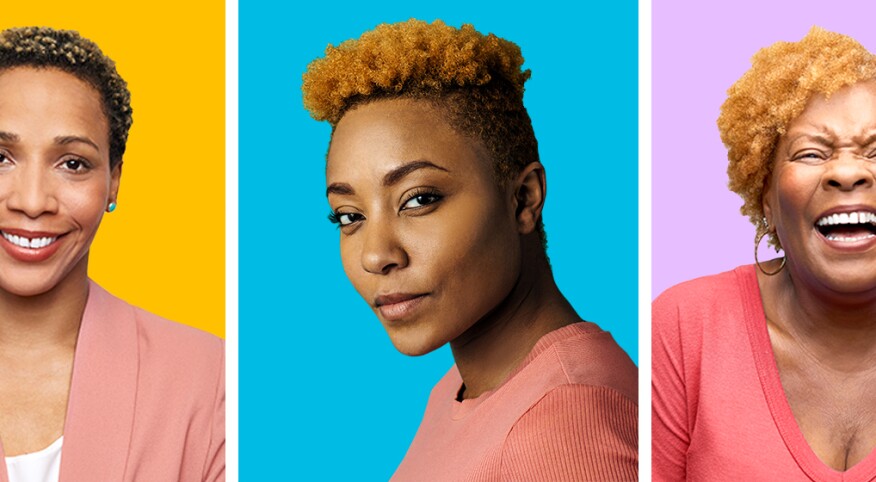 Every sister who's shorn her strands to rock this versatile and stunning style has a big-chop story. It's not just an attractive look. It's an affirming journey.

Thinking about entering teeny-weeny Afro (TWA) territory? Maybe you finally pledged to do the big chop. Maybe you've had your fun with long locks and don't mind doing away with the extra inches. Perhaps you just want to switch it up. Whatever your reasoning is, there's lots to love about the TWA, from its boldness to its uniqueness.

"For me, it's the liberation," says natural-texture and curl specialist Christin Brown, who's based in Santa Barbara, California. "I think … we carry the torch of what our hair means to us and what it has meant over the course of our existence. With doing a TWA, I feel like there's a lot of self-reflection … and there's a chance to rediscover or redefine who you are in that time of your life."

But maintaining a TWA might require more time and patience as you adjust to having less length. "I think we have somehow dialed into our minds that short hair equals ease, and that's not always the case," Brown says. For instance, you'll need to clean up your sideburns and nape more frequently if you're wearing a tapered TWA. Additionally, you might want to restyle more often to keep your do looking fresh.

So before taking a seat in your hairstylist's chair — or reaching for the clippers yourself — consider these pro tips:


1. Find your "why"

Brown, who's no stranger to the TWA, having done three big chops in her lifetime, encourages sisters to consider their reasoning behind going shorter. "Maybe [you're] what I like to call a pandemic natural, where [you] couldn't get into the shop and decided … to stop relaxing [your] hair because it's been six months or a year," she says. "Is this a liberation cut? Is this a cut that is going to project you into the next chapter of who you are? Whenever I have somebody in my chair who is about to make that commitment, I really have them be intentional with it … because it can totally give feel to a kickoff [of] what their new journey could look like."


2. Prioritize hydration

Our curls and coils, no matter their length, love that good ole H2O. Opt for hydrating (water-based) products, and up your water intake if you're slacking. A good rule of thumb? "If your hair looks or feels dry, then it's dry," Brown says. To prevent parched tresses, consider cowashing and restyling your TWA as needed.


3. Continue to deep condition

Your strands already know the benefits of a good deep-conditioning session, so keep at it. Brown suggests deep conditioning anywhere from 10 to 30 minutes at least once every two weeks. She also suggests using a sulfate-free clarifying shampoo once every two weeks or once a month to rid your TWA of product and hard-water buildup.

Pro tip: Try to fight the urge to buy products from various hair care lines, which Brown refers to as the "hungry hippo" method. "None of them are congruent to one another because they're not in a system," she says. Instead, consider investing in quality products from one hair care line and trying them out for a couple of months to see how they perform.


4. Tidy up

Brown suggests visiting the salon every three months for a trim or cut to help prevent split ends and maintain the shape of your TWA. You can trim more frequently if your hair needs it. Rocking a tapered TWA? You might find yourself transitioning from a beautician to a barber to keep it lined up. "The sides of my hair [are] faded, and I'm at my barber once every other week, and even sometimes once a week depending on if I want my designs to still look fresh," Brown says. Going to the barbershop can also save you money and eliminate the hassle of scheduling an appointment, since most welcome walk-ins.


5. Let your fingers do the styling

Give your brush a break and try finger detangling, Brown's go-to method for a poppin' TWA. "Building that relationship between your hands, the product and your hair [is] … key," she says. Short on time? A detangling brush can get the job done while melting away tangles. Transitioning and can't get those ends to curl up? Try the finger-coiling method for added definition.


6. Reach for accessories

A TWA looks incredible on its own, but don't be afraid to play it up with a dramatic earring, a bold lip or a snazzy scarf. "The short cut mixed with another focus feature is just going to accentuate the whole look," says Brown, who also suggests creating a deep side part for a bit more oomph. Really want to make a statement? Flaunt a new hue. Think blonds, browns and reds.


7. Keep your bonnets handy

You already know the drill, sis. Throwing on a silk bonnet or sleeping on a silk pillowcase at night will still be part of your daily hair care regimen. This helps to reduce unnecessary friction between your mane and harsh fabrics while retaining moisture, which your TWA will appreciate.