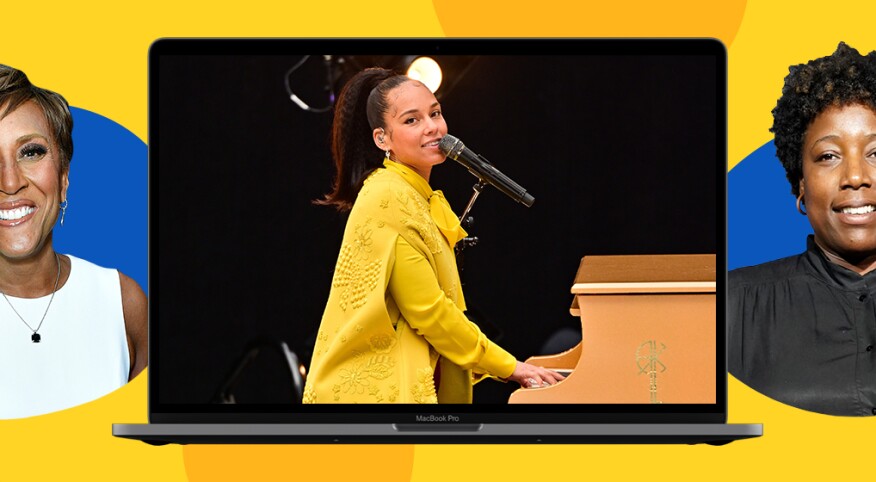 Issa Rae just told me to "Get out of your own way and don't take no for an answer." I've been watching the creator of Insecure on MasterClass talk about how she created her television empire, and it was funny, insightful and exhilarating. Rae didn't know anyone in the television or movie business, and she didn't see anyone on television who resembled her geeky self. Her path to stardom at HBO, a fat production deal and hot projects started with online videos of her campus life. Her journey — and advice — inspired how I see my own career path.

Here's what makes a new crop of artfully produced, celebrity-created instructional videos so engaging. They are an invitation into the rarified professional world of the famous, with an intimacy that makes them feel like friends. Instructors are at ease and eager to share authentically. Many are unafraid, show vulnerability, flub a line and perhaps launch the occasional f-bomb as they challenge the viewer to think.

My other fave instructor was Misty Copeland, the first female Black principal dancer in the American Ballet Theatre's 75-year history. She tells us to "own your power and your voice." After watching her glide like a bird in flight, Copeland surprised me when she also spoke of limitations. She said that dancers must listen to their changing bodies and that a technique she performs today may be out of reach tomorrow. Such a relatable view on aging!

Next, I'll brush up on how to create the perfect smokey eye, courtesy of Beyoncé's talented, longtime makeup artist Sir John.

Try something new, or refine a skill you've been doing for years

We've combed through cool classes at different sites, including Assemble, backed by Tiffany Haddish, where all the instructors, including the actress herself, are people of color. Additionally, MasterClass subscribers can view lessons from a diverse mix of luminaries, such as Scandal creator Shonda Rhimes, singer-songwriter Alicia Keys and best-selling author of Hunger, Roxane Gay.

Now, let's sample these cool curricula:


From MasterClass: Dance, Screenwriting, Feminism and More

https://www.masterclass.com

Shonda Rhimes on scripting your best life: Learn how the creator of Scandal and executive producer of Bridgertoncreates captivating characters and success on her terms. Rhimes' newest project, Inventing Anna, features Laverne Cox and premiered Feb. 11 on Netflix.
Roxane Gay on feminism and creativity: The podcaster and best-selling author of Bad Feminist and Hunger teaches how writing can effect change.
Misty Copeland on raising the barre: Copeland describes how she blocked out the noise of negativity, allowing her career began to soar. She is also the best-selling author of Black Ballerinas, which celebrates storied dancers who have inspired her on and offstage.
Robin Roberts on fighting past fear: This 61-year-old coanchor of Good Morning America, a breast cancer survivor, inspires us to face our inspiration and our fears. "Focus on the fight, not the fright," she says.
Issa Rae on running your own show: Producer and writer of and actor on HBO's Insecure, Rae celebrates and encourages creativity, authenticity, owning our voices and embracing what makes us unique.
Robin Arzón on making moves: Author of the New York Times best seller Shut Up and Run and vice president/head instructor at Peloton, Arzón takes the principles of fitness and applies them to business, storytelling and life. She begins, "I believe movement is medicine and I'm here to start fires."
Mashama Bailey on tasting our heritage: The James Beard Award-winning chef and author dishes on ingredients, recipes and southern cooking techniques that have survived generations. They are served with a side of history.
Alicia Keys on giving voice to your soul: The Grammy-winning vocalist, songwriter and producer talks about the emotional power of music. This girl is on fire sharing her creative process, which includes accessing the soul and trusting the inner voice.
N.K. Jemisin on envisioning a new world: The four-time Hugo Award winner is a breakout success in the fantasy/sci-fi genre. She shows what it took to slay the demons and dragons of bigotry and marginalization as a writer of color. Exploring new worlds also means exploring different facets of ourselves. Jemisin has also made her mark as a psychologist and educator and a political/feminist/anti-racist blogger.
Elaine Welteroth on living your purpose: She is the first Black editor and chief at Teen Vogue and a New York Timesbest-selling author and former cohost of The Talk. In this lesson, the talk is about values, dreaming out of the box and designing your own path. She encourages other women to not just say yes to projects, but to be able to say, "hell yes!"
Simon Biles on soaring past your limits: The gold medalist was once a kid in foster care. She teaches that discipline and fundamentals build confidence in budding gymnasts and the rest of us.
"The Gangsta Gardener" on seeding change: Also known as Ron Finley, he used his plot in South Central Los Angeles to show how food deserts can be transformed into fertile oases. He teaches how cultivating our own plots and pots can yield food, freedom and a healthier planet, saying "there's no end to the bounty of Mother Nature."
From Assemble: Acting, Entrepreneurship, Music and more

https://assemble.fyi/

Assemble, an online educational platform from BeGreatTV, was recently launched with a major investment from actress and comedian Tiffany Haddish. This new platform's offerings bring a growing roster of talent into our living rooms. Many instructors get real about how they overcame racial and psychological barriers unique to people of color.

Currently you can learn from:

Arlan Hamilton on overcoming hardships: The once homeless venture capitalist and author of It's About Damn Time talks vision, perseverance and triumph. "I treated work as my training for what I wanted to become … keeping my ears open and observing is my through line to getting to where I am today," Hamilton says.
Sir John, on beauty, illusion and confidence: Queen Bey's makeup artist reveals his tricks and techniques to making our outer selves glow as bright as our inner selves. About getting fired from a major cosmetic company before becoming one of the most sought-after makeup artists, John says, "I just kept going. The universe conspires to help you when you actually lean in to walking with it."
Maurice Brown, on honing your craft and trumpeting your brand: The Grammy-winning trumpeter, composer and producer talks about practice, technique and individuality. "There's no shortcuts to success. If there was, trust me, I'd know about it," Brown says.
Cortez Bryant, on managing your future: The music manager for the Roots, Ye (Kanye West), Lil' Wayne, Nicki Minaj and Drake teaches problem-solving, focus, branding and the end game. "When I started, the first thing I had to figure out was what the f--- is a manager … The best thing you can do is focus on your goals."
Upcoming instructors include:

Debbie Allen, multi-Emmy- and Golden Globe-winning actor, dancer, producer and choreographer
Angela Yee, nationally syndicated host of "The Breakfast Club"
Tiffany Haddish, comedian, actor, author, producer and entrepreneur
Law Roach, image and style architect and the man who helped Zendaya cement her status as a style icon
Jesse Williams, actor and activist who portrayed Dr. Jackson Avery on Grey's Anatomy from 2009-2021
Angie Thomas, the New York Times best-selling author of The Hate U Give
You can join a mailing list for updates.