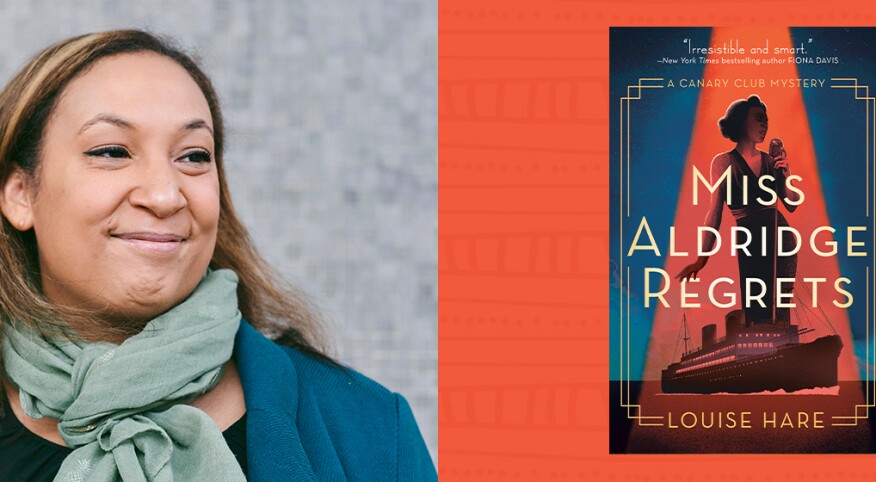 In 1930s London, Miss Lena Aldridge is a mixed-race jazz singer, actress and dancer. Still hoping for the musical-theater career that hasn't taken off by her mid-20s, the clever, bold and talented vocalist is passed over at auditions. Lena scrapes by doing sets at the Canary Club. It's a seedy Soho basement lounge in a building that might also be home to a brothel run by her best friend's husband, the club's owner. But now she's on her conniving, philandering boss's bad side, having stood up for her friend when learning the disgusting circumstances of their impending divorce.

This giveaway has concluded. We'll share another one soon. Stay tuned to Sisters!

Raised by her African American single father, a musician, Lena mourns his recent death after nursing him during a long illness. She drowns her grief in free drinks at the club. One evening, the disapproving landlady at her boardinghouse announces that Lena has a gentleman caller — and it's not the well-to-do, married white man who has just ended his affair with the beautiful songbird.

Claiming to represent a well-connected showbiz friend of her dearly departed dad, a producer who had just learned of his passing, this American makes an unexpected offer. There's a starring role in a soon-to-open Broadway show. And if she will travel back to New York with him on the RMS Queen Mary posthaste, it will be hers.

Suddenly, the first-class ticket to a new life seems too good to pass up. And to claim this ticket, she'll need to pass as a white woman. Onboard the famed luxury ocean liner, Miss Lena Aldridge will meet intriguing fellow passengers. And one of them is a killer.
The strange job offer seems too good to be true. But after a blowup with the thuggish club owner, Lena is told to clear out and disappear after her final number. She's out of work. Her snobbish landlady sends her packing, too. Lena sings through her set list until witnessing a shocking, suspicious death in the audience. Suddenly, the first-class ticket to a new life seems too good to pass up. And to claim this ticket, she'll need to pass as a white woman. Onboard the famed luxury ocean liner, Miss Lena Aldridge will meet intriguing fellow passengers. And one of them is a killer.

Miss Aldridge Regrets is the first installment of a new series, the Canary Club Mysteries. British author Louise Hare, like her protagonist, is multiracial. Hare's U.S. publishing debut tackles race, class, women's equality, fascism and other issues that dominate real-life headlines nearly a century later.
Sisters connected with the author via an email interview.

The RMS Queen Mary is as much a character in this murder mystery as a famous luxury passenger train is in Murder on the Orient Express. What drew you to the history of this vessel?

Originally, I was going to create my own ship, but as soon as I started researching the ocean liners of the day, the Queen Mary fascinated me. The most luxurious ship, the fastest, with every modern amenity that was available at the time. Everyone who was anyone wanted to sail on her — movie stars, music legends, the super-wealthy, etc. It seemed like the perfect setting for someone like Lena, who is none of those things. I wanted to make her feel totally out of her depth! Also, because the Queen Mary is so iconic, there is a lot of information out there. Lots on the decor and the glamourous side of transatlantic sailing, but also the dark side — the gambling and prostitution that went on, almost in plain sight.

Lena Aldridge's journey begins with an offer too good to refuse — or is it too good to be true? What did traveling first class mean in 1930s London society? Is there anything like that today?

Tickets on the Queen Mary were super-expensive. Out of reach for most people, in the same way that a first-class transatlantic plane ticket will cost thousands of dollars today. It was also an experience, though. You'd spend four nights onboard the ship, so you also had to think about who was going to see you. What to wear to dinner each night and who you might be sitting at the table with. I suppose the closest thing we have to that today would be the exclusive five-star hotels you get on remote islands — places like the Maldives, French Polynesia, etc., where you can rub shoulders with the rich and famous. Those isolated locations are also great places to set a murder mystery!

Passing for white — as Lena is compelled to do — is fraught with tension. What does she learn about the shifting nuances of race on either side of the Atlantic during her passage to America?

One of the most interesting parts of researching the book was thinking about those differences. Lena's never had to give much thought to her identity before because she's lived in a bit of a bubble. Her father protected her, and she's never ventured far away from Soho and east London before. It didn't matter if people saw her as mixed-race or Black or white because there weren't really any consequences. However, on the ship she knows that she must keep up the pretense of being white. She's spending a lot of time with this incredibly rich family who make comments over dinner that show Lena that she'd definitely be in trouble if they knew the truth. There's also the guilt that she feels about denying the existence of her father, who's just recently died. The few moments of relief come for her when she makes a friend onboard who she can be herself with.

Did you draw on your own identity or history as a mixed-race author in creating the main character?

It's important to me to write main characters who I can identify with. Although I can't pass in the way that Lena can, I have often struggled not only with other people's perceptions, but with how I see myself. Lena has often prided herself on being able to fit in with different people, changing herself to blend in, but during the novel she realizes that constantly having to be this chameleon has left her without a sense of herself. I know that in my working life in particular, "code-switching" to fit into the office environment felt like a necessity. I know that I'm far from the only person of color to feel this way!

While onboard, Lena balances the attentions of a tall, dark and handsome jazz musician and the white scion of an obscenely wealthy family. How might her professional experience as an actress play into her encounters with these men?

With Will, the musician, part of the attraction is that she doesn't have to act around him. It's a relief for her to spend time with him, once she trusts that he won't blow her cover! With everyone else, it does have to be a bit of an act. As much as relying on her acting skills, she's using her life experience to help her. She's hung around with powerful men before, whether she liked them or not, and that gives her an insight into how to deal with them. Although, of course, she doesn't always handle situations the right way!

What classic foods and cocktails would you recommend for a book club discussion about Miss Aldridge Regrets?

Lena loves a martini! Anything gin-based, or a flute of champagne (or sparkling wine!). A lot of the food on the ship is quite rich, but canapes would be a good option. Smoked salmon blinis, for example. Lena loves the lemon shortbread they serve on the ship as well.

If you could enjoy cocktails in an opulent lounge with five actual historic figures from the Jazz Age and Harlem Renaissance, who would they be?

Ella Fitzgerald, of course, and if it wouldn't be considered rude, I'd love her to perform. For that reason, I'd also invite Louis Armstrong, because the pair of them together are unparalleled. George Gershwin, because when I was a kid it was Rhapsody in Blue that inspired me to learn to play the clarinet. Nella Larsen's life is fascinating, and I'd love to talk to her about her travels around Europe in particular. Also, Passing is one of my favorite novels and in part inspired the second Lena book [Harlem After Midnight, which is out in August]. Finally, Kate Meyrick, who was a nightclub owner in 1920s London. She was a single mother of eight who started out with nothing but is rumored to have made a fortune through her business ventures. The police were always closing her clubs down for breaking the licensing laws, and she ended up in jail a few times, but she just kept going!

This giveaway has concluded. We'll share another one soon. Stay tuned to Sisters!