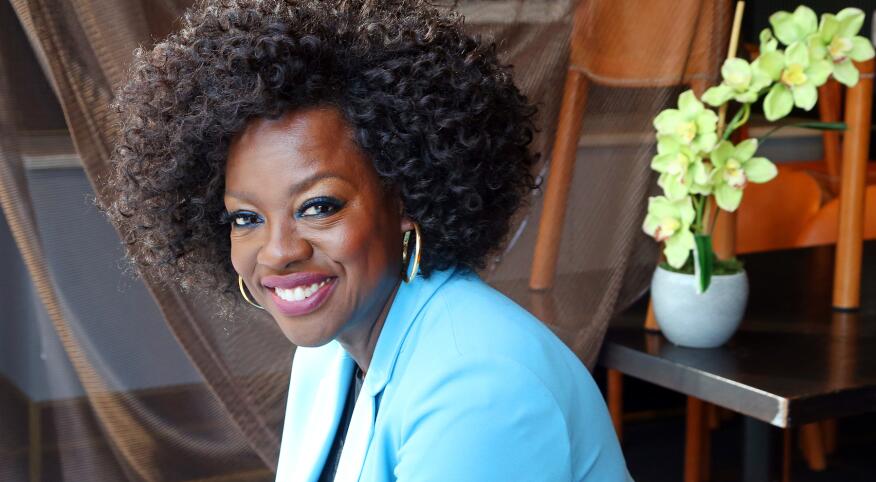 Viola Davis is The Truth. Always has been, always will be. From the time she tugged on our heartstrings in the movie Doubt — her single scene a tour de force that earned her an Academy award nomination for fewer than 8 minutes of screen time — we knew she was something special. Unabashedly true to her craft, Davis boldly takes "realness" to a makeup free, snotty-nosed, I-ain't-wearing-no-weave level, when necessary. Yeah, she'll go there, and we love her for that because in Davis' portrayals we see our sisterfriends, our aunties and ourselves in all our humanity and grandeur. Davis, 55, became the first Black actor to achieve the triple crown of acting when she won an Oscar (Fences), Emmy (How to Get Away with Murder) and Tony (King Hedley II, Fences). In 2017 she was awarded a star on the Hollywood Walk of Fame.

She has traveled light-years away from the abject poverty and dysfunction she experienced growing up in Central Falls, Rhode Island; her father, whom she loved, was a sometimes abusive alcoholic and her mother, whom she also loved, was a drill sergeant who strove incessantly to find a better life for her kids. Now Davis and her husband of 17 years, Julius Tennon, are raising their 10-year-old daughter, Genesis, to be caring and empathetic. "You have to realize we were the first Black family in Central Falls in 1965," Davis says. "So because of that, because of how I was bullied and made to feel like an outsider, I really don't want her to be a mean girl." Davis spoke with AARP entertainment writer Meg Grant on a variety of topics, including her title role in Ma Rainey's Black Bottom, which airs Dec. 18 on Netflix. –The Editors

On why she loved playing Ma Rainey
[She was] unapologetic about her sexuality. Unapologetic in terms of her value, in terms of what she wanted. Unapologetic about her blackness and I found that to be liberating. I think that she would actually be considered a liberated woman in every way. She was a woman before her time actually and at the same time of her time. And that sometimes is a really slippery slope. You're fighting a culture that devalues you — although in your heart and in your spirit, you know your worth.

On the effects of poverty
What comes with poverty is invisibility. Nobody talks about the poor. It's its own different world. It would associate your financial state with your value, which is nothing. So when you have nothing, when you're seen as nothing, then what kicked in for us [Viola and her sisters] is the famous saying, "The two most important days of your life is the day you were born and the day you discover why you were born." We wanted to be somebody, we just wanted to be somebody desperately. And that's what happens. I don't think we were alone in that. No, I think it's in everyone who feels like they're at the bottom of the barrel.

On the wisdom that comes with age
You know Denzel always says it: There's no U-Haul in the back of a hearse. You can't take it with you. I remember burying my dad and being completely outraged when I was closing his casket and saw they didn't put shoes on him. I was just about to complain until I realized, Viola, he doesn't need shoes. And that's the wisdom that comes with age.

You have to leave something for someone. You can either leave something for people or you can leave something in people. You choose. But the moment you decide to think like that in terms of significance and legacy, that's when the joy comes. That's when the fulfillment comes. That's when the lack of anxiety comes and the lack of fear of death.

On how she finds joy
I meditate with the Calm app; I have the rain sound. That sound reminds me of my childhood, the best parts of my childhood. … Every time I wake up I look at myself and I'm that little 5-year-old girl, and I'm either healing her and comforting her or I'm allowing her to have fun. I'm allowing her to be excited about the 55-year-old she gets to become. So throughout my day, what I do is find certain things that I used to love from my childhood and I do them. Like with Genesis I have the trampoline, or I jump in the water or we play tickle monster. I also have Autocrat Coffee Syrup and I put it in almond milk and I shake it up because I grew up drinking coffee milk; that's a Rhode Island delicacy and it's the one thing about my childhood that doesn't bring me trauma or [a] bad memory. It's my way of healing and having fun with that little girl. So I do that and that really does boost my faith. It gives me hope. It makes me enjoy my life. It releases my anxiety. And also I do pray, you know, because I am a God believer. I do believe that sometimes you have to give it over to a higher entity because I don't have any of the answers and I'm never going to have them. So I release them.

On her husband, Julius
I just love him. I do. Listen, he gets on my nerves at times, and I know I get on his nerves … [but] he made my life better from the moment I got with him, from our first date. He lightened my load. He loves me. I remember a therapist actually telling me that. Before I met Julius, I said, "I want this kind of man, this kind of man, this kind of man." And she stopped me and said, "Viola just find someone who loves you."… And then I found Julius and that's what he is. We laugh, he's a partner, he helps me with everything. He has my back. He's my advocate. I love him.

On self-worth
The lack of self-worth and the lack of self-value is the one thing that leads everybody down the slippery path. You show me anyone who is going through anything in their life, and if you sit them down, whether it's for half an hour, two days, two hours, it will all whittle down to "I just don't feel worthy."

And what they have to understand is you simply are worthy … The only ticket into worth is that you were born. That's it. Over and out.

On what makes a woman beautiful
Oh my gosh, once again worth. Worth. You know when you look in the mirror and you see that all of your failures, all of your shortcomings, all of your imperfections, literally when you can mix it with your sense of humor and all of the things that you actually do like about yourself, you mix it all together and you count it all joy, oh my God! That's everything.