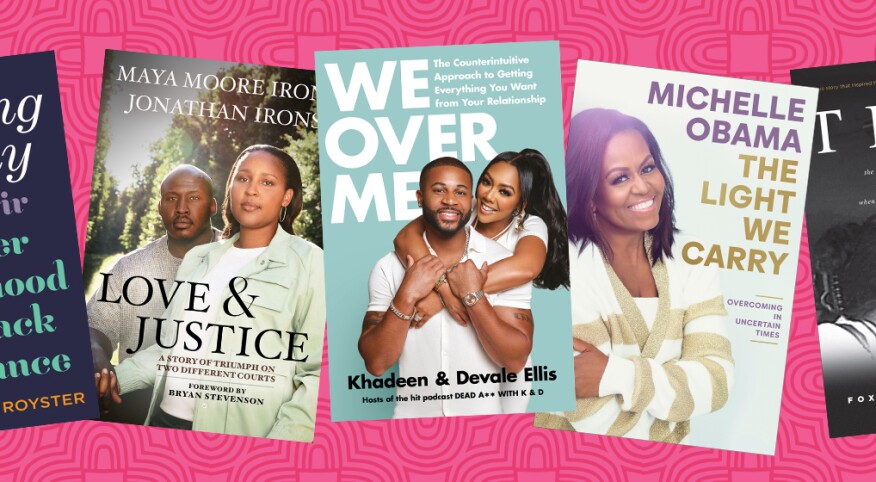 Whether you are single or boo'ed up, our February lit picks will touch your heart, Black love is not just in the air, it's between the pages of these love-inspired books! Frankie Beverly sang it best: "Joy and pain are like sunshine and rain." These revealing book selections prove him right as they detail the real-life challenges and triumphs that a diverse group of couples experienced. The authors deliver raw honesty and insight into their personal relationships in a way that can inspire us to enjoy more intimacy with ourselves or a significant other.

Keeping love alive through incarceration, being in an interracial relationship, considering divorce and parenting solo are just a few of the complex issues that these explorations of love's terrain divulge. We're reminded of bell hooks' words, "We do not have to love. We chose to love."

Time: The Untold Story of the Love That Held Us Together When Incarceration Kept Us Apart

by Fox Richardson and Rob Richardson

You may have seen the Academy Award–nominated documentary about the Richardsons, but believe me when I tell you that was just a taste! The couple who were relentless in their perseverance to keep their love alive while Rob was incarcerated share many more intimate details in their cowritten book. Both Fox's and Rob's points of view are shared with readers in this spellbinding story. At the heart of it is love and how one woman was steadfast in her mission to reclaim her family's time. Readers may be awed by the resilience that Fox exhibited while she struggled to keep her family intact through insurmountable odds. If the saying "Keep on keeping on" was a book, this would be it. So if you think that your perseverance to do whatever it is that you are doing will not pay off, pick up this book today!


Choosing Family: A Memoir of Queer Motherhood and Black Resistance

by Francesca T. Royster

Francesca Royster's moving memoir is a testament to creating the life and the family that you want. In Choosing Family, Royster talks about her experiences with her white wife, Annie, and their adopted Black daughter, Cecilia. The book is told from a Black, queer and feminist point of view and highlights the author's upbringing on the South Side of Chicago. Royster reminisces about the women in her family who often had nontraditional families of their own. The book wonderfully illustrates that readers can give themselves permission to live life on their own terms and that family is what you make it. Readers loving within nontraditional families will especially appreciate being seen in these pages.


We Over Me: The Counterintuitive Approach to Getting Everything You Want from Your Relationship

by Khadeen Ellis and Devale Ellis

Khadeen Ellis and Devale Ellis are no strangers to transparency. The fun-loving couple are stars of a social media show and are hosts of a podcast. The two are quite comfortable with revealing personal details of their marriage. Married over a decade with four children, the Ellises have an abundance of stories that depict the ups and downs of their relationship. Humor, love, wisdom and a sense of service are among the many things that have sustained this happy and talented couple. Their valuable, often humorous advice is applicable to any relationship, romantic or otherwise.


The Light We Carry: Overcoming in Uncertain Times

by Michelle Obama

In addition to inviting readers into the unvarnished realities of making her marriage of over 30 years work, Obama offers practical strategies for overcoming many other things that test us. Advocating for self-love and the importance of being compassionate and kind to yourself, Obama also stresses the very real power in using positive affirmations to counteract negative thought. This book will be a gift to you and to the women you know who need to remember that even when you may not feel like it, your light still shines within.


Love Yourself First Daily Affirmation Journal for Women

by Krystle Laughter

Love is not only reserved for couples! What do they tell you before takeoff? "Please put your oxygen mask on first before helping others," right? The same is true when it comes to relationships. The first relationship that we must forge and tend to is the one with self. Only then can we fully bask in the glow of a healthy, fulfilling and loving relationship with someone else. You may be wondering how to nurture this process of self-love. Well, Laughter's book is a fine place to start. Love Yourself First Daily Affirmation Journal for Women: 100 Affirmations to Help You Heal from Toxic People, Encourage Healthy Relationships & Develop Self-Confidence (The Love Yourself First Series) is chock-full of affirmations that are intended to uplift us, encourage us and affirm our value.


Love and Justice: A Story of Triumph on Two Different Courts

by Maya Moore Irons and Jonathan Irons

Maya Moore Irons, WNBA player and Olympic gold medalist, met her husband, Jonathan Irons, in 2007 while he was incarcerated. Maya and Jonathan corresponded over the course of many years, ultimately forging a very close connection. Then in 2019, Maya, convinced that Jonathan was innocent, as he had long claimed, shocked the sports world by deciding to leave her basketball career. Like Jonathan, Maya was determined to focus all her efforts on the fight for his freedom. This is a story of undeterred faith in love and justice and a remarkable example of how love wins in the end.