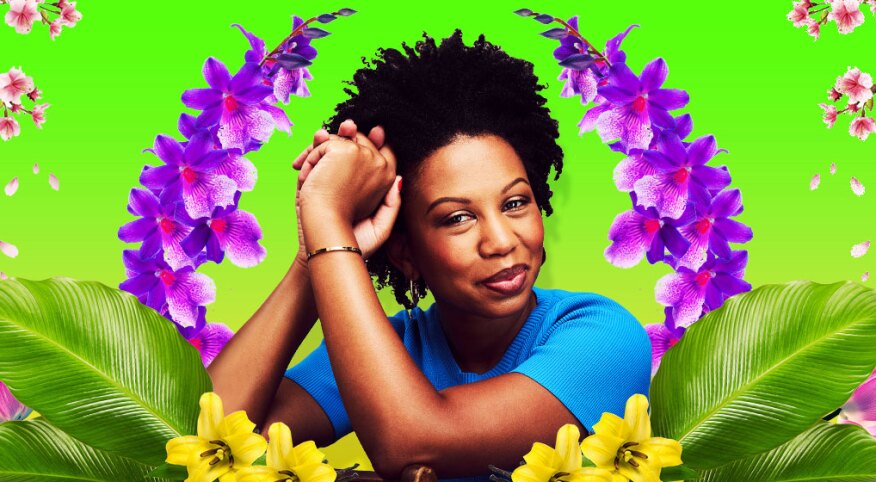 Well-Read Black Girl founder Glory Edim is shaking up the literary space. The Brooklyn-based book club has forged a community of sisters everywhere who want to explore classic and contemporary Black authors and engage in relevant conversations surrounding Black literature and Black womanhood.

Arlington, Virginia, native Edim's fondness for books was fostered by her mother, a Nigerian immigrant and voracious reader herself. This deep-seated passion for reading ignited Edim's purpose, which would eventually birth an intergenerational movement.

Since launching the book club in 2015, Edim has established the annual Well-Read Black Girl Festival, published two books, and now has her own podcast: Well-Read Black Girl with Glory Edim. But that's not all. She's currently penning her memoir and is set to publish a series of debut fiction titles next year in partnership with Liveright Publishing Corporation called WRBG x Liveright. The series will spotlight BIPOC and nonbinary writers.

We recently caught up with the glory-ous sister behind the literary empire. (This interview has been edited for clarity and length.)

What sparked the Well-Read Black Girl movement?
It wasn't my intention to start a movement or even a literary organization. I was gathering together to read books and build friendships with people, and that enthusiasm and openness of wanting to connect with other people is what allowed everything else to manifest afterward. I met with a group of like 10 women for a book club, and it was able to grow to an audience of almost 500,000 people on Instagram. My mission has always been to amplify the voices of Black writers and look for ways for us to just have more economy in the space.

Your most recent book, On Girlhood, features short stories from some of the greatest writers of all time. What message do you want the book to send to those in the later stages of Black womanhood who may be revisiting these stories?
I was thinking about the anthology of the past and the present coming together in this beautiful emergent of classic and newly composed writing that we could experience together. It just reminds us that we're part of this greater continuum, and we're all always in conversation with one another. We're talking to our younger selves. We're talking to our daughters. Our mothers. Our sisters. Our aunties. There's always something we can learn from one another, and I also feel like girlhood is ongoing. Even when you're 50, you're still a girl at heart. I think your audience will feel the connection and intergenerational conversation that's happening in the book.
Alice Walker's In Search of Our Mothers' Gardens was such a fundamental text for me, and it gave me a better understanding of how language could radicalize you and be a call to action.
Your podcast has been out for a few months now. What impact do you hope it will leave in the literary space?
Before podcasts were a thing, I would listen to old interviews, because my major in college was journalism, and I felt like listening to people speak helped me become a better writer. I still think about that deeply — the fact that I could listen to a speech that was recorded in the '70s and be able to glean from it and have a better understanding of the author or the writer because I could simply hear their tone and their voice. I'm hoping to translate some of that energy into the podcast. I also hope the podcast gives people an opportunity to look at their own stories and understand that they have such great steadiness and perseverance within themselves, and their stories deserve to be told.

You have a memoir coming out later this year. What will the world learn about Glory?
They will learn a more vulnerable side of me, for sure, and they'll learn more about why I am so persistent and why this is so important to me. Reading, in a lot of ways, has saved my life. It's made me a better friend and a more loving sister. It's made me more patient with myself. I definitely had my fair share of ups and downs, and I just learned not to give up. Those experiences, those failures, those rejections — I'm finally in a space where I can share those and be open about my experience and my healing. When I decided to write the book, I didn't understand how transformative it was going to be, and how hard it was going to be. I share the experience of losing my father and dealing with my mom's depression. So I'm hoping that it will offer folks insight, relief and encouragement.

What books helped you find your place in the world, and what books inspire you to carry on your purpose today?
Alice Walker's In Search of Our Mothers' Gardens was such a fundamental text for me, and it gave me a better understanding of how language could radicalize you and be a call to action. A more contemporary writer who I'm really inspired by is Sarah Broom, who wrote a memoir called The Yellow House. She just writes about her story in such an honest way. It's so heartbreaking and beautiful, and it feels like she's talking to you. From a political and social science perspective, I love the work and just the rigor of Imani Perry's writing. She wrote a book called Breathe: A Letter to My Sons. I read that when I was expecting — I knew I was going to be having a son. And with everything happening in the world, I was just trying to reconcile what it means to bring a Black boy into the world.

What else is in store for you?
I am really trying to think about what gathering in person means now that we are navigating a new space post-pandemic. What was so joyous about the festivals and our book club was being able to sit next to each other, look each other in the eye, laugh out loud and really hold space together. One of my hopes is to one day have a writing retreat where we can gather together in person and have almost like a Well-Read Black Girl sleepaway camp of some sort. So that is on my vision board. I'd love to create a physical writing space where folks can come and take courses, as well as look at how we can practice better wellness together.