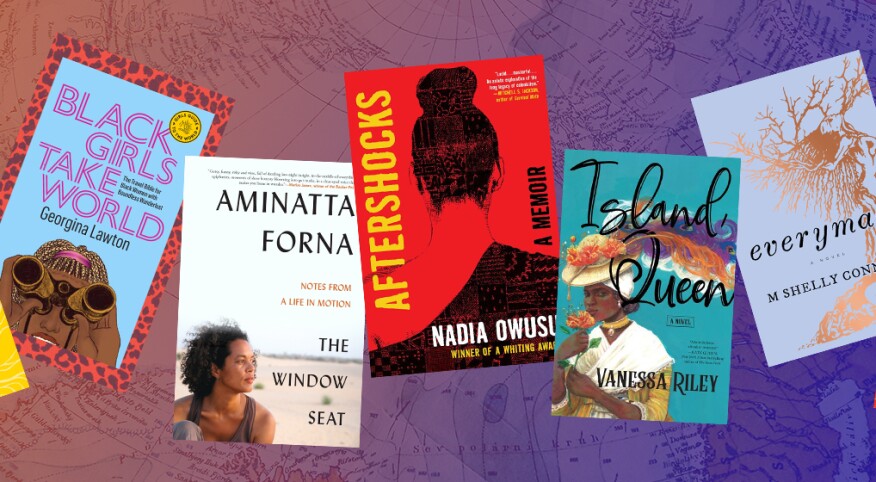 Books provide a means to explore other worlds. Historically, it's a right Black women didn't often have, as our ancestors' travel from one place to another was forced upon them. Now, people across the African diaspora inhabit places around the globe. Whether you have real wanderlust or you simply love escaping within the pages of a book, these reads will take you to another place, often redefining what home is.

Fiction

Island Queen by Vanessa Riley

Fans of TV's Bridgerton will likely find much to love in the captivating Island Queen, as historical author Vanessa Riley is a fan of the Netflix hit. Her novel is based on the real-life Dorothy "Doll" Kirwan Thomas. The enslaved Doll's entrepreneurial spirit was born early, as she eventually earned enough money to buy freedom for herself, her mother and her sister. Readers will see her rise from humble beginnings to a powerful, influential woman in the 19th century, traveling from her small Caribbean island of Montserrat to places around the globe. Riley is the author of several historical romance novels, featuring Black women in positions and roles not often seen in those settings.

everyman by M. Shelly Conner

Eve Mann leaves her home of Chicago in the early 1970s, searching for answers. She travels to Ideal, Georgia, her mother's hometown. Eve wants to learn more about her family since her mother died in childbirth and she doesn't know her father. More than a story about simply searching for one's roots, it's also about love, rebellion and protection. Eve's best friend, Nelle, fiercely claims her right to be lesbian, while the characters in Ideal know plenty but aren't always willing to share. Even Mama Ann, the aunt who raised Eve, holds onto secrets. With everyman's backdrop of the Civil Rights era and rich historical details, this novel deftly carries the reader back in time.

A Million Aunties by Alecia McKenzie

American artist Chris suffers a terrible tragedy. Needing to heal, he journeys to a small village in Jamaica, birthplace of his late mother. There, he meets characters who come to feel like family, especially the women who act as various "aunties." There's Miss Della, with whom he paints and does yoga. And Miss Vera and Miss Pretty, also members of Chris' vital support system. As with any family, conflict crops up — in the circumstances surrounding Féliciane, caught in a love triangle between Chris' friend and another man. In Maisy Card's review of A Million Aunties, she described what one Caribbean woman said in response to a character of hers in her own novel, These Ghosts Are Family, a character who had almost no family. "That would never happen in the Caribbean," [the woman] said. "He would have cousins, he would have neighbors, uncles — he would have aunties!" And that's something that people across the African diaspora can definitely relate to.


Nonfiction

Black Girls Take World: The Travel Bible for Black Women With Boundless Wanderlust by Georgina Lawton

Yes to there finally being a light at the end of the COVID-19 tunnel! After a year-plus of being stuck in place, many of us are itching to travel. Black Girls Take World is the travel bible you need and is perfect for newbies, especially those who are going it alone. According to Travel Noire, some destinations are safer than others for Black women travelers, such as Canada, Ireland and Cuba. Understandably, some of us are hesitant to travel alone. But Black Girls Take World is full of advice and tips. You'll also find Q&As from inspiring experts like Jessica Nabongo (the first Black woman to travel to every country in the world) and Annette Richmond (founder of Fat Girls Traveling).

Aftershocks: A Memoir by Nadia Owusu

In Aftershocks: A Memoir, Nadia Owusu writes vividly about a life spent traveling across various African and European countries, and yet not feeling like she belonged in any of them. Owusu's story includes a white mother who abandoned her as a toddler, and the death of her Ghanaian father, a United Nations official, when she was age 13. The nonlinear memoir details the constant moves in her early years and life in New York, far from her Tanzanian birthplace. The title refers not just to actual natural disasters, [LB6] but also the effects of her mother showing up years after she abandoned Owusu, described in metaphors of tremors, shock waves and fault lines. This deeply moving story is the author's search for self and for her place in the world.

The Last Nomad: Coming of Age in the Somali Desert by Shugri Said Salh

The title refers to the author herself, the last of her family to follow a nomadic lifestyle. This memoir chronicles Salh's life, starting from childhood when she was sent by her parents to live with her grandmother. While she didn't understand why she was the only child of the family sent to live in the desert and become a goatherd, she found a beauty and peace in the life and community. However, violent civil war in Somalia uprooted Salh from her native land. She became a refugee who first fled to Kenya, then to Canada, and eventually to California, where she had to adjust yet again to a new life. The Last Nomad is a story of survival, resilience and hope.

The Window Seat: Notes From a Life in Motion by Aminatta Forna

In this collection of essays and vignettes, award-winning author Aminatta Forna writes about places and cultures from around the globe. She's journeyed through Mali, England, Thailand, Sierra Leone and the United States, to name a few. Subjects in The Window Seat vary widely, from bits on her childhood to colonialism to Iran's Islamic revolution. She covers topics such as former President Barack Obama, as viewed from an African versus an American perspective, in "Obama and the Renaissance Generation." In "Power Walking," she writes about what it means to move through the world as a Black woman. Forna's thoughtful words will transport you to other times and places, while examining what it means to be home.