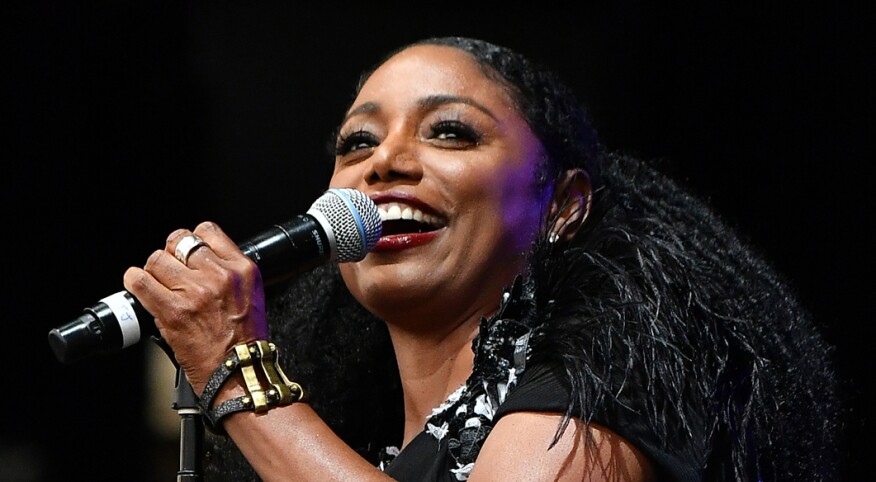 From the editors: Sisters brings you this story in celebration of Black Music Month.

Three decades ago, Karyn White belted "Superwoman," which quickly became an anthem for strong-willed sisters everywhere. You know the words: "I'm not your Superwoman. I'm not the kind of girl that you can let down, and think that everything is okay. Boy, I am only human."

During White's quick rise from backup singer to solo-artist stardom, she worked with the production dream teams, L.A. Reid and Babyface and Jimmy Jam and Terry Lewis. In fairytale fashion, she married Lewis in 1991. But after the release of her third album in 1994, the Los Angeles native disappeared from the music scene and she and Lewis divorced in 1999.

After an 18-year hiatus from show business, in 2012 White released her fourth album, Carpe Diem (Seize the Day). And in 2017 the Grammy nominee produced and starred in the loosely biographical film, Gale & the Storm, about a soul singer who takes a bow at the height of her career and stages a comeback (available for purchase on karynwhite.me). The film soundtrack features a timely track called "Love Quarantine."

Sparking nostalgia and introducing White to a new generation, Babyface played two of the songs he wrote and produced for her — "The Way You Love Me" and, of course, "Superwoman" — during his epic Instagram Live "Verzuz" battle with rival hitmaker Teddy Riley. Via phone from her home in Atlanta, and in time for Black Music Month, the stunning 54-year-old caught us up on her life in and out of the spotlight.

Sisters from AARP: With over half a million music fans watching, how did it feel to have two of your biggest hits played during the Babyface Verzuz Teddy Riley battle?

Karyn White: Man, it was amazing. Since I left the industry, it's been a hard climb back. So it was a needed validation.

Sisters from AARP: What prompted you to leave?

Karyn White: I kind of lost my way and didn't want to unravel in front of the world. You know, my [first] marriage failed, my mother died and a second marriage was failing. I didn't know how to be an artist, a mother and be successful. So I stepped away.

Sisters from AARP: What have you been doing since?

Karyn White: I'm an entrepreneur at heart, so I got into investing, owned property and flipped homes. Once I looked up, like five years had gone by, and I felt like, "Well, they don't need me." Mary [J. Blige] was killing it and Beyoncé was on the rise. So I felt like I'd made my mark. I lost faith in myself and in my gift. I guess I was depressed, because I couldn't see the good of it being my purpose and the legacy — the movement of the powerful women that my songs touched.

Sisters from AARP: How were you able to rebound from depression?

Karyn White: Well, spiritually … I wanted to learn the Bible. I wanted to understand and keep growing. So I would read. And counseling. [From] things that I read, I [concluded], I think that I caused a lot of my own drama. Because I've had an amazing life. When you are discovered by Don Cornelius and [his artist] O'Bryan at 17, and then signed by Benny Medina at Warner Brothers. My first record [was produced by] L.A. Reid and Babyface and [went] platinum. My second [album was produced by] Jimmy Jam and Terry Lewis. When you get things so fast, it felt like it was just supposed to happen. And whenever you get to that point, oh child, you need to sit down.

Sisters from AARP: What motivated you to perform again?

Karyn White: The real estate market tanked in 2008, so I started producing reality shows. I would take meetings. Everybody was like, "You look amazing. What are you doing? Do you want to do a reality show?" It was so funny because I would downplay [my past success] because in this business, you're only as good as your last hit.

[Then] I was listening to a radio show with Jay King, who is the founder of Club Nouveau, about the music business. He became my manager [and helped me] to get back out here. I didn't even realize that I was probably larger internationally than in the States. I didn't know that my records were huge in South Africa. So being embraced over there, that gave me the confidence. Now, I'm doing more shows in the States.

Sisters from AARP: Your song "Superwoman" is an anthem for Black women. What does the song mean to you?

Karyn White: For me, it was hard to be the superstar and be a great mother. I got a lot of flak for this from some women. They were like, "Well, we do this all the time. We raise our daughters, we go to work." And I was like, "I don't know how to do it." That's why I love you, superwoman! Y'all do it. But for me, I had my priority. I was like, let me just raise my daughter.

Sisters from AARP: That's real and honest. You didn't feel like you could do it all.

Karyn White: When I sang the song, it was about my mother. How could I know what a superwoman was at 23? But now when I perform the song, I know what it means to overcome, to persevere, to stretch, to reach, to grow. And then coming back and seeing Fantasia, Tamar, Heather Headley and LeToya Luckett all singing my song, I'm very proud of reaching the next generation.

Sisters from AARP: What was it like coparenting with your ex-husband, Terry Lewis?

Karyn White: Terry is just such a man of integrity and family. At first, it was rocky, just like any divorce. But we found our stride. It's important for [our daughter Ashley, who's in her late 20s] to see our healthy relationship. I'm blessed to have him as a friend.

Sisters from AARP: You look great. How do you stay fit?

Karyn White: I've been doing spin [classes] and I do yoga, Pilates and weights. And then I'm just a firecracker on stage, so that helps me. I'm from the James Brown, Tina Turner, Prince and Michael Jackson [era]. I'll give you a show.

Sisters from AARP: Do you follow a dietary regimen?

Karyn White: I do intermittent fasting, which is eating within a [time] frame. Getting full, so not feeling like you're dieting. Hopefully I'll be able to shed these pounds [gained] from worrying about COVID-19.

Sisters from AARP: What things are you doing to keep positive during this time?

Karyn White: I love to learn. So YouTube University, audiobooks. Understanding about how finances work, taxes, stocks, to help in my real estate game. I teach my daughter and nieces about how money works and how we have to have a plan. We weren't taught this in school, so I'm excited to share what I learn. In January, we started the Karyn White Foundation to help female entrepreneurs. Eventually, I want to do a Superwoman conference. As Black women, we're so talented and we're so driven, but I want to make sure we understand the platform of business.