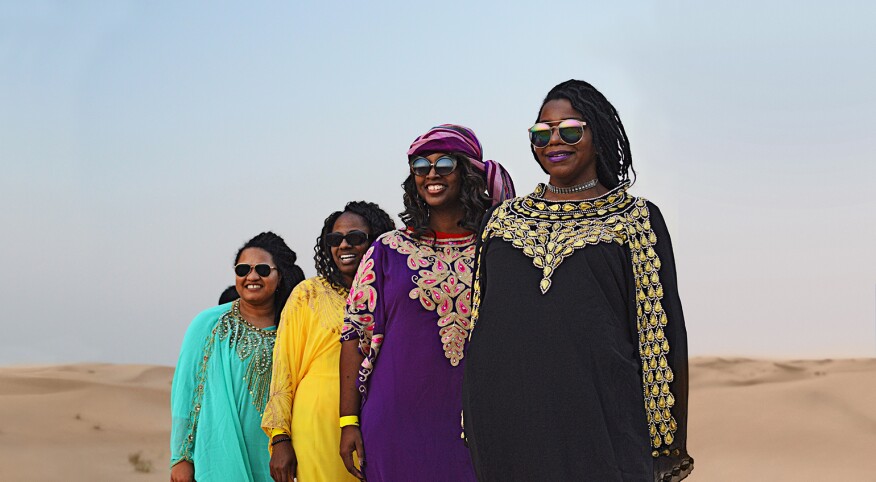 As my plane landed in Dubai after a 12-hour flight, I was looking forward to enjoying the warm, sunny weather there, especially because I'd left an unseasonably cold March back home in Washington, D.C. I was immediately caught up in a wave of international travelers heading to the Customs desk, and on the way, I couldn't help but notice some well-heeled and cosmopolitan African-American women. Many were there for girls' trips, but some were expats who now reside in the Middle East.



According to Gulf News, this region has become a popular tourist destination, but the United Arab Emirates (UAE) is also home to more than 200 nationalities. Native Emiratis comprise less than 12 percent of the population. The rest is the expat community. Dubai alone is expected to exceed 5 million residents by 2027 .



When people think of the UAE, they usually think of Dubai and its high-end shopping, vibrant nightlife and extreme luxury. Many may not know there's a growing African-American community in Abu Dhabi, the nation's capital. Drawn by its tax-free salaries, year-round warm weather and safe, family-friendly culture, Abu Dhabi is a viable option if you're looking for a change and open to living internationally. I was privileged to meet a few exceptional women during my brief visit and gained tremendous insight about life in the gulf region.



Not everyone understands a move to another country, particularly one to the Middle East. The first thing many people want to know: Is it safe? That's a fair question given the reputation the Middle East has in the West. "We used to hear that one a lot," said Tiffany Alexander, a freelance technical editor and married mom of one. "People think of the Middle East as one whole dangerous place. There are areas in the gulf region that may be unstable, but it's no different than if you lived in Chicago or New York. Most of us wouldn't leave an entire area because some parts are not safe."



Aware of its at times misunderstood image, the UAE promotes itself as a place where all are welcome. His Highness Sheikh Khalifa bin Zayed Al Nahyan, the president of the United Arab Emirates, declared 2019 the Year of Tolerance. There's even a Minister of Tolerance on the Supreme National Committee. Alexander believes much of the fear and misinformation about the Middle East is media-generated and says it's unfair to stereotype an entire region of countries based on isolated actions.

Abu Dhabi is "one of the safest cities in the world," she said. She moved there five years ago with her husband when she was seven months pregnant. Before that, she hadn't thought about living in Abu Dhabi until an opportunity opened up for her husband. Each of them had high-powered careers at a global finanical institution and Abu Dhabi was a welcomed break from the high stress and fast pace of New York City. They like the fact that they are able to eat dinner together every night, a luxury they didn't have in the States. After visiting the region and connecting with expat and mom groups online, Alexander was sold. "The expat community here fully embraced us and made the transition seamless," she said.

Her adorable 5-year old son, Noah, has adapted to the international culture. He was born in Abu Dhabi and Alexander likes the global worldview he's developing as a result of having classmates from many parts of the world. Still, she and her husband are intentional about keeping Noah connected to his African-American culture, and they schedule visits to the United States to make sure he spends time with his extended family.

Some expats move to the UAE to save money. For example, teachers have two- to three-year employment contracts that include a tax-free salary, housing, a furniture allowance, two months of vacation plus national holidays, health insurance, a bonus and yearly round-trip flights home for the employee, their spouse and up to three dependents under the age of 18. Since employers cover many of life's essentials, there's more discretionary cash to manage. Being in such close proximity to world-class shopping and travel can create the gnawing temptation to spend more than save. That can be problematic when your contract expires and you haven't saved as much as you would've liked. Sticking to a budget and being diligent about saving money helps expats maximize their time overseas.

There's a familiar challenge: Although men outnumber women overall, the circumstances of dating within the African-American community are similar to those in the U.S. "It took a while for me to be open to dating other cultures. It wasn't so much a race issue as it was cultural," said Arlisa Rosser, a teacher and owner of Kurvy Girlz Travel International. She moved to Abu Dhabi after a colleague told her about an opportunity to teach overseas in the public or private schools. Following her interview, she made the move from Atlanta in 2016. She's currently dating a Nigerian-American because she says there's comfort in the familiarity of American cultural norms.

The UAE's close proximity to India, Greece, Turkey, Nepal, the Maldives and the Seychelles make travel to international hotspots less than a four-hour flight. The area is diverse but its residents still tend to gravitate towards fellow expats from their respective home countries. To keep everyone connected, there's a weekly Wednesday Wing Night, sports teams, churches and Greek organizations. (Zeta Phi Beta chartered a chapter in 2014; Alpha Kappa Alpha did so in 2016.) If given the opportunity, no matter what season of life you find yourself in, the UAE can be the adventure of a lifetime.