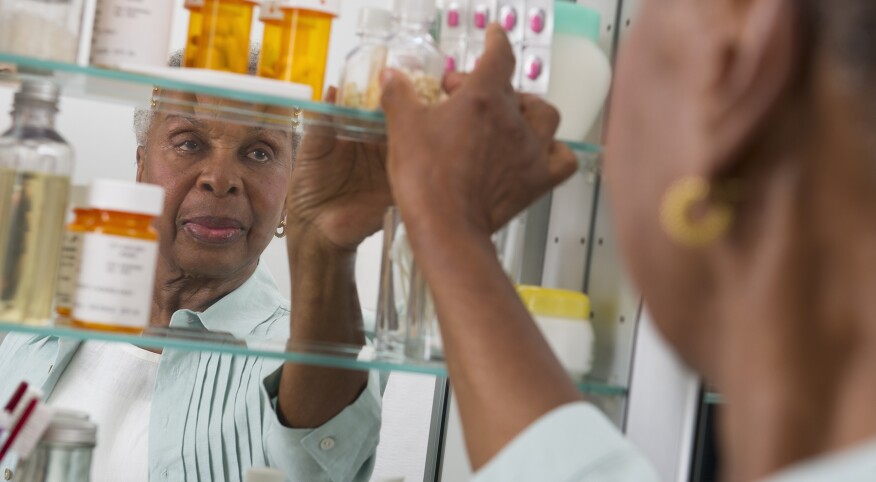 Sis, let's do a little reality check around how prepared we really are to treat routine illnesses or injuries. Go grab that blue-and-aqua jar of vaporizing chest rub. Yup, the remedy relied on by generations of Black mammas that's still a comfort to us now that we're grown. Next, turn it around and check the expiration date. We good? Now, let's talk about how to take better care of ourselves.

Following my mom's example, I like to keep my medicine cabinet and bathroom closet filled with enough over-the-counter medicine and wellness products to restock a shelf at a drugstore. But when it comes to a sudden illness like the flu, COVID-19-related symptoms, pain discomfort or gastrointestinal distress, I can't afford to waste time sifting through my stash. And neither can you, sis. So let's make sure we have these 11 health essentials within reach.


Pain relievers. Aspirin, acetaminophen (Tylenol) and ibuprofen (Advil and Motrin) can help relieve a nagging headache and reduce fever. But be mindful of your pain reliever pick if you have an underlying health condition. For example, since aspirin is a blood thinner, skip it if you have a bleeding or clotting disorder, a liver or kidney disease, or gastrointestinal issues.

A thermometer. We've had our temperature taken a lot lately, haven't we? And with good reason, since a fever above 100 degrees Fahrenheit is a common symptom of COVID-19 and often of the flu. So keep a working oral thermometer in the medicine cabinet and an extra one in your purse to check your temperature anytime.
Rubbing alcohol and hand sanitizer. Remember during the height of the pandemic when there was a shortage of isopropyl alcohol and alcohol-based hand sanitizer? Well, pick up one or two of these products while supplies are available.
Antibiotic ointment and adhesive bandages. Minor cuts, bruises and scrapes happen. When they do, apply antibiotic ointment to prevent infection. Then slap on an adhesive bandage, now available in a variety of brown skin tones.
Hydrocortisone cream. Instead of scratching that itch from a bug bite, rash or flare-up from eczema or psoriasis, apply soothing hydrocortisone cream and keep it moving.
Decongestants and cough medicine. The options for over-the-counter cough syrups or nasal decongestants are plentiful. But most brands typically offer similar ingredients. So do your research online before you go to the store, or ask the pharmacist for a recommendation.
Hot/cold pack. We love a good two for one, and a reusable gel pack with both heat and cold applications can help relieve pain, swelling and muscle aches.
Upset-stomach medicine. There's nothing like having the runs or other tummy troubles when you need to be on the run. For a quick remedy, use these tried-and-true OTC formulas or their generic forms: Imodium (loperamide) for diarrhea; Pepto-Bismol (bismuth subsalicylate) for diarrhea, bloating, gas and nausea; and Pepcid (famotidine) for heartburn or acid indigestion.
5 Items to Toss Immediately
Expired prescription drugs. Some medications can be harmful after their expiration date. So when in doubt, throw it out. When it comes to opioid painkillers, flush the drugs rather than placing them in the garbage. Better yet, search online for the next National Prescription Drug Take Back Day, or look for a year-round disposal location.
Old or expired vitamins and supplements. Although vitamins don't "go bad," they may lose their potency over time. But if your vitamin supplements smell funny or have changed colors, discard them right away.
Expired contact lens solution. Toss this item, even if the bottle is still full. The expired solution could be contaminated and cause an eye infection and, in severe cases, vision loss or blindness.
Hydrogen peroxide past its use-by date. This antiseptic may lose its strength over time, so pour the remainder down the drain if it's expired. But who knows, it may still be strong enough to unclog your drain.
That ancient jar of eucalyptus-and-menthol ointment. We are hitting close to home here, since this is a keepsake in many Black households. The Vicks brand, however, doesn't recommend using its ointment past the expiration date, let alone for decades.