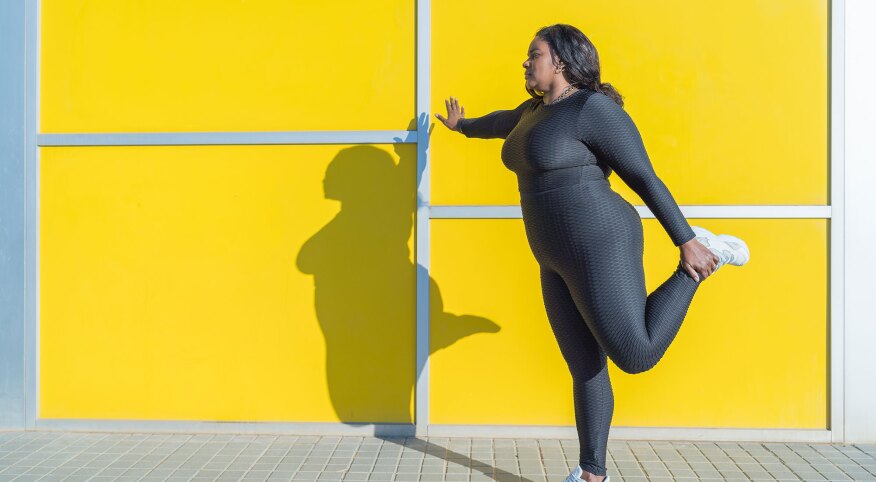 If your knees or back hurt, you know how agonizing it can be during your daily activities. Take a step the wrong way? Pain. Bend to pick something up, and you almost feel like you have to call in the cavalry to help you get back upright.

Sis, you don't have to just deal with it. Taking time to stretch and loosen up your muscles, at least two to three days a week, can do a lot to dull those aches. Stretching helps your joints remain limber and mobile, and maintaining flexibility helps decrease pain in your lower back and knees, says Candace Morton, D.P.T., a physical therapist and clinic director at ProRehab Physical Therapy in Louisville, Kentucky.

And stretching works fast. "Unless there's an underlying issue, once you get your body moving, stretched out and a little more limber, you should start experiencing some relief fairly quickly, in as little as a couple of days," Dr. Morton says.


Perform these stretches to get through your day with less pain.
First, stretching safety:

If you have an injury or a health condition (like arthritis), check with your doctor or physical therapist before beginning a stretching routine. Also, see your doc if pain lasts more than a few days or is present with nearly all activity, Dr. Morton says.
Warm up with at least five minutes of light activity (like walking) before stretching. Even better, do it after a workout.
If you have balance issues, hold on to a steady surface when doing standing stretches.
Never bounce while stretching.
Don't stretch until it hurts. Stretching may feel uncomfortable (a 3 to 4 on the discomfort scale), but it shouldn't be painful, Dr. Morton says.
Standing hamstring stretch
Having tight hamstrings (the muscles in the back of your thighs) can cause pain in the knees and lower back, Dr. Morton says. This stretch helps work out the kinks.

How to: Stand with one leg straight out in front of you, with your heel on a step and foot flexed (toes pointing upward). Bend your hips slightly forward until you feel a stretch in the back of your thigh. Keep the knee of the extended leg flat. Hold for 20 seconds. Do the same with the opposite leg. Repeat three times. "You can also do this stretch seated, with your legs straight out in front of you and bending your hips forward," Dr. Morton adds.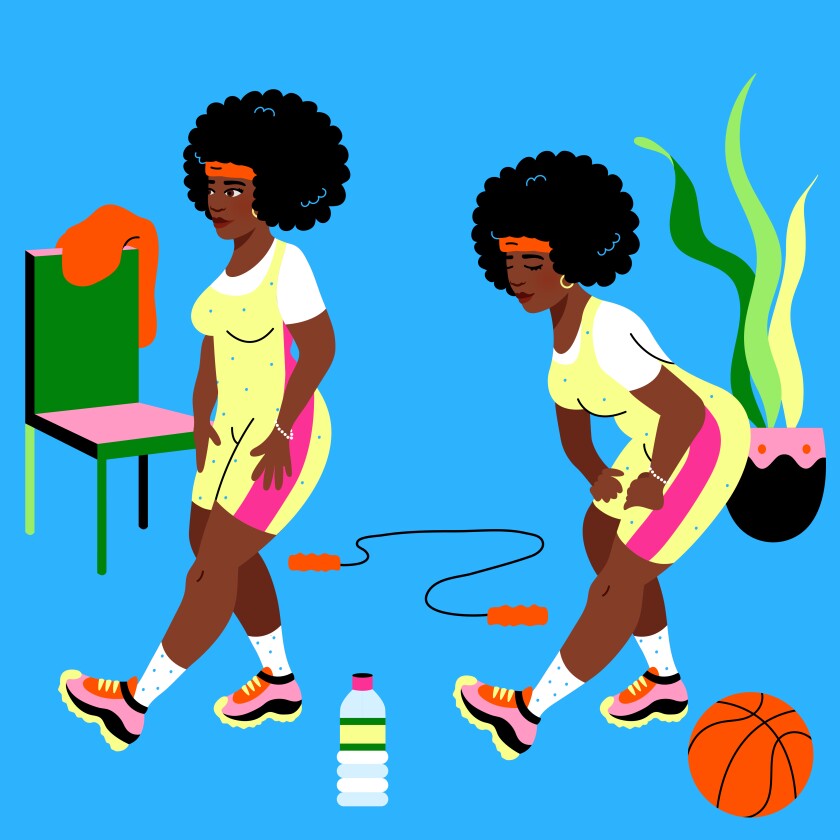 Standing quadriceps/hip flexor stretch
This targets the muscles at the front of your thighs and your hip flexors (muscles near the top of your thighs). When the quads or hip flexors are tight, it can put strain on your knees, Dr. Morton says.

How to: Stand with your feet shoulder-width apart. Lift your right foot up behind you. Grasp your ankle with your left hand and pull your foot toward your right buttock until you feel the stretch in the front of your thigh. Keep your bent knee in line with your hip, not pointed outward. Hold for 20 seconds. Switch legs and repeat. Do three times with each leg.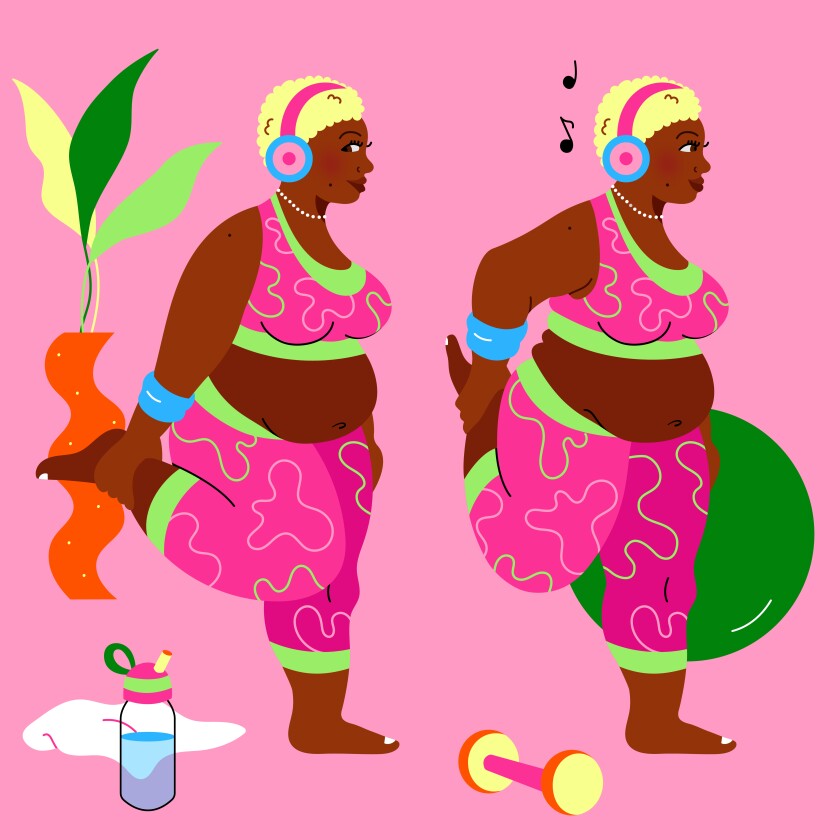 Knee-to-chest stretch
This stretch increases flexibility in the lower back, hips and glutes.

How to: Lie on your back with feet flat on the floor and knees bent. Use both hands to pull one knee up to your chest. Hold for 10 seconds. Return to the starting position and repeat with the other leg. Do this stretch 10 times (five per leg).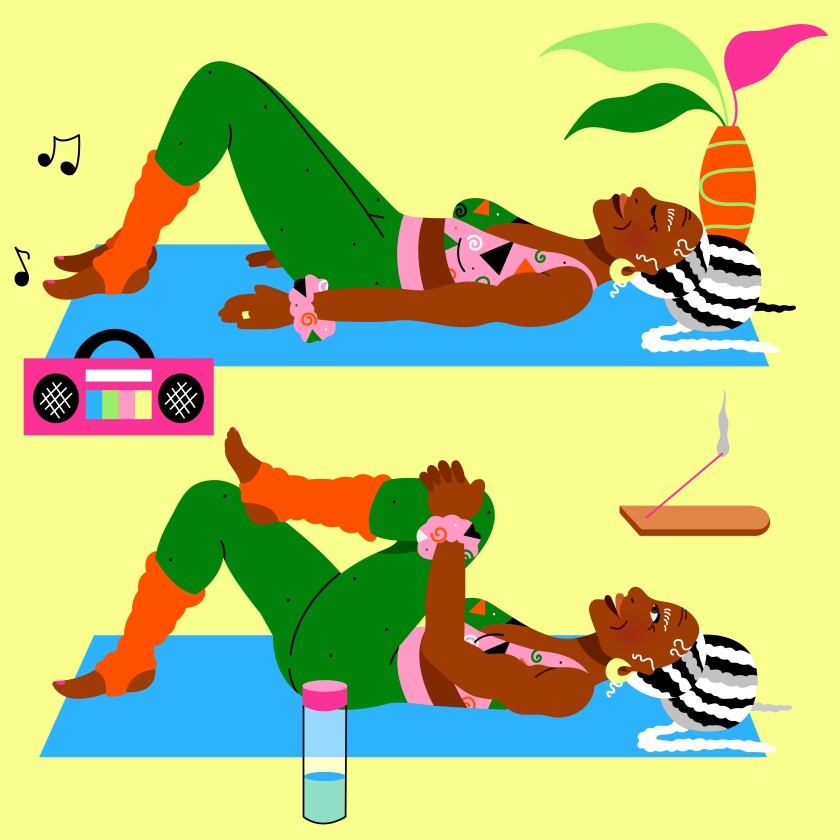 Open book stretch
Dr. Morton says this one is also great for lower back mobility.

How to: Lie on your side with your knees together and bent at about a 90-degree angle. Extend your arms straight out in front of you with your palms touching. "Lift your top arm and slowly rotate your torso until your top arm nearly reaches the floor on the opposite side," Dr. Morton says. Hold for about three seconds, and return to the starting position. Do 10 reps. Switch position and repeat on the other side.