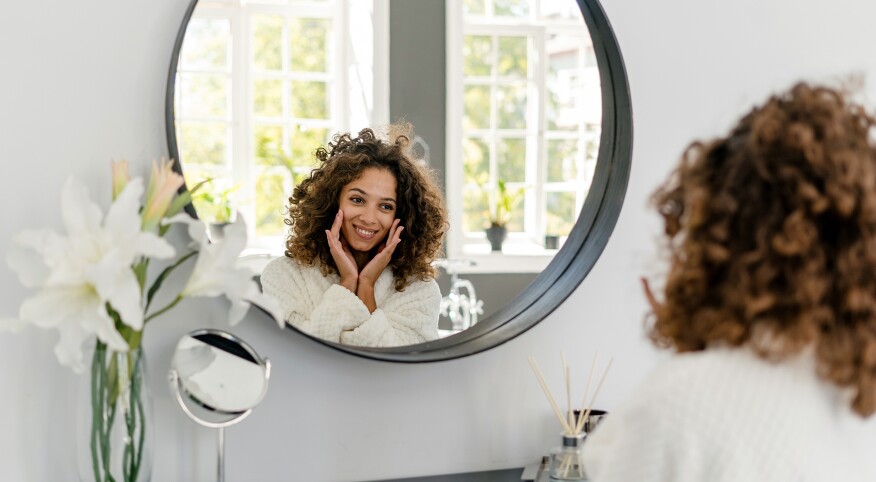 You've been living with yourself and in your body for a long time, but how comfortable are you in your own skin? If you struggle to make peace with your changing body, know that you are not alone.

Our bodies inevitably change with age, biology and life's stressors, including loss of strength, endurance and flexibility. We develop a higher fat-to-muscle ratio, and a less lean body mass can affect your metabolism, making it more challenging to maintain a healthy weight. When estrogen wanes with menopause, more fat tends to show up around our waistlines, giving us what I, with a side-eye, call a menopouch. (The comedian Wanda Sykes named hers "Esther.") As this change happens, you might notice the clothes you used to slay in fit differently or not at all.

Know that a bit of a pouch is normal and natural as we age. And fortunately, many Black women see curvier shapes as ideal. Also, since the pandemic, many of us have become focused on our inner peace more than our outer beauty according to AARP's "Mirror/Mirror Survey of Women's Reflections of Beauty, Age and Media."
When we own our sexy and don't fret about the scale, cellulite or a few stretch marks so much, that body consciousness can be a boon to our self-esteem.
Atiya Jackson of Huntingtown, Maryland, loves her newfound curves. "Today I fully embrace my body — the new curves, the new jiggles," she says from her home office. "I would say I was a late bloomer because I was so skinny forever. Now I'm all filled out at 46, and I love it!" Atiya notices how that confidence permeates into other parts of her life. "I feel like when I exude confidence, it draws more people to me. Once you are confident, people want a part of that." And when it comes to her love life, "My man thinks I'm the bee's knees," she laughs. "He will not accept me saying anything negative about my body. Now, in year three of dating him, I can just say 'thank you.' You own your sexy."


Making a healthy and happy peace with the mirror and the scale

When we own our sexy and don't fret about the scale, cellulite or a few stretch marks so much, that body consciousness can be a boon to our self-esteem. But be aware that carrying too much additional weight (and having a waistline measuring more than 35 inches) may put you at greater risk of developing visceral belly fat, which, unlike the fat that you can pinch just beneath skin, sits deep inside, around your organs. Visceral fat can cause a host of health problems, including cardiovascular disease, breast cancer, colorectal cancer and dementia. It's also a potential risk factor for and has been associated with severe COVID-19.

To help you manage a fluctuating metabolism, incorporate foods into your diet that are said to help reduce belly fat, including avocados, green tea and berries.

Tara Adams, 48, of Detroit, said she eventually realized that her diet of comfort foods that were part of her youth were also part of her problem. "Growing up in a household with parents from the South, the food was always plentiful and not much attention was paid to exercise or nutrition," she shares. "You name it, we ate it." Cutting beef and pork from her diet 25 years ago helped, and after three years of being a vegetarian, she now follows a fully plant-based diet. "I've lost 30 pounds in the last five months and my energy levels are steadily increasing," says the professional fundraiser and business owner. "I love that my body treats me the way I treat her. If I'm good to her, she's good to me. [And] I feel better in my late 40s than in my 20s!"

Also get your body moving and boost your heart rate for 30 minutes at least five times a week. Put on your favorite playlist and dance freely around your home. (Have you ever noticed that you felt more energized, free and confident after a good cardio session?) Rack up your daily step count or the length of time you can hold a plank, and challenge yourself to do a little more each time.

Finally, take a look in your closet and ask yourself what styles are you holding onto that you'll never wear anymore? If it doesn't fit and flatter your body the way it used to, or it no longer fits your life, let it go.

Image strategist and creative consultant Pamela Macklin, a former style director for Essence magazine who has dressed curvaceous women such as Jill Scott and Mo'Nique, agrees. "As we move into our 'seasoned self' it's about how you want to feel. You have to have the mindset of dressing from the inside out."

If there is a part of your body that you're not so comfortable showing off, like her "honey roll," as she calls her belly, Macklin advises that you pick a focal point — a part that you do love — and accentuate that. And she encourages us to consider the power of shapewear to enhance a look. "If a dress you love is the star, the proper underpinnings are your supporting cast."

Consider clothing and accessories that not only fit you and this phase of your life but keep you looking and feeling your best. And celebrate your body for all that it continues to do for you: Keep it well-nourished, flexible, strong and well-rested. You have the power to take control of how you feel about yourself and the skin you're in. As you do, embrace your changing body with gratitude and grace.