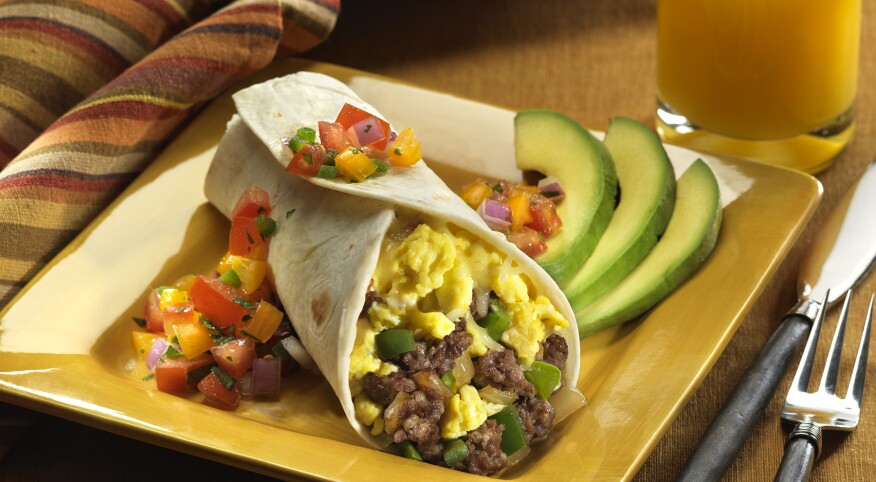 We know diabetes hits the Black community hard: Non-Hispanic African Americans are 60 percent more likely to be diagnosed with diabetes than non-Hispanic white Americans. What's more, Black people develop the disease earlier, with 25 percent diagnosed before their 40th birthday. Many folks living with diabetes or prediabetes don't know they have it. If you've put off getting screened, here's some advice to consider. If you've been diagnosed with either condition, eating a healthy breakfast is a great way to help manage it.

The perfect breakfast for people with prediabetes or diabetes? There's no such thing. According to the American Diabetes Association (ADA), there is no one-size-fits-all eating plan for people with diabetes. What works for someone else may not work for you. Same goes for breakfast. But a balance of macronutrients (protein, fats and carbohydrates) is key.

Research published in the Journal of Nutrition, for instance, shows that breakfast skippers are at greater risk of developing type 2 diabetes than breakfast eaters. The study authors report that's largely because those who skip the meal tend to have a higher BMI (body mass index) — a ratio of weight to height used to estimate body fat.

Other studies tell us that eating breakfast can be key to maintaining a healthy weight, which in turn lowers your risk for many conditions, including type 2 diabetes.

"Imagine a fire burning in a fireplace. You wouldn't starve it of wood. You'd give it a few logs every so often to keep it going," says Joanne Rinker, a registered dietitian, certified diabetes educator and director of practice and content development for the American Association of Diabetes Educators. Your body is no different. "It needs small amounts of fuel to burn all day long to keep your metabolism going."

For people who already have diabetes, the morning meal is critical for maintaining blood glucose levels. "Consuming a consistent amount of carbohydrates throughout the day can help keep blood sugar stable, especially when carbohydrates are paired with lean protein and healthy sources of fat," Rinker says.
These five delicious breakfasts — all diabetes-friendly — do just exactly that.

1. Breakfast Tower

Top a slice of whole-wheat toast with one scrambled egg, a slice of tomato, a slice of avocado and one piece of bacon

Nutritional information (per serving): 270 calories, 15g total fat, 4.5g saturated fat, 510mg sodium, 19g total carbohydrate, 5g dietary fiber, 3g sugars (includes 2g added sugars), 16g protein

"Protein and healthy fats digest slower than carbohydrates," Rinker says. "Including protein in meals will help prevent blood sugar spikes and subsequent dips in blood sugar." A study published in 2015 in the Journal of Nutrition showed that eating more protein at breakfast specifically can help people with type 2 diabetes avoid post-meal spikes.


2. Savory Oatmeal

Cook 1/3 cup steel-cut oats in 1 1/3 cups low-sodium vegetable broth; mix with 1 cup non-starchy vegetables (spinach, tomatoes, mushrooms, cooked asparagus — even leftover greens!) and top with 3 tablespoons plain Greek yogurt, a squirt of lemon juice and a drizzle of extra-virgin olive oil.

Nutritional information (per serving): 300 calories, 6g total fat, 1g saturated fat, 280mg sodium, 48g total carbohydrate, 8g dietary fiber, 7g sugars (includes 0g added sugars), 14g protein

There's a reason oatmeal defies breakfast trends: It's high in fiber, which helps keep blood sugar levels steady, and contains antioxidants that reduce the damaging effects of chronic inflammation associated with both cardiovascular disease and diabetes. Plenty of research, including a 2018 review of studies published in the journal Nutrients, shows that a diet rich in whole grains like oats can help prevent and treat type 2 diabetes.

For the most benefit, skip the instant oats (especially those with added sugar and other flavorings) and instead go for steel-cut. Although both types offer similar nutrients, they affect blood glucose differently. The least-processed oats like those in a bowl of steel-cut oatmeal take longer to digest, prompting a more gradual rise in blood sugar. Traditionalists can add some combination of cinnamon, fruit and nuts; otherwise, try the savory oatmeal, above, for a twist on tradition.

"Rather than pairing a carb-rich food like oats with another carb-rich food such as fruit, serving it savory-style gives oatmeal new life in a diabetes eating plan," says Jackie Newgent, culinary nutritionist and author of The Clean & Simple Diabetes Cookbook, and nutrition adviser for Lunch Unpacked. "It offers a vehicle in which to enjoy more non-starchy veggies while punching up soluble fiber intake."


3. Yogurt Parfait

In a tall, wide-mouthed jar, layer 1/4 cup Greek yogurt, 1/4 cup berries (strawberries, blueberries, raspberries) and 8 almonds (or the equivalent in slivered almonds.) Repeat twice to create three layers.

Nutritional information (per serving): 310 calories, 15g total fat, 1.5g saturated fat, 60mg sodium, 22g total carbohydrate, 6g dietary fiber, 13g sugars (includes 0g added sugars), 24g protein

Research suggests a link between yogurt and a lower risk for type 2 diabetes (by way of a lower obesity risk). Another study suggests that regularly consuming low-fat yogurt, rather than skipping it altogether, may reduce the risk for type 2 diabetes by 28 percent. Take a pass on the flavored varieties, which can be high in sugar, and instead choose plain Greek yogurt, which is higher in protein than regular yogurt. Then add your own good-for-you toppings like nuts, granola and fruit. For a grab-and-go breakfast, layer everything in a mason jar, Newgent suggests.


4. Breakfast Burrito

Sauté an egg with baby kale and wrap it in a sprouted whole grain tortilla; top with a dollop of guacamole.

Nutritional information (per serving): 350 calories, 21g total fat, 4g saturated fat, 390mg sodium, 28g total carbohydrate, 8g dietary fiber, 2g sugars (includes 0g added sugars), 14g protein

NOTE: Nutrition information will vary.

If you've never loved cereal, yogurt or scrambled eggs and bacon, know this: You don't have to. "Breakfast doesn't need to be traditional foods," says Kara Mitchell, clinical dietitian and certified diabetes educator at the Duke Health and Fitness Center in Durham, North Carolina. "I have clients who eat leftover dinner or a sandwich for breakfast."

The only thing that does matter when it comes to something like dinner-for-breakfast? Achieving that all-important mix of macronutrients. "A meal should be a balance of carbohydrates, lean proteins and healthy fats from all five food groups," Rinker says. "Those are the only guidelines."


5. PB&J Breakfast Smoothie

Combine 3/4 cup frozen blueberries, 3/4 cup almond milk, 1/2 cup ice and 2 tablespoons peanut butter in a blender.

Nutritional information (per serving): 300 calories, 19g total fat, 2.5g saturated fat, 140mg sodium, 21g total carbohydrate, 5g dietary fiber, 11g sugars (includes 0g added sugars), 9g protein

If you blame a shortage of time for your breakfast-skipping ways, a blend-and-go smoothie can be a quick way to get a balance of nutrients with little fuss. But keep in mind: Not all smoothies are created equal. "Some are very high in calories and carbohydrates," Rinker says. Avoid premade versions and make your own, "so you know exactly what's going into the smoothie and how much."

Not sure where to begin? Try the PB&J smoothie above or create your own customizable blend using Rinker's foolproof recipe.

In a blender, combine:

1 cup of any frozen fruit
1 cup high-protein milk (soy milk, almond or cashew milk)
2 tablespoons rolled oats
Chopped veggies (beets, carrots, kale or spinach)
Editors' note: This story has been adapted from aarp.org. Learn more here.