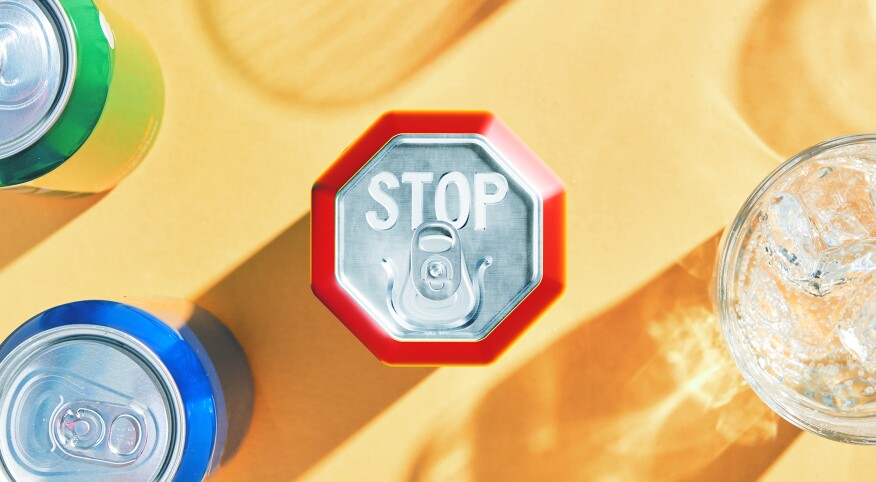 Raise your hand if you don't love a supersize soda with your movie popcorn, a frothy milkshake on the side of your burger and fries or a bubbly beverage as a mixer in your favorite cocktail or mocktail. Hand still down at your side? Ours, too!

But soda and other calorie bombs such as juice drinks and specialty coffees (we're looking at you double Frappuccino with extra whipped cream!) don't love us back. And, according to aarp.org, "sipping sugary drinks may be more harmful to your health than chowing down on a candy bar." Even one a day can raise the risk of weight gain, insulin resistance and type 2 diabetes.

What's more, don't think limiting sugar is as simple as substituting zero-calorie beverages containing nonnutritive sweeteners (you know, like the stuff that comes in the yellow, blue or pink packets). A brand-new study published in the Journal of Toxicology and Environmental Health, Part B suggests that digesting sucralose (often sold in yellow packets under the brand name Splenda) may damage your DNA. The FDA continues to regard sucralose as safe for the general population under certain conditions, but the study's authors maintain that their work raises significant concerns. Just this spring, the World Health Organization issued guidelines discouraging the use of non-sugar sweeteners for weight control. The organization cited evidence that long-term use may increase the risk of type 2 diabetes, cardiovascular disease and other illnesses.


Here's the not-so skinny on sugary drinks:
They can trigger weight gain. Even though sugary drinks are highly calorific, your brain doesn't recognize them as food, so you never feel full enough to stop drinking.
They can seem like they're good for you. Real talk: Juices, sports drinks and smoothies appear healthier, but they can have as much sugar ­­as soda – way more than the 6 teaspoons the American Heart Association recommends for women.
You might not live as long. Researchers found that sugary drinks are associated with a moderately higher risk of breast and colon cancer, and that the risk of dying from heart disease is 10 percent higher, on average, for every daily sugary drink consumed. Sobering news – even before you consider the higher risk of obesity and diabetes, already so prevalent within our communities.
But it's not all bad news: There are easy ways to slash the sugary stuff without feeling deprived. To get started, try these five.


For all the flavor with none of the calories, substitute soda for flavored water.
Swap your morning O.J. for fresh fruit (berries and citrus offer the biggest nutrition boost).
Need a 3 p.m. energy boost? Swap sugary coffee drinks for a 15-minute "snack" of physical exercise and you'll sail through the afternoon slump.
Bored of plain H20? Jazz it up with citrus slices.
Iced tea is a refreshing soda alternative, particularly when sweetened with just a touch of sugar.