Jason Varney Photography
We Can't Believe This Heart-Healthy Pecan Pie Recipe Is Vegan!
A mother-daughter duo's scrumptious dishes remix soul food classics.
June 07, 2019 09:01 PM
December 27, 2019 04:08 PM
"I was eating hamburgers, hot dogs, pizza and french fries every day. Never ate vegetables. I didn't like healthy food, despite my mother's efforts when I was growing up," said Tracye McQuirter, a public health nutritionist, who coauthored Ageless Vegan: The Secret to Living a Long and Healthy Plant-Based Life with her gorgeous mom, Mary.

Tracye eventually lost her taste for meat but not her love for flavorful, satisfying foods like the scrumptious pecan pie recipe below that the mother-daughter duo have shared with us. "We had to do a lot of testing," Tracye, 52, told AARP. "Getting the texture just right was key. This version has everything you'd expect, including a thick and gooey filling and a caramelized topping. It's still delicious — just healthier. The biggest misconception about veganism is that it's going to be hard all the time. But it's just the transition process that's challenging. Once you cross that bridge, being vegan gets easier."
Mary, 82, agrees. "Making changes in my 40s and 50s happened step-by-step, and it's been worth it because it has helped me maintain a good quality of life. I want to be healthy as I age, and I see my diet as helping me do that." Soul food dishes such as homestyle grits, Southern-style cornbread, black-eyed peas salad, peach cobbler, spicy beet greens and even mac and "cheese" are part of her repertoire — with meat, egg and dairy-free versions featured in the duo's cookbook. In it, Tracye writes, "Ultimately, being vegan makes me feel free. I know many people think being vegan means being restricted and deprived. But in reality, the opposite is true."
Tracye's own transition happened in her 20s. "I went to hear late civil rights movement icon Dick Gregory speak on campus. He was supposed to talk about the state of Black America, but instead he talked about the plate of Black America and how unhealthfully most folks eat. He had been vegan for 20 years at that point — eating only plant-based foods, no meat or fish or dairy — and his lecture about why he ate that way really blew my mind. He talked about the politics of it, the economics, as well as the health benefits of avoiding animal foods, which contain harmful animal protein, fat and cholesterol."
Since becoming a nutritionist, the Vegetarian Times has named her a national food hero who is changing the way America eats for the better. The title of her first book, By Any Greens Necessary, makes it clear that she believes plant-based eating is nothing short of a revolution.
For Black folks, consuming a plant-based diet, especially one rich in high-quality foods such as whole grains, fruits, vegetables, nuts and legumes, is linked with substantially lower risk of developing type 2 diabetes and heart disease. A plant-based diet is also good for the planet. The reason? More meat, more heat: grazing cattle expel methane and carbon dioxide, both greenhouse gases linked to climate change.
Formerly a nutrition advisor for the Black Women's Health Imperative, Tracye also created the free, first-of-its-kind African American vegan starter guide, available at farmsanctuary.org.
"I absolutely love my vegan lifestyle. It's a liberating, joyful and delicious way of living in the world," she explains. "I get to eat good food that's good for me — and that's also good for other people, animals, and the planet. What could be better?"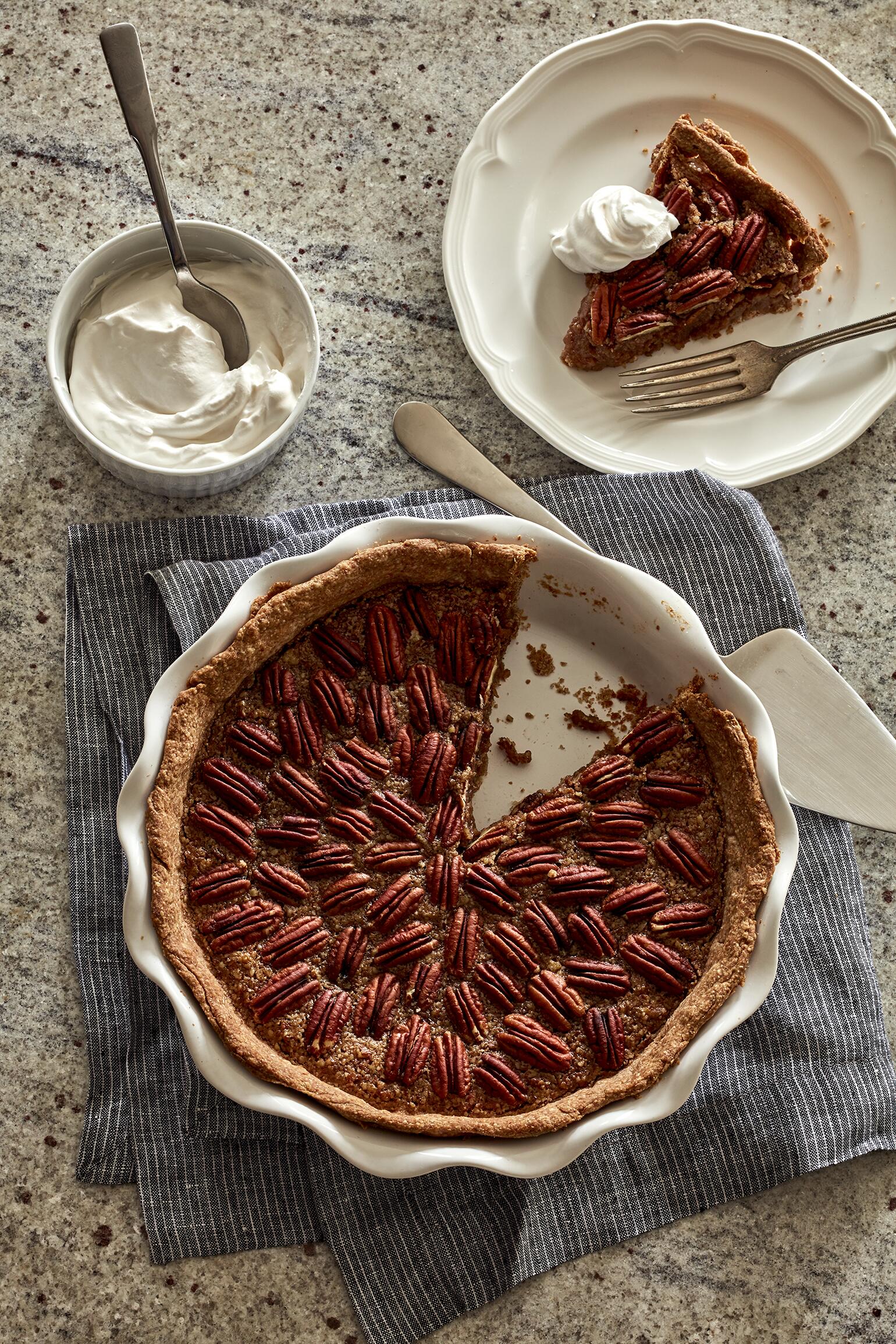 Recipe
Perfect Pecan Pie
Serves 8
Ingredients1¾ cups whole pecans
1 cup chopped pecans
¾ cup maple syrup
¼ cup brown rice syrup
½ teaspoon cinnamon
1 teaspoon vanilla
3 tablespoons ground flaxseed meal
¼ cup unsweetened almond milk
2 tablespoons extra-virgin coconut oil
⅛ teaspoon sea salt
2 tablespoons whole wheat flour
1 (9-inch) whole-grain piecrust

1. Heat the oven to 350°F. In a food processor, add 1 cup of the whole pecans and process until a coarse meal is formed. Place the meal in a medium bowl and add the chopped pecans. Stir until just combined.

2. In a large bowl, combine the maple syrup, brown rice syrup, cinnamon, vanilla, flaxseed meal, almond milk, coconut oil and sea salt. Add the pecan mixture to the wet mixture and stir until mixed well. Stir in the flour, 1 tablespoon at a time (the batter should be thick although still loose enough to pour).

3. Pour the batter into the pie crust. Arrange the remaining whole pecans on top. Bake for 45 minutes. Let the pie cool completely so the filling sets firmly. Serve immediately.
Nutrients per serving: 554 calories, 7 g protein, 46 g carbohydrates, 4 g fiber, 40 g fat, 0 mg cholesterol, 174 mg sodium