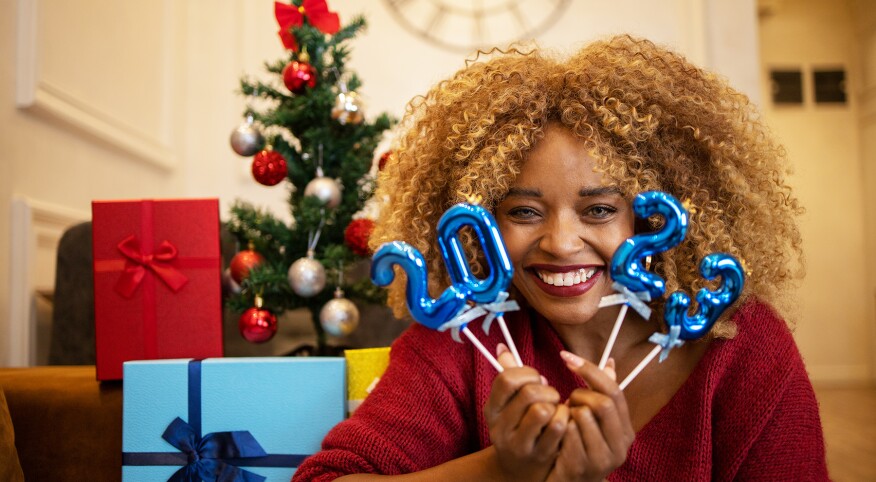 If you're like most people, you probably have these huge plans for what you're going to do in the new year. You're going to go hard at the gym. Eat nothing but lean protein, fruit and veggies. You'll save 25 percent of each paycheck. Oh, and you're also going to cut off anyone and everyone who's even a little toxic.

While that sounds good, experts say having an "all or nothing" mindset or trying to do too much at once is why most folks fail to reach their goals. If you really want to be successful, small, incremental changes are the way to go. Baby-stepping toward your goals has two big benefits: It gives you time to "practice" whatever behaviors are necessary to reach your goal so they become habits. And you build momentum, which will help keep you going.

Try these small but effective steps that could lead to a happier and healthier 2023.

Find your phrase. Come up with a statement you can use to build yourself up or set your intentions for the upcoming year. For example, "My body deserves to be healthy." Or "I can. I will. I must." Start using it right away. Positive affirmations can help you push through when things get tough.

Go for feelings. Instead of being laser focused on specific goals in hopes they'll make you feel "happy" or "accomplished" once you complete them, list a few feelings you want to experience next year and things that may provoke each feeling, says Jordie Smith, a licensed marriage and family therapist in Detroit. "Focusing on the feelings will set you up for success, because multiple experiences can get you there, she says. For instance, if you want to feel "at peace," your list might include meditating, listening to calming music and taking walks in nature.

Focus on one meal. The American Heart Association suggests instead of trying to revamp your whole diet, start with one meal. For instance, eat less sugary stuff for breakfast for a week. Then slowly incorporate changes into your other meals and snacks.

Add an extra vegetable. Rather than eliminating foods, add to your meals. "Toss fresh or frozen spinach or green peas into pasta sauce for an easy, extra veggie boost," says Marisa Moore, a registered dietitian nutritionist in Atlanta.

Make mini moves. If you haven't been very active for a while, start slowly. "Taking your time and listening to your body are key to injury prevention and seeing results," says Trin Perkins, a wellness coach and yoga instructor in Woodbridge, Virginia. Move more and sit less. Work on getting more steps. Do small chunks of exercise (even 10-minute sessions) throughout the day.

Just lose five. Don't overwhelm or discourage yourself by focusing on losing a large amount of weight. Make a short-term goal to lose five pounds (or even two). Then repeat.

Call your credit card issuer. Try to negotiate your interest rate, which can save you money if you carry a balance.

Pay a little extra. Speaking of a balance, if you can't pay in full, add a small amount (say, $25) to your minimum payment each month.

Drop one account. Cancel that gym membership you've only used a few times or the subscription plan you forgot you signed up for ages ago.

Check your circle. "Take stock of who's on your team adding value and who's subtracting and contributing to division," says Rhonda Mattox, M.D., a psychiatrist in Little Rock, Arkansas. "Pay close attention to how you feel when you're with people. Ask yourself: 'Who leaves me lighter, happier, optimistic and more determined? Who leaves me heavier?' " she says. Focus on the folks in the former group.

Take short bliss breaks. "Schedule 30 minutes of intentional joy or peace, such as journaling, sitting in quiet reflection or participating in a hobby, each day," says ToJauna Jackson-Forbes, a licensed clinical social worker in Casselberry, Florida.

Swap one alcoholic drink. Choose a nonalcoholic version or a mocktail instead. Or plan how many days this week you'll drink, with at least one or two days off. If you're drinking to relieve stress, make a list of healthier alternatives to alcohol.

Find your posse. Surround yourself with people who are going in the direction you want to go, says Dr. Mattox. For example, if you hope to start your own business, you might want to follow the U.S. Small Business Administration and other entrepreneurs on social media.

Pat yourself on the back. Celebrating your small wins along the way will help you stay motivated and moving toward your goals, says Dr. Mattox.