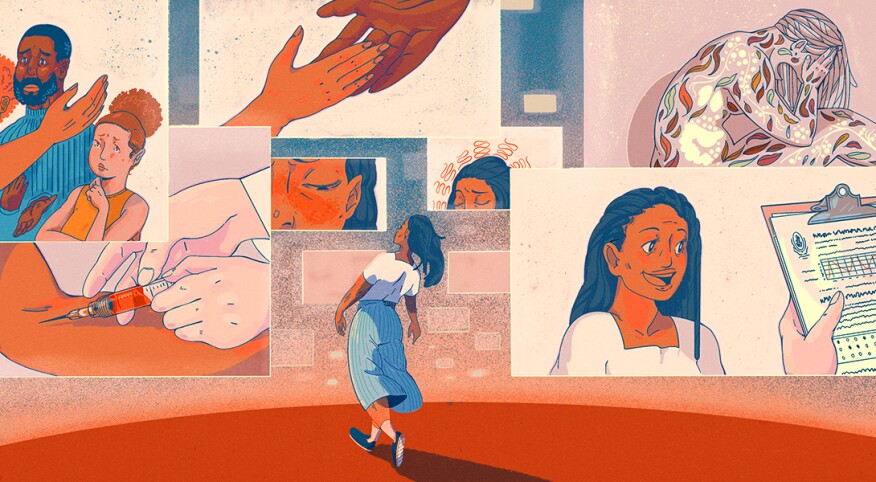 "There's something wrong with me."

This refrain had occurred many times over the last 25 years; my husband had become used to it. "What is it? What's bothering you?" he would usually ask.

"I don't know. I just feel … well … weird," I'd often reply. I couldn't really put my finger on the feeling. It was an overall strange sensation that had been pervasive. That, along with other odd occurrences with my body, like the inexplicable sores on my scalp that would appear every so often. I had attributed those to the decades of relaxing my hair with harsh chemicals. My scalp remembered the trauma of the lye; so said the natural-hair websites I visited before, during and after transitioning to locs at age 35 and saying goodbye to chemical straightening.

The problem was, however, that the strange sores and weirdness in my body had continued. For decades. There also were other physical ailments that my various physicians couldn't diagnose. Odd spots of skin discoloration would reveal themselves on random parts of my body, disappearing almost as suddenly as they appeared.

And then there were the aches and pains that started in earnest in my late '40s. It was these occurrences — waking up in agony daily — that finally convinced me that something was seriously wrong. At first I viewed this painful reality as a sign that life's change was happening. I was pushing 50 at the time; it must be menopause, I thought. The problem was, I couldn't get out of bed at all on too many occasions, and I had a job, a family and a life to live. More practically, perhaps, there were bills to pay. Something had to be done.

What followed was a full two years of various doctors' appointments with inconclusive test results, or worst yet, results that told me that I was fine. I knew I wasn't.

A decision to see a new family doctor was a revelation. "Your blood work has come back, and I'm concerned about these numbers," she said, her brow furrowed. "Have you been sick lately?" When I answered no, she insisted I take the blood tests again, just to be sure that there wasn't some strange hiccup happening. The second test results showed the same irregularity. Same with the third. Something about neutrophils and antibodies or something or other. I had no idea what she was talking about. "I'm sending you to a specialist," she insisted.

When I was 52, that kindly rheumatologist gave me the news — I had lupus. I had probably had it for many years. Decades perhaps. I knew it, and yet I didn't. In a fog, ironically, everything came into focus. The years of feeling off, the various ailments, the aches and pains.

Lupus is an autoimmune illness that causes the body to attack itself. It can manifest in many ways, and there are different parts of the body that it can affect, depending on the individual. How had I not known? Furthermore, how was I going to cope with this middle-age diagnosis in light of the day-to-day demands of life? I still had kids in both elementary and high school, and I would have to work for many years before I could retire — if, at all.

When I shared the news, some of my extended family and friends were shocked because, as many sufferers of invisible illnesses are told, they thought I didn't look sick. But I received offers of support. My husband, though concerned, assured me that we'd get through this and he'd be there. My children, though perhaps not fully aware of the implications of this diagnosis, rallied around and promised to help out more.

Everyone else seemed to take the diagnosis in stride. Everyone but me.

It's an understatement to say that a drastic lifestyle change after age 50 isn't easy. But I would have to slow down and take better care of myself. I'd have to be honest about what I could do. Life would have to change.

Today, the exhaustion, aches, pains and other markers of lupus mean household chores, grocery shopping and more are more challenging. I had to relinquish my need to control my life and environment to fit my view of what was acceptable. My spouse or kids now shoulder the burden of the work that needs to be done when I can't do it. We order out for food more often than we used to. And a good enough living environment has to do.

Thankfully, I had been working for myself as a writer (among other things), which allowed me to make my own schedule at the time of diagnosis. Through self-employment and part-time teaching at a local college, I'm able to work at a level that allows me to contribute to both my household and family, as well as my psychological well-being.

It's been almost three years since my diagnosis, and I've more or less settled into a new normal. At 54, I'm cognizant of the fact that I have to listen to my body, rest, eat healthy and get a good night's sleep if I want to function at a reasonable level.

The recent coronavirus pandemic has put a fine point on the fragility of life and the fact that things can change in an instant. My fears and anxieties related to lupus that existed pre-pandemic are now worse than before, with the prospect of drug shortages for people like myself who rely on certain medication to manage my illness.

In spite of this, I'm thankful that my and my loved ones' acceptance of this diagnosis occurred before this global worry appeared. Learning the reason behind my decades-long ailments has been a catalyst for change. I've finally learned that I need to take care of me, first and foremost. It has also been a relief. Knowledge set me free. I'm finally able to exhale.

Editor's note: For more information on lupus, which disproportionately affects Black women, visit lupus.org.