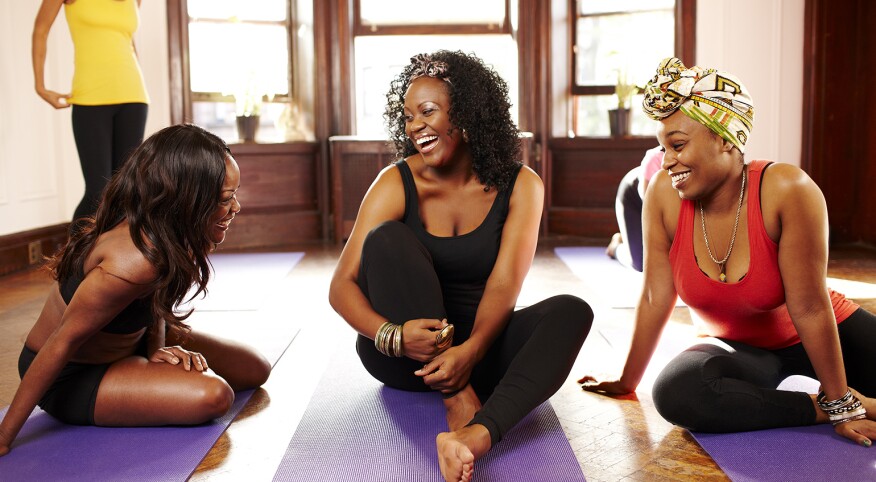 One of the best ways to cope with stress is the one we often avoid at all costs — exercise. Working out sucks. Period. Gym memberships and group classes are expensive. Plus, there never seems to be enough time in the day. It's a commitment. But ultimately, you can either spend your money on the gym and on healthier food or eventually shell it out for medical bills. With that in mind, I try to work out at least twice a week. It hasn't always been easy.



Back in 2012, I was armed with my new XSport Fitness membership and eager to try some classes. I took a blended yoga/Pilates class and instantly fell in love with it. I was completing my master's degree at the time and, between that and work, I needed yoga to help me decompress. The only problem was that I couldn't vibe with any of my teachers because none of them looked like me.

Like many industries, the fitness world needs more diversity. My instructors were nice, and pretty cool. But as a Black woman, little things — like their choices in music (who wants to hear techno or EDM?) and one instructor's attempts to add twerking to her classes when she can't twerk herself — added to a general feeling of otherness that annoyed me about going to the gym.



Then I moved to New York City in 2014, and my entire life changed. I was working two jobs but I was broke. There was simply not enough money to pay for workout classes. I was exhausted and out of shape. I missed yoga.



In my search for affordable options, I found a yoga studio offering $8 classes a few blocks from my apartment. The instructor resembled a young Eartha Kitt. I was so happy to see that a Black woman would be leading our multiculti group of practitioners, I instantly smiled when I saw her. During the first class, as she attempted to correct my bad form, she asked if she could touch me to help me. That small, gentle gesture — to ask for consent — struck a chord with me. I had found my yoga home.

Yoga is great way for balance, flexibility and decompression, but I knew I had to incorporate a cardio workout into my routine to get me moving. Since childhood, I've loved riding bikes. I haven't owned one in 20 years but anytime I have the chance to ride, I hop on. When I travel, I often join cycling tours. It's a great way to see different countries.

Some time ago, I was exploring my own neighborhood when I discovered Harlem Cycle. Owner Tammeca Rochester welcomed me with open arms. I didn't know I would enjoy indoor cycling until I had a Black woman motivating me to keep riding through the Notorious B.I.G.'s "Warning." The fact that she had my favorite Biggie song on her class playlist spoke volumes. She was just like me! Her curly hair was pulled back into a low bun like mine. She was close to my age. She sounded like me. We obviously grew up with the same cultural influences, and that was key to my connection with her and the class itself.



A few months ago, I went to a beauty convention and saw some young sisters doing a choreographed dance to recruit women to come to their studio. I love to dance, but I'm far from a dancer. They were offering a free class. Forty-five minutes of intense cardio over trap and dance beats? I had to check it out. My instructor combined traditional cardio (jumping jacks and squats) with Beyoncé choreography. I was completely exhausted after the first class, but it was fun.



Finding instructors that look like me made a necessary difference. I needed the solidarity of being led by Black women to get to greater health. Now I can talk to my instructors openly and honestly about the workouts I'm struggling with and the foods I should be eating. It may seem like a small thing, but the ability to be vulnerable and let my guard down during workouts has changed the way I look at exercising. There's nothing like the camaraderie between Black women, and I no longer dread heading to the gym after work. I look forward to moving and burning calories with my sister-friend instructors.