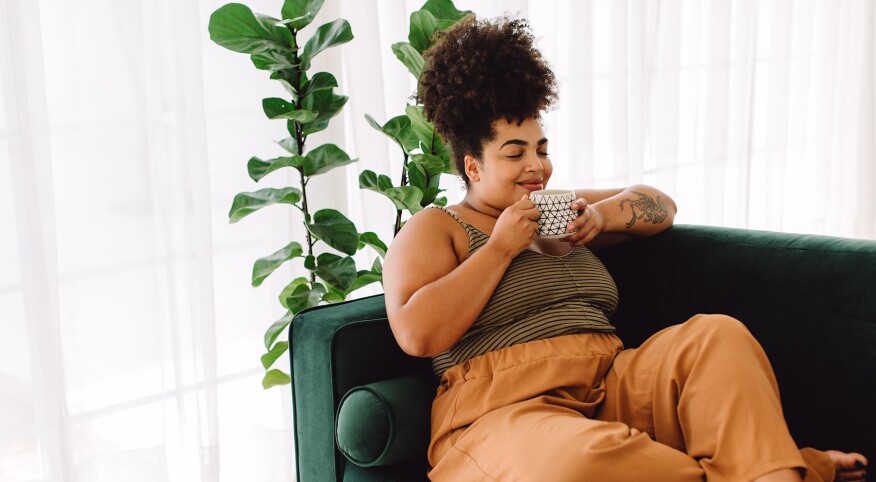 In all the years I've worked, and that includes those as a stay-at-home mother, I never took a mental health day. But self-care is becoming a larger part of the conversation among Black women. As I hear my sister-friends talking about theirs, I finally see the value of taking that time for myself. This prompts the question, what are the best ways to spend a day of self-renewal?

Part of the answer depends on understanding why they are so necessary. Sinead Younge, Ph.D., a psychology professor at Morehouse College, says that Black women too often feel that our self-worth is tied to our labor and level of productivity. That needs to change, sis. What makes us worthy is … us.

Dr. Younge adds that we should see mental health simply as health and stop looking for a justification for taking time off. "My mental health days recharge my battery. These days often include avoiding work emails, taking a walk, writing in a journal and spending time with people who fill my cup," she says.

Taking a mental health day isn't just for employed folks; those who volunteer or are caregivers at home need time off too. Whatever you decide to do, Dr. Younge says, do it with the intention to destress, relax, reset perspectives, evaluate where you are and rest.

Remember, you can schedule a day off from work for preventive wellness, or you can take an unscheduled sick day for recovery. You don't have to tell anyone what may be ailing you, and you never have to feel guilty. That's right — you can be sick with a stomach bug or simply sick of the pressure at work. It's nobody's business (which is why we love that phrase "under the weather"; it kind of implies, "don't ask"). You and your job will be all the better for it if you return energized, focused, rested and ready.

We reached out to Sisters readers to ask them what they do or would do with a mental health day. Plus, we were curious: Might the ultimate day of decadent downtime look different depending on your age and stage? Well, for one thing, sisters 60 and up — even those working full-time — were likeliest to share that they schedule restorative breaks. That wisdom may be a sign to those of us in our 40s and 50s to check out their inspiring ideas and put them into practice!

Renewing at 40-plus

A change of scenery. "At a nice hotel or vacation rental near the water, I'd start the morning with yoga and meditation, followed by a body alignment and massage. Then I'd have a delicious lunch and a guilt-free nap. Taking a day clears my mind and improves my memory." — ​​LaTanya Brooks, educator, speaker and children's book author in Houston

Fun in the sun. "In my sunroom, I close the door, get some vitamin D and connect with myself through meditation, music, dancing, journaling and creative visualization. Releasing pent-up energy opens space for me to accept [disruption] without getting upset." — Yaz Quiles, event planner in Jersey City, New Jersey


Relaxing at 50-plus

Healthy boundaries. "Others may view taking a mental health day as me saying 'no' to their requests. However, I learned from my therapist that a 'no' to others is a 'yes' to me. So often, Black women are so concerned with others that we forget ourselves." — Kimberly A. Morrow, educator and founder of the Doris L. Morrow Academy; lives in Los Angeles

Serene solitude. "I spend the day reading, writing and doing those things that bring me joy. I focus solely on myself, with the knowledge that I am doing my family, employer and friends a service." — Judy Jackson-Winston, magistrate judge in Cleveland


Recharging at 60-plus

Little indulgences. "My mom introduced me to mental health days: having pancakes, reading in bed and watching comedy." — Julie Varee, community outreach archivist in Anchorage, Alaska

Joyride. "I get in the ride and blast the Groove channel on SiriusXM. Other days, I get out the camera and then come home and edit what I shot. Then there are days that I have a facial, acupuncture and massage. Allowing myself to breathe gives oxygen to my goals." — Andrea King Collier, freelance journalist and author in Lansing, Michigan

Self-compassion. "It's OK not to be OK. I believe that self-love, self-care and self-awareness is an act of kindness. Quality time for myself invites deeper clarity, a renewed life purpose and the [ability] to replace negativity with a grateful mindset." — Marie Y. Lemelle, producer of Flint Tale, in Glendale, California

Mountain views and a special meal. "I take my boys — my dogs — for a two-hour mountain walk, and I forage for in-season goodies like mushrooms, persimmons or muscadines. With them, I prepare something wonderful that my husband and I can enjoy with a favorite wine." — Deborah Summerville, owner of Walnut Life Foods, in Stonecrest, Georgia

Good friends and grandkids. "I get with my best girls, have lunch and talk about life —what we're grateful for and how we'll support other Black women. Then I happily spend time with my grandchildren. These days give me increased patience with myself and others." — Linda Goler Blount, CEO of Black Women's Health Imperative, in Decatur, Georgia

Unplugging. "No news. My day would give me clarity." — La-Verna J. Fountain, retired vice president of communications at Columbia University; lives in Harrisburg, Pennsylvania

Enjoyable errands. "Going to a nursery, having lunch and roaming a mall with my husband. Since the pandemic started, any outing has become a treat. When I take a "me break," I can better appreciate the good in life at this moment rather than obsess over what I can't control." — Beverly Greene, editor at American Cancer Society, in Atlanta